What is Content Marketing?
The term content marketing is thrown around constantly when discussing ways to grow your online presence. But what does this term mean?  How can healthcare companies use content marketing to grow their practices online?
The Content Marketing Institute defines content marketing as 
"a strategic marketing approach focused on creating and distributing valuable, relevant, and consistent content to attract and retain a clearly-defined audience — and, ultimately, to drive profitable customer action."
In healthcare content marketing, healthcare organizations find ways to connect with patients, build their reputation and create a trusted brand through their content marketing efforts. Effective content marketing should result in your target audience feeling like they've received valuable pieces of content from your brand that they can't get anywhere else.
What Do You Need to Get Started With Effective Content Marketing?
Creating an effective content marketing strategy is like learning how to ride a bike. You can't just jump on, start pedaling and hope for the best. Instead, you'll need to make slow progress until you get the hang of it, and then you'll be unstoppable. 
The Basics
Here are a few of the basics healthcare marketers need to create compelling content marketing strategies. 
1. Set Goals for Your Content Marketing
Before getting started with effective content marketing, ask yourself the following questions:
Why are you creating content? 

What is the purpose of creating this content? 

What do you hope to achieve with your content? 

Are you trying to build your brand, improve your reputation, or drive traffic to your website?
Take time to consider the questions above and come up with answers for each one before beginning to structure your content marketing strategy. The more specific your answers are, the easier it will be to see which direction you should go with your content. 
2. Identify Target Audience 
Creating a content strategy without identifying your target audience is similar to buying gifts for a person you've never met. While they may like some of the gifts, it's doubtful that these gifts are things they truly wanted or needed. 
Your target audience is no different. Blindly creating content without considering the needs of potential patients won't get you anywhere. Instead, work on creating a sample patient persona and determine what they would want to read. Ask yourself: "What kind of information is helpful to them?"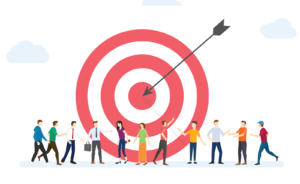 3. Create an Informative Content Hub 
No effective content marketing strategy is complete without a content hub. While some healthcare practices skate by on a blog, a content hub works as a digital marketing superhero. It provides website visitors with a plethora of information to answer all their burning questions in one location.
While all content hubs present themselves in different forms, they generally consist of a centralized online destination with content that focuses on a particular topic. Search engines reward healthcare organizations with content hubs. As a result, they'll see increased search traffic, higher rankings, and improved online authority for their practice. 
More Advanced Strategies
If your website needs more help than just content, you may find it helpful to invest in more advanced strategies such as:
User experience design 

Brand identity design 

Business & customer alignment 
Just saying, Responsify offers all of these along with our content strategies. You know, just in case you're wondering. 
How Leading Healthcare Companies Are Using Content
Leading healthcare companies are incredibly adept at using content to grow their online presence. Last year, a State of Healthcare Content Marketing survey revealed that nearly 90% of healthcare companies use content marketing to engage consumers, build trust, and drive growth. 
How Many Healthcare Brands Have a Content Hub?
Hundreds of healthcare brands have content hubs to stay at the top of the content marketing competition. While we'd love to name them all (and trust us, there are many), we feel it might be better to highlight the healthcare brands with drool-worthy content hubs. 
Here are three examples of healthcare brands using their content hubs to improve their reach and satisfy the burning questions for millions of internet users:
CVS Health: While CVS is mainly known for their pharmaceutical work, they have a bustling content hub that focuses on all the latest developments in the medical field. Various topics are covered, and each piece of content includes a call to action inviting the reader to join their newsletter. By keeping their audience up to date on healthcare industry developments, CVS established itself as an authority figure in the field of healthcare. 
Arkansas Children Hospital:

The content hub from Arkansas Children's Hospital is mainly directed towards the health and wellbeing of children. They tackle both the physical and mental health of children, giving parents hundreds of resources to consume. In their content hub, you'll find articles about nutrition and parenting, safety and injury prevention, and several case studies on children who were treated at the hospital. The gentle nature of the website, along with subtle call-to-actions and content variation, makes their content hub one that's worth initiating. 

Cleveland Clinic:

As Ohio's main healthcare academic center, Cleveland Clinic means business with its content hub. Their hub is a treasure trove chock full of informative blog topics, simple how-to guides and has dozens of recipes for patients to try. All of the information in the content hub has calls to action woven throughout, which is an effective content marketing strategy that others have started to adapt. The digital marketing performed by Cleveland Clinic identifies its prospective audience and directs them to where they can find this information in the content hub. 
How Case Studies Are Being Used by Healthcare Marketers 
If you're not already using case studies in your practice, you need to start implementing them – and fast. As a healthcare provider, case studies prove that not only do you talk the talk, you also walk the walk. 
Think about the saying, "show, don't tell." Including case studies in your content hub provide concrete proof that your work in the healthcare industry is successful and that you know what you're doing. Displaying the positive results of medical procedures on patients is much more effective than anything a healthcare provider can say. 
Consider the American Hospital Association. They have an entire page dedicated to case studies. They have case studies on various topics, ranging from vaccines to enhancing the birthing experience for mothers. 
Effective Visuals in Your Content Strategy
A content strategy can consist of many types of visual content, but these three have proven to be very effective in the world of healthcare content marketing: 
Graphs and Charts:

Let's face it, the healthcare industry is highly data-driven. You can't make a statement if you have no proof to back it up. Therefore, graphs and charts must be an integral part of your content strategy. They're a simple yet eye-catching way to deliver information to your target audience that's easy for them to digest and understand. 

Infographics:

Infographics are powerful tools that can help your visual content stand out from the crowd. In the age of social media, you want to focus on producing valuable content that your audience wants to share with their followers. Studies have even shown that

infographics are liked and shared on social media up to 3X

more than any other type of content. So get cracking on infographics for your practice and watch your website traffic increase.

Videos:

Many of us watch dozens of short videos a day without even realizing it. In the content world, videos reign supreme as one of the best ways to deliver information to your audience. One survey revealed that

72% of consumers prefer videos

to learn about services. To make the most of the time you have with your audience, aim to produce creative videos that are both informative and engaging. Choose to create content that has a storytelling or narrative format. Take them on a journey with your videos and end with a call to action that directs attention back to your practice.
Should You Be Doing it All Yourself? Let Responsify Handle Your Content and Digital Marketing
Now that we've covered what a successful healthcare content marketing strategy looks like, you likely have a clearer vision of how to improve your practice's online presence. But, although you can try and take on all of the content marketing yourself, you don't have to! That's where we swoop in to save from your content marketing woes. 
Responsify has years of creating and improving healthcare content marketing under our belts, and we know what works (and what doesn't). 
Responsify works with clients to improve your: 
Social media presence

Search engine rankings 

Marketing automation 

Organic website traffic 

And more!
We understand healthcare content marketing and give you that little boost that you need to take your content to the next level. Not to mention, we're all about supporting brands that help people and better lives. Which is what healthcare is all about. 
Get started with a free assessment to see what areas of your website could use some work, and let's talk about how we can take your content strategy to new heights.