Thanks for dropping by Responsify. We're always happy to make friends, but we get the feeling that you're not here for a casual chit chat. Call it Inbound intuition, but we think you might be interested in learning how to attract more leads.
Great! We're excited to help you, but we don't offer a one-time, cure-all remedy. Here at Responsify, we strongly believe in long-term strategies and sustainable solutions. A quick boost in web traffic is by no means a bad thing, but your visitors won't stick around if you don't take care of them.
Prospects only become qualified leads with good nurturing. Content is an excellent way to engage customers and build a lasting relationship.
Sound too good to be true? It's not! With a new method called Inbound Marketing, you can strategically target the right audience for your product or service.
Here's the groundwork on how to attract more leads:
Set Clear Goals
If you don't know what you want to achieve, how can you get there? Before you start any lead generation strategy, you should begin with some goal setting. Figure out how many new leads you want to get in a set amount of time. For example, maybe you want to get 90 more leads in the next three months. This evens out to about 30 leads a month.
Buyer Personas and the Buyer's Journey
Before we can make customers happy, we have to know who they are. Consumers come in many shades and varieties. While we want to treat everyone well, we can't treat everyone as if they're the same person.
Detailing Buyer Personas will give you insight into the unique needs of a specific customer. It's critical to know who your audience is, what their goals are, and what will help them conquer their challenges. The first step in attracting more leads using inbound is defining who your optimal buyer is. For instance, you could name your buyer personas "Healthcare Administrator Harry" or "Healthcare IT Analyst Adam." Every persona will have different needs, objectives, and barriers to overcome. Once you have outlined the personas, you will have a better idea of how to connect with them and attract them to your product or service.
One size does not fit all with buyer personas. For instance, a small business owner and the CEO of large company are going to have different aims. But the one similarity they'll always share is that they'll ask plenty of questions. To answer these questions, it is then important to map out the customer's Buyer's Journey.
With the Buyer's Journey, you'll get a clear idea of unique customer questions during the Awareness, Consideration, and Decision stages. In the Awareness phase, prospects are trying to find information to help fix problems that they have. It's not a good idea (yet) to promote your company during this phase. Instead, you need to help consumers understand their needs. You can do this through blogs, videos, and infographics. Then, in the Consideration phase, consumers know their issues and are on the hunt for the right service. In this phase, you can make recs for what they should do. You can use content to build trust in your brand and entice them to give their contact information for further communication. Ebooks and reports are good for this phase. Lastly, in the Decision phase, consumers know their problems and are looking for specific solutions. Here, you can tell them how your product or service will help them. This can be done through demo videos, case studies, and comparison charts.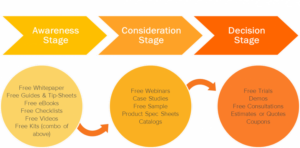 (Source)
The knowledge you'll gain from this will help you guide prospects down the funnel. Consumers know where to start looking for a solution, but once they dive into the research stage, they can lose their way in a hurry. That's when your content can show up to light the way.
When it comes to content, there are a variety of different avenues to take. Good content will lead the consumer to your site. You want the content–no matter its form–to be engaging and informative. Include quality calls-to-action (CTA) throughout the content to encourage readers to take action and offer contact information. The more the reader likes the content, the more willing they will be to click the CTA.
So, what types of content should you consider? First, think about blogs. Blogs can promote a specific idea or feature and can revolve around the goal you want the content to accomplish. For instance, if you have a how-to video, write a blog post that might entice readers to click through to see the video.
Emails are also great, especially for those who are a bit more aware of your product or service. Because they have already subscribed to your list, they are more likely to take the next action or to click-through. Make sure the email content is compelling and the subject line is exciting.
Of course, social media is another important source for content. Make posts engaging by using fun photos or videos. Then, your audience will be more likely to share.
No matter what type of content you use, make sure it connects in some way back to your website or landing page.
SEO Keyword Research
You know the saying "Here today, gone tomorrow"? Well, it can be applied to customers' ever-changing needs and interests. An interview is a viable method for getting to know customers. However, you have to remember this: What they tell you today, may not hold true for tomorrow.
This doesn't mean that you have to conduct interviews every day (thank goodness). Our buddies the search engines do a pretty good job of staying on top of everything. They inform us about what the market is searching for, when they look for it, and if their interest is waning. In fact, Hubspot found that SEO is the leading resource for getting new business leads.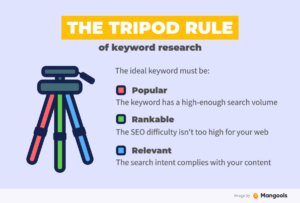 (Source)
Keywords are crucial to ensuring that visitors can locate your site. Find creative ways to weave them into your blog posts, and you'll have the search engines salivating. SEO is about bringing those most interested to your page and connecting with them to turn them into a lead. Using the right words will help you produce quality traffic to your site.
SEO is critical for lead generation because it will continue to improve your site's search ranking. If a potential customer searches using one of your keywords, they will be directed to your content. Then, when your amazing content turns out to be just what they were looking for, you've got yourself (hopefully!) a new lead. Isn't that the ideal situation?
So how do you make SEO work for you? First, you need to have a good understanding of your audience. If you don't know who you are trying to bring to your site, you'll never know how to get them there. Take some tips from the buyer persona breakdown above to gain a better idea of who you are targeting. Focus on information like age, education, and income. You can also look at their key obstacles and general interests.
From there, find what words your audience is searching for. Check out Google Analytics and SEMRush to see where different words and phrases rank. Integrate the words all throughout your content. Use them to optimize headlines and meta descriptions, URLs, alt titles, and photo tags.
Remember that keyword research is not just for new content. Use what you've found to optimize old content and clean up any under-performing pages.
Create Targeted Content
Once you've figured out your SEO, use it to create content that meets the needs and questions of your buyer personas and leads. You can do this with text through case studies, blogs, and ebooks to provide extensive information on how you can support the consumer. Be sure to use enticing headlines to grab their attention and keep them engaged. For those who learn visually, consider infographics and videos to entertain and inform them.
Incorporate solid calls-to-action (CTAs) in the content, too. This link or button to get a potential lead to take an action could include making a purchase, sharing your content, or adding their name to an email list. Offer exciting prompts like "Download the free ebook now!" or "Buy today!" to create a sense of urgency and get more people to click.
HubSpot Development and Maintenance
Managing an Inbound campaign can feel overwhelming if you're not accustomed to it. There will be a period of adjustment, but platforms like HubSpot make the transition painless.
Lead scoring, email automation, and trackable ROI are just the beginning of what HubSpot has to offer. This may sound really technical, but everything is user-friendly. If you have any questions, we're here to help you with the setup and maintenance.
Optimize Your Content
You've done your research and are itching to launch your Inbound Marketing Strategy. But you can't get your plan off the ground until you've created content. We have a devoted team of writers, designers, and developers that can create material that resonates with your customers.
It's important to note that content can only do its job if it has a high performing site behind it. Nowadays, consumers access the internet from a countless number of devices. Your blog has to look awesome and function like a pro on all of them.
As you might have guessed, we have a thing for Responsive (mobile-friendly) design. We never want to change our name to Unresponsify, so we make it a point to live up to our namesake.
Share Your Content
Once you have the right content, don't hide it away. People can find it through search (if you've done your job right!), but it's also up to you to share it as much as possible. Add the content to your social pages, your blog, and put it into your email marketing.
Having handy and enhanced content will certainly not instantly lead to site visitors to your website. You should also advertise your content thoroughly to produce web traffic. Share your articles on your social media networks. Content such as ebooks and whitepapers could be advertised using your email listings. However, targeted social media advertising and marketing could likewise be an efficient method of boosting your content as well.
You can also encourage current customers to help you share content and attract more leads. Additionally, they can take part in creating user-generated content to not only give a wider audience information about your product or service, but to also act as advocates for your brand. You could hold a contest asking customers to share photos of themselves using your product. Share the best on your social media pages. This will boost your visibility and build your brand's reputation, bringing in more leads!
Take Advantage of Automation
Once you start to generate more leads, it will be increasingly hard to manually connect with all of them. You can set up software programs to automate your marketing plans, including project monitoring, customer assessments, and customer and lead segmentation. Automation will allow you to quickly engage with leads and help hopefully turn them into satisfied customers. There are many marketing automation programs out there, like HubSpot and MailChimp. These can be useful for lead nurturing, site visitor monitoring, and social media scheduling. Marketing automation will help you save your time, which you can put back into getting more leads and cultivating the ones you already have!
The Bottom Line
Thank you for taking the time to see what we do here at Responsify. We know you want to attract more leads now, but all good things take time. Content is a vital part of nurturing a relationship with customers that will convert them to qualified leads.
If you're looking for some tips on content strategy development, or simply want to learn more on how to attract more leads, we're happy to help.
To your success!