Inbound marketing ROI (Return on Investment) refers to measuring the effectiveness and profitability of an inbound marketing strategy. It quantifies the value generated from the
investments
made in inbound marketing efforts. With Inbound, you're investing time—with Outbound tactics, you're investing money. Calculating the ROI of Inbound Marketing helps businesses determine whether their inbound marketing activities are generating a positive return and provides insights into the effectiveness of specific campaigns or channels. Responsify started to implement the inbound methodology in 2015. The graphs below (taken directly from our HubSpot portal) show the increase in sessions and new contacts over time as our inbound tactics, like
blogging
and email marketing, took off. As you can see, we've experienced a steady increase in sessions and new contacts (aka leads) over the eight years displayed below.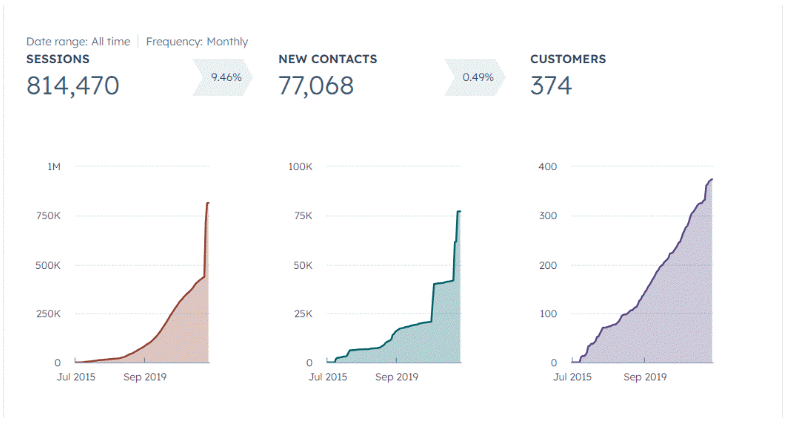 Once Inbound takes off, it lays a foundation to increase web traffic and inbound leads significantly and continues to create value for your business.
If you're new to the Inbound way (pulling new customers in rather than pushing your products or services at them) or have had some success but need more proof of the ROI of inbound marketing before continuing, this article is for you. We'll cover everything from what it is, how to calculate it, the effectiveness of inbound marketing with real-life examples, what a good ROI looks like, tactics and strategies that'll get you the best ROI, key factors to consider before calculating your number, and tools for tracking inbound revenue.
What is Inbound Marketing ROI How to Measure and Calculate Inbound Marketing ROI - Importance of Blog Content - Website domain authority - Website Traffic Metrics You Need to Measure to Understand Inbound Marketing Results New Ways to Think About Your Marketing Budget Effectiveness of Inbound Marketing with Real-life Examples What a Good ROI Looks Like Get the Best ROI: Tactics and Strategies Key Factors to Consider Before Calculating Your Number Tools for Tracking ROI Metrics
What is Inbound Marketing ROI
Your Inbound marketing ROI is an estimate or measurement of how much revenue was generated by your business compared to how much was spent on marketing. Measuring the ROI of inbound marketing may not always be straightforward, as it can be challenging to directly attribute all revenue or conversions to specific marketing activities. However, by tracking and analyzing relevant metrics and using an ROI formula, you can gain valuable insights into the effectiveness of your inbound marketing efforts and make data-driven decisions to optimize your strategy. According to HubSpot,
40 percent of marketers
said that proving their marketing efforts' return on investment is their biggest marketing challenge. But it's critical that you're able to speak to the ROI of your inbound marketing strategy. So, how do you calculate it?
How to Measure and Calculate Inbound Marketing ROI
Proving the ROI of inbound marketing takes time because it relies on a few outside factors to catch up before you start seeing results. Such as:
Search engines need to crawl your site and content.
You need to assess your competitors' standings and analyze their website blog content and pages versus yours (this is a big factor). Have they been in the business blogging strategy with a high domain authority for a while?
Your articles need to establish rankings over time. Content marketing is a long-term strategy, but the effects will be compounded once you establish rankings for some of your posts.
Expectations need to be congruent with your existing Domain Authority. You can use DA to see a website's relative ranking strength, giving you a glance and a benchmark of where you stand compared to competitors.
Trust takes time—building your website with educational and informative articles that meet your ideal buyer persona will guide them through their buying process with strategic content that meets their needs.
Before we go into the metrics you need to measure your Inbound results, let's take a step back and discuss the importance of blog content, website domain authority, and traffic.
Importance of Blog Content and Pages
First, you need strategic content focusing on your customers' needs and challenges. And how your business can help solve their problems. Content marketing and blog content build loyalty and trust. And trust comes before the sale.
Google Trends
shows that content marketing and blogging (part of any content marketing strategy) have merged in peak popularity.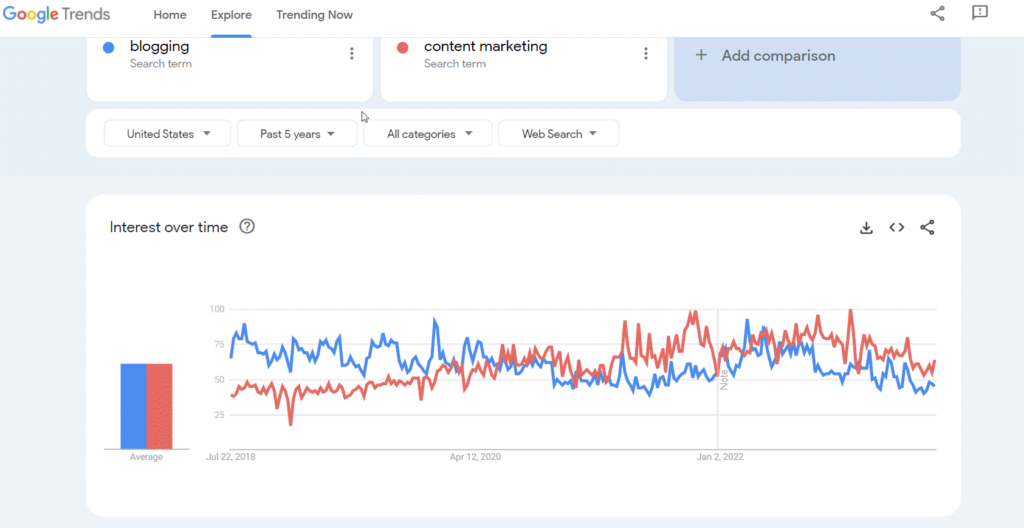 Numbers represent search interest relative to the highest point on the chart for the given region and time. A value of 100 is the peak popularity for the term. A value of 50 means that the term is half as popular.
The importance of blog content is monumental when you consider consistent, high-quality, and engaging
content impacts audience decision-making
more than any other technique. A
business blog
is a long-standing marketing tactic that uses content to get your business more online visibility but, more importantly, is used to engage and inform your audience on topics that are important to them. The overall goal is to educate buyers so they understand what you do, your category, and your product and get the right message to the right audience. For an article to find its way to the top page of Google, it must have effective keywords with search intent, content strategy, and interest for your audience. Blog content helps build domain authority. What do we mean when we say Website Domain Authority . . .
Website Domain Authority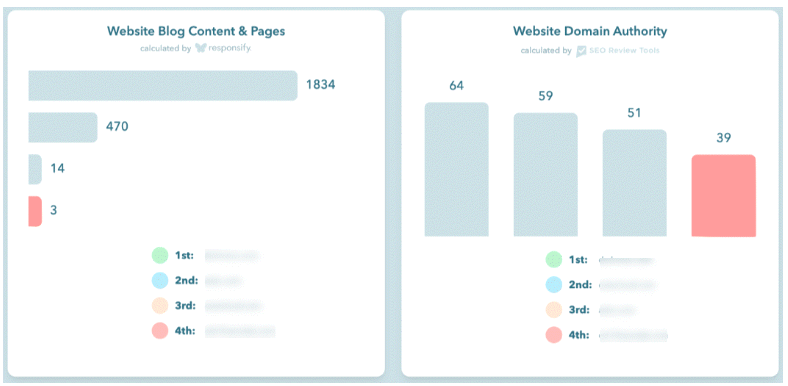 Your Domain Authority Score is a top-level indicator of your website's ranking power. Based on a scale of 1-100, the closer to 100, the more likely your site will rank on the Search Engine Results Page (SERPs). It is based on a scale that measures the likelihood of a website ranking on Google's SERP. It's essential to note that if your competitor's domain authority is much higher than your business, chances are lower for ranking if you both go after the same keyword. The odds are they are ranking for the keyword because their website has more authority and significant backlinks. Higher domain ratings correlate with higher rankings. Search engines pick up on websites that receive backlinks from other trusted sources regarding your online presence. Acquiring reputable backlinks can be done by writing high-quality and long-form articles. The typical article on the first page of Google is nearly 2,000 words. We've found that the ideal blog post length is 1,500 - 2,500 words. When you stay within this average, your articles are more likely to rank higher on search engines and get more social media shares and backlinks. And your content should be authentic and original (forget the regurgitated fluff from
ChatGPT
.) You need to have an opinion on the topic, show results if it's a 'how-to article,' and establish yourself as a trusted and knowledgeable source. And be human. Talk to your audience like you were talking to a friend. With increased domain authority and rankings, your organic traffic to your website will improve.
Monthly Website Traffic
Organic traffic is defined as visits to your website from search engine results and not paid ads. Although some paid ads for your website can result in organic traffic, users typically find you through search engines such as Google. Tying it back to your competitors—knowledge about your competitor's website traffic and the strategies behind the traffic can be a game changer for optimizing your business growth. We wrote an article
analyzing your competitors' traffic
with a content analysis tool. We hit on the most important traffic metrics to know and prioritize. Discovering how they position themselves in the market through keywords and new content is invaluable. Uncovering their best-performing content and weak spots or content gaps can be used to your advantage. Increase your traffic by optimizing your content with keywords, creating targeted landing pages, and crafting engaging, high-quality. With your top competitors in hand with their known domain authority and traffic, you'll get a birds-eye view of your Inbound landscape. You can make estimates of your business' Inbound Growth Potential with a few key metrics.
Metrics You Need to Understand Inbound Marketing Results
Measuring your inbound marketing efforts' effectiveness is essential to understanding your strategies' impact and making data-driven decisions for improvement. In this section, we uncover key metrics you need to measure to assess your Inbound marketing results:
1.
Monthly website visitors/traffic
, when compared to your competitors, you'll see where you currently sit based on organic traffic. The metric gives you a good overall picture of your marketing efforts driving visitors to your site.
2. Monthly leads generated
; how many leads are you earning each month? This reflects the potential customers generated through your campaigns. As an agency, we suggest running 2-3 campaigns simultaneously with 12 blog posts each and a premium offer.
3. Monthly new customers generated from your website
; how many new closed deals did you get?
4. Customer lifetime value (CLV)
, what is the ratio of how much a customer is worth over their lifetime to the cost of acquiring them? Understanding CLV helps appraise the long-term profitability of your Inbound efforts.
5. Average customer lifetime in years
, the average customer lifetime in years can vary significantly depending on the industry, business model, and customer retention efforts of a company. In some industries, the customer lifetime can be relatively short, while in others, it can be quite long. For example, in the SaaS industry, customer lifetimes are often longer compared to e-commerce. It is not uncommon to see customer relationships lasting 2 to 5 years or even longer, especially for enterprise-level SaaS solutions.
6. Cost per lead (CPL)
, calculate the average cost incurred to acquire one lead through Inbound. Divide the total marketing spend by the number of leads generated.
New Ways to Think About Your Marketing Budget
The ideal marketing budget can vary depending on the size of your company, industry, target audience, and marketing goals. We understand that revenue growth is a highly sought-after metric for executives, and successful companies focus on finding new ways to grow. Properly allocating your marketing budget can make the difference between profitability and running cash negative. You can estimate new Inbound Growth potential revenue or potential ROI based on
standardized budgeting
. Acknowledge that achieving new growth levels requires a marketing budget that falls between a recommended 9.6% to 11.8% of revenue, according to the Small Business Administration (SBA). Supporting those stats, Deloitte's Annual CMO Survey says marketing spending growth is at its highest rate in over a decade, with as much as 13.6% allocated. Many businesses allocate a considerable percentage of their marketing budget to paid media over organic search. However, paid media has drawbacks and limitations, such as price, competitiveness, and fraudulent or accidental clicks that cost you money and carry no equity or long-term value. Alternatively, organic search has no click cost, immediately connects with your audience through content, and accrues value over time. Regardless of what you choose, don't cut your budget altogether. Keep your momentum and business growing (your competitor is) . . .
"Cutting the marketing budget during a recession is a risky strategy. It may provide some short-term relief, but the subsequent loss of market share that follows will be extremely difficult to regain." [Source]
Are you spending your marketing budget wisely? Using our inbound revenue calculator with your . . .
Top 3 Competitor websites
Website performance metrics
Budget
You'll
get your Detailed Marketing ROI Results
.
Effectiveness of Inbound Marketing with Real-life Examples
Inbound marketing is a marketing strategy focusing on creating relevant and compelling content and experiences for your target audience with the goal of earning new customers. Compared to data from the year before working with Responsify, we helped three B2B companies embrace agile content marketing and experience growth. All three real-life examples included intensive content creation, content optimization, some website redesign, and optimization. The results . . .
Case One
: B2B EdTech company providing a software platform for schools. The company is a prime example of how Inbound marketing can drive website traffic, leads, and customers.

An established software technology platform (B2B) grew its blog to nearly 86,000 monthly pageviews in 24 months. Transitioning from a product-focused outbound sales path to a customer-focused, value-driven inbound content strategy, the company experienced a 46.37%+ year-over-year increase in organic visitors, a 54.71%+ year-over-year increase in organic leads, and 164 organic customers. You can read the complete
Inbound case study
to see what we did and how we did it.
Case Two
: B2B Company providing the industry's best cloud-based chiropractic software. A prime example of scaling your content to increase Domain Authority, traffic, leads, and sales. And landing on the first page of Google. We helped a chiropractic software company scale with Inbound, which included an increase in its domain authority by 84.2%. When we were first approached, their domain authority was low, around 19. With concerted effort and a few years of Inbound under their belt, it increased significantly. So did their website sessions, new contacts, and customers:

And proceeded to land on the first page of Google (
positions 1-10
)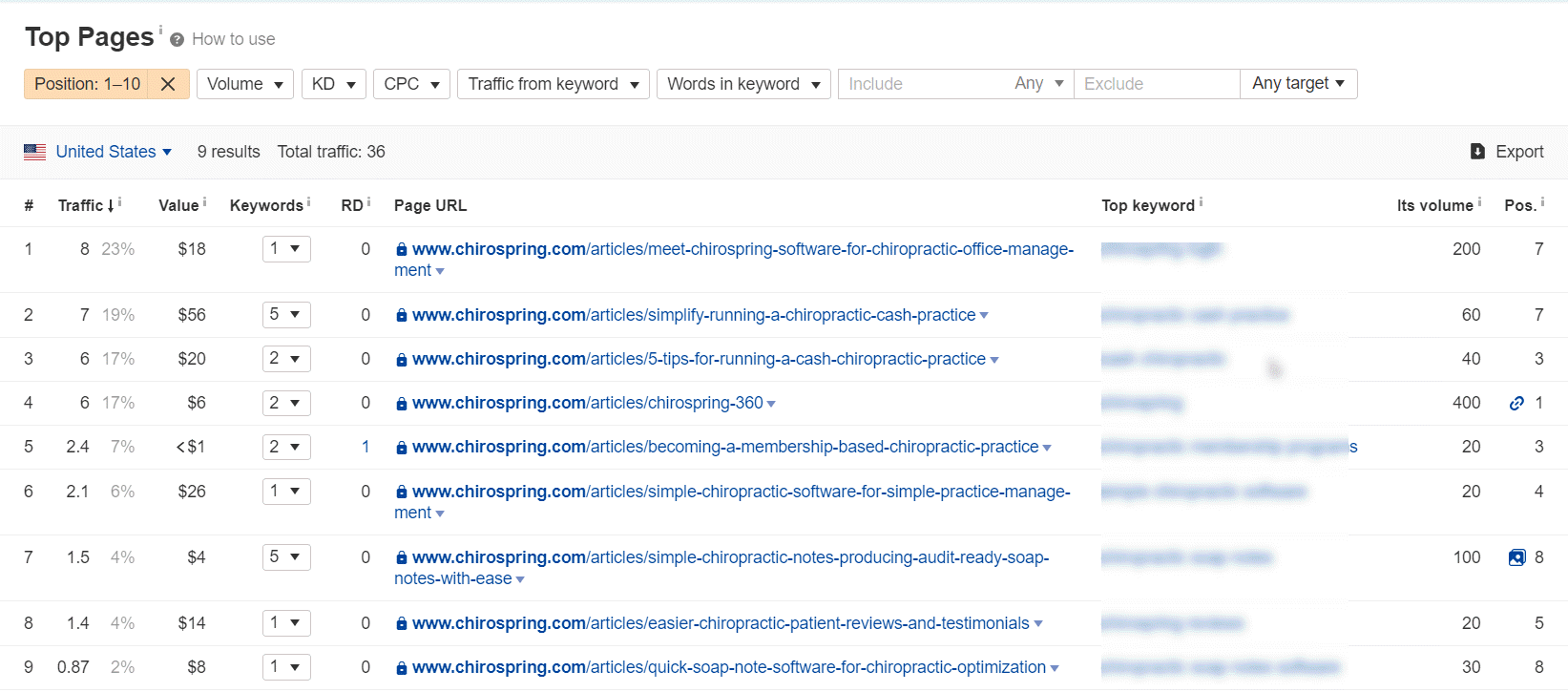 Case Three
: B2B Company servicing state and local government agencies. Another prime example of scaling your blog content to increase website sessions and continue generating leads, improving SEO rankings, and being seen as a key opinion leader in the fleet space. The data from the company's first quarter of 2023 to the last quarter made significant progress. The organization experienced an uptick in its articles, with a 233% increase in views quarter over quarter. The website sessions increased by 489% in the same timeframe, with seven new contacts generated.


What a Good ROI Looks Like
As with any ROI, it depends.
HubSpot
sums up the answer to this question this way:
"The goal of ROI is to make more than a dollar for every dollar you spend on a marketing campaign. What's considered a 'good ROI' can vary based on the type of marketing strategy, your distribution channels, and your industry."
The bottom line, a good ROI outperforms expectations and provides a positive return on investment.
What does your revenue inbound ROI look like?
Check out your numbers with our
revenue growth calculator
. A good ROI is more than just a one-time fluke; it should be sustainable and repeatable over the long term. Consistent positive returns indicate that the investment generates value and growth for the business. A good ROI may also include non-financial benefits, such as improved brand reputation or customer loyalty. These intangible benefits can contribute to the overall success of your investment.
Get the Best ROI: Tactics and Strategies
All this talk about a good Inbound Marketing ROI. How do you accomplish that task? As marketers and business leaders, you have a plethora of options for reaching new customers. Let's talk about the top channels to deliver the best return on investment. If you're a results-driven marketer, focus on tactics that deliver short and long-term results. Search, paid, and email marketing channels produce the highest ROI. The most popular and successful inbound services offered are:
Content marketing
with creative and educational blogs specifically that are
SEO optimized
and use
email
marketing to get the word out to your database. Three common methods for raising digital marketing success:
Content marketing
- the primary objective is not to promote a product or service directly but through thoughtful and valuable content.
SEO
- content is optimized for search engines to ensure it ranks well in search results and attracts organic traffic. This involves using relevant keywords, meta tags, and other SEO techniques.
Email marketing
- focuses on lead generation and lead nurturing. As with our clients mentioned above, these strategies were able to help them increase traffic coming to their sites and convert leads. We laid out a framework for their organization's growth to include research and strategy, content production, premium offers, email production and automation, social posting and automation, and website redesign where needed.
Key Factors to Consider Before Calculating Your Inbound Marketing ROI
Time - Inbound Marketing is a long-term strategy
Inbound tends to take time. And you must view it as a long-term strategy. In the few examples we shared, our clients saw phenomenal results. They were patient, and in the grand scheme of things, 18-24 months is short, considering what you get back in value and growth. For example, blog posts or articles need time to be discovered by search engines and people. CEOs are beginning to realize that the risk of standing still or not progressing may be greater than the risk associated with change. The recognition that organic search (when done right) targets the entire funnel while paid is more towards the bottom of the funnel queries. Businesses focusing on organic search strategies will be better positioned for the long haul. When done correctly, you'll rank for keywords that bring in traffic, leads, and customers and continue generating free organic traffic as long as your rankings exist. Marketing leaders must set realistic goals. Search engine optimization (SEO) takes time to generate traffic and leads. So the value in the early months can be low but exponentially increase over time.
Grow and Convert
created this hypothetical graph to show how the investment and value of SEO change over time.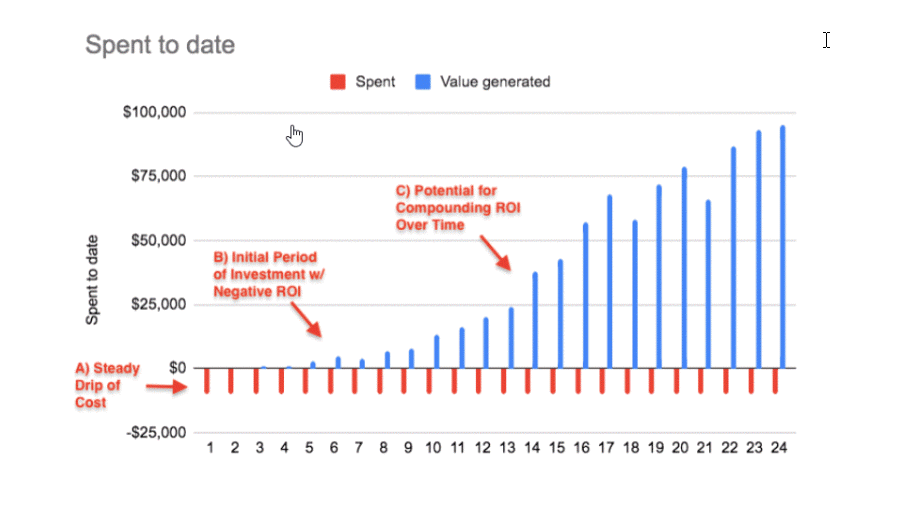 The main takeaway is to stick to the marketing channel long enough to drive revenue for the business.
Budget
Go fast with ads and keep paying or go slow and steady with content and reap a lifetime of rewards. What you define as a budget will determine part of your success. The amount of revenue businesses allocate to marketing is growing.
Databox
reached out to 85 small business owners and marketers and found that 52% spend between
$5-$15k
monthly
on marketing.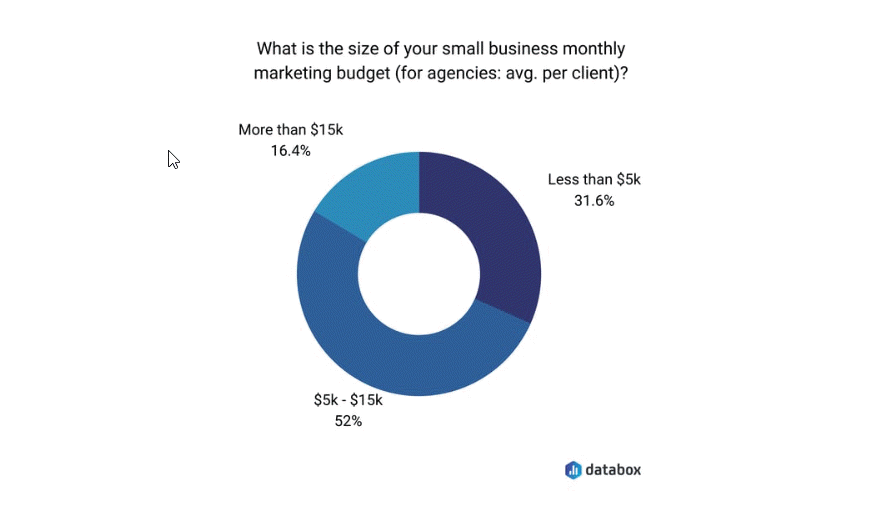 For success, identify your marketing goals, create better content strategies, and allocate resources to new campaigns.
Tools for Tracking ROI Metrics and Marketing Success
Tracking return on investment is important, no matter the size of your company. The end goal for business leaders is to increase revenue and bring in new customers. With so many tools available, organizations need to consider usability, pricing, and integrations. With the right tool, you can streamline your marketing and sales processes to calculate your marketing ROI. Here are two tools we use daily:
Google Analytics
GA's calling is to provide data based on those who visit and interact with your website. Google loves to organize information and educational content, making it available, relevant, and useful based on search intent. There are many ways to calculate ROI, but one of the easiest ways to do so in Google Analytics 4 (GA4) is by setting up conversions and adding value to them.
HubSpot Marketing Hub
HubSpot's software is designed to lend a helping hand in determining what content is working hardest for you and discovering the content that needs improvement. The Marketing Hub ties ads/PPC, email, landing pages, social, and website (pages, blog, and SEO) together under one roof. And when you connect your CRM, you'll discover the site visitors that are the right fit for your business. It becomes easier to track content assets and articles to conversions and sales. The screenshots used in the real-life examples were taken from their respective HubSpot portals.
Have an Agency do the Job
Responsify offers services to create strategic content and online experiences that get results. We analyze your traffic, leads, and sales with quarterly reviews. We understand that analyzing your business and competitive landscape can be daunting. You can use our
content marketing ROI calculator
to get you started with an overview of your website blog content & pages, domain authority, and monthly website traffic for you and your top 3 competitors.
Final thoughts: Inbound Marketing ROI
Calculating and continuously monitoring Inbound ROI is key to running a successful and growing business. Data about your Inbound efforts can help you make more informed budgetary decisions to optimize your total inbound ROI in the long run. The insights into your competitor's content creation and what's driving that traffic will make you aware of what needs to be done to keep pace or outperform them. We appreciate high-quality traffic insights that help you understand your market, outdo your rivals and give your audience what they want.
Start analyzing your results today
, or if you'd like to discuss ways for your company to take advantage of strategic content, get a free assessment to
gain a fresh perspective on your marketing.