If you've been on the prowl to learn more about digital marketing statistics in 2023, you've come to the right place.
Since digital marketing is constantly evolving, so should our knowledge as marketers. No matter your marketing goals, gaining insight to support your cause is a necessity. 2023 looks to be the year of content-based marketing for businesses of all sizes.
Digital marketing will be key to your overall marketing strategy in 2023. When used effectively, it's a great tool to help you identify, grow, and discern your audience. That audience will then become your customers!
Here are the digital marketing stats you want to take advantage of this year.
Content Marketing Stats 2023
As of January 2023, 58.57% of people use mobile compared to 39.41% on desktops worldwide.
Mobile users are still on the rise! Whether a digital surfer or consumer, your mobile phone follows you wherever you go, so it makes sense that more and more people prefer mobile over desktop websites when it comes to content.
55% of marketers say creating more content and posting more often.
When it comes to content marketing, blogging is still one of the most concentrated forms. Several blogs have emerged within the past year and are still on the rise.
Content marketing generates three times as many leads as traditional outbound marketing but costs 62% less.
So, tell me. What are you waiting for?
A B2B Content Marketing Study conducted by CMI found that 40% of B2B marketers have a documented content marketing strategy; 33% have a strategy, but it's not documented, and 27% have no strategy whatsoever.
Before you can put all the moving pieces together, you need a strategy in place. This is alarming because marketers are going in blindly (so to speak) when it comes to creating quality content.
69% of the most successful businesses plan to increase their content marketing budgets in 2023—that's impressive.
We all know how important budgeting is to our business, so note this stat. We don't know how important budgeting for content marketing can be to our business.
49% of businesses say that organic search brings the best marketing ROI.
Content marketing revenue will soon exceed $300 billion U.S. dollars.
This is huge! The number has been on the rise for a reasonable time now and is not slowing down.
(Source)
70% of internet users want to learn about products through content versus traditional advertisements.
There is much static in today's marketplace regarding marketing consumer products. As a consumer, education through quality information is still king.
Only 58% of marketers say they are often successful in achieving their marketing goals.
This number will always differ depending on the year and market type, but have no fear! Marketers will always strive to achieve their marketing goals. Right marketers? Jab* Jab*
According to HubSpot, 36% of consumers prefer to learn about products by searching the internet, highlighting the importance of optimizing your website for SEO.
Source: HubSpot, The Top Channels Consumers Use to Learn About Products
The awareness stage is a very crucial part of your content marketing strategy. It can lead your audience in the direction that they may come one step closer to the consideration stage, or it can deter your audience.
The top three types of content being created by marketing include videos, blogs, and images.
Content marketing is a top priority for marketing teams. Video is a top media format marketers use, as well as blogs.
In 2023, businesses will employ more visuals. HubSpot revealed that 70% of companies are investing in content marketing, which encompasses visual marketing strategies.
With such a saturated market, these visuals need to be engaging. They offer another way to "say" what you want to say. And they're more likely to get people to "hear" you.
57% of content downloads generate leads with the highest conversion rates.
This stat makes perfect sense since quality content is what your targeted audience wants and needs. So give them what they want!
60% of marketers create at least one piece of content each day.
That is a lot of content being pumped out into the world. Whatever the content might be, it's still content, and content is one of the strongest forms to resonate with your audience.
Consumers see 5,000 ads every single day.
If only these were all your ads. But they're not. This makes effective digital marketing even more critical. A solid digital marketing strategy can help your brand break out from all the noise.
Long-form content will get 77% more backlinks and triple the traffic compared to shorter posts.
Be sure to make this content engaging and valuable for your audience. Use it to provide answers to the questions they've been asking.
Here are some of the biggest challenges when it comes to content and email marketing—limited internal resources 28%, lack of strategy 28%, and lack of content 23%.
Let's face it, it's hard to find that balance in creating quality content for your website and other channels, let alone executing that content correctly with a strategy. Here is an example of some of the struggles marketers run into when it comes to email marketing and content.
Open rates are 14.31% higher in segmented campaigns than in non-segmented campaigns.
This shows that segmenting your campaigns is essential for open rates and effectively getting in front of your audience effectively with relevant content.
Source: emailmonday, Getting Smart with Email Marketing Segmentation
4.8% is the average conversion rate for websites using video, compared to 2.9% for those that don't.
Videos have been engaging and very relevant when it comes to your audience deciding whether to purchase or sit back. As a marketer, create a few videos for your website or content and see what happens.
Nearly 90% of video marketers call video a good return on investment.
Digital marketing is changing rapidly and there's no stopping the trend.
Check out the video from Wes McDowell, outlining five strategies that will help you stay ahead of the curb in 2023 . . .
Next up Social Media Trends and Statistics . . .
Social Media Statistics 2023
General
80% of marketing professionals and business owners incorporate clickable social icons into their email signature

Businesses continue merging social media with email, as this stat confirms. When it comes to email signature marketing, the majority of professionals consider links to social profiles more important than their physical address, CTA buttons, legal requirements, and even logo.
71% of luxury brands measure influencer success through web traffic.
The digital marketplace is a vast playground where luxury brands thrive. It only makes sense that Influencers and brands work together through digital marketing efforts.
Influencer marketing expected to grow to be worth $21.1 billion this year.
With Influencer marketing on the rise, many marketers are capitalizing on the expanding opportunity influencers have with your desired audiences.
Influencer marketing will be integrated into all marketing activities for the majority of marketers.
Influencer marketing has been on the rise lately with social media, especially in the eye of the youth. It might be something to consider when dealing with brand marketing.
71% of consumers who have had a good social media service experience with a brand is likely to recommend it to others.
This is becoming more and more relevant when dealing with customers and the experience they have when dealing with a business digitally. Word of mouth is still the strongest form of trust and way to market smart.
Across the globe, 59.2% of online traffic is done via mobile.
Customers are looking at your content from their smartphone. Make sure your webpages are optimized for mobile.
30% of millennials engage with a brand on social at least once a month.
Since millennials are on social media a good majority of their day, it only makes sense that they are engaging with at least one brand a month. This number will increase as companies are becoming more aware of the benefits social media has to offer with digital marketing.
This number needs to change and is super relevant for 2023, and the coming years. A lot of businesses think they don't need to interact with their social audience, but in reality, it will only benefit the relationship between one another.
Almost 90% of marketers say their social marketing efforts have increased exposure for their business, and 75% say they've increased traffic.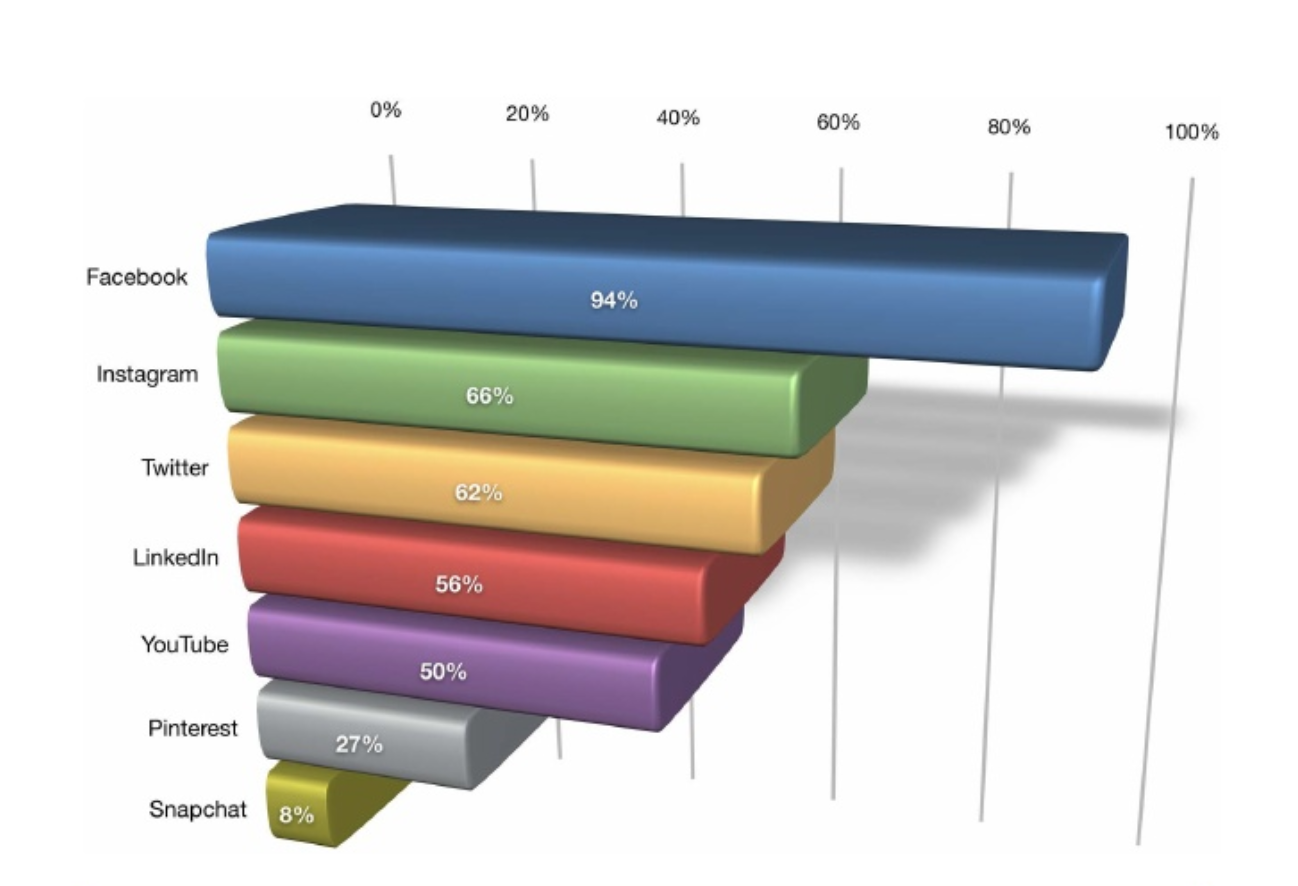 Facebook and Instagram are the top two platforms used by marketers.
Out of all the marketing statistics out there, this statistic should be shown to skeptics on utilizing social media. Both actions are beneficial to any business with the increasing competition in today's marketing world.
A whopping 93% of brands claim to have gotten a new customer from a video posted on one of their social media channels.
Facebook
State of Inbound Marketing Trends says, "When it comes to ROI, Facebook continues to dominate, proving the best value for marketers across B2B organizations, but lacking in engagement and promise for the future.
Let's look at post engagement comparisons according to Hootsuite . . .
"Engagement rates vary significantly based on the number of page followers, with small pages getting the highest engagement."
Over 140 billion Reels get played every day across Facebook apps.
Facebook has taken the lead in utilizing videos on their platform. With video traffic constantly in the public eye, there seems to be no hint of it slowing down anytime soon.
However, as of January 2023, the average Facebook page fan engagement with posts on a page was 0.07 percent. Image posts drew the highest level of engagement from fan pages, having an interaction rate of 0.12 percent.
Aside from Google always being the top dog, Facebook has grown dramatically in their ad options. ROI is one of the most important concerns for business leaders across any industry and Facebook hasn't been slowing down. Out of all the digital marketing statistics out there, a smart marketer will keep an eye on this one.
67% of monthly users are active daily—that's 1.98 billion daily active users (people using Facebook daily.)
As more and more people enter this world, more and more will hop on social media. Facebook is one of the most widely used social platforms for any age. However for the first time in many years, Facebook no longer holds the majority for most important social platform.
94% of marketers use Facebook advertising regularly, which translates to about 3 million businesses that use Facebook for marketing.
Instagram
Instagram accounts for 7.51% of web traffic referrals from social media
There is a "trust" factor when it comes to Instagram and the users behind the app. High-quality imagery attracts consumers naturally, and since Instagram mainly focuses on high-quality imagery and video, consumers are more engaged, leading toward that click on the follow button.
Aside from high-quality imagery being promoted on social media, video has been on the rise and is not regressing. Let's face it, videos are engaging!
Instagram's audience is 52.2% male and 47.8% female.
This is a change from previous years, when the audience was slightly dominated by women.
The influencer marketing industry is set to grow to $21B in 2023.
The rise in digital Influencers has been increasing a large amount by the year. People generally trust an Influencers opinion before a brand. With all the digital marketing statistics flowing in, Influencer marketing for Instagram is still increasing dramatically.
There are more than 200 million business accounts on Instagram globally that users visit every day.
"With a good presence on Instagram, businesses can cater to their clients' needs much easier, as 70% of them don't mind ads when watching videos on Instagram."
Like we've said earlier, many businesses have been utilizing Instagram and understand that relative, quality content is what your audience wants.
42% of internet users have an annual income of $75,000 or more use Instagram.
Although the statistic could change rapidly, this presents marketers with a little insight on the wallet of their targeted audience. Helping better understand your audience to provide the best service you can.
Instagram's ad revenues in the US are expected to hit $39.7 billion in 2023.
Instagram ads have been evolving and so has its audience. The number of ads businesses are pumping out on Instagram has been on the rise and shows no signs of slowing down. Instagram's ad revenues from 2023 represent a 19.4% increase from 2022.
Instagram users are on the app about 30 minutes a day.
This number continues to rise every year, and at a higher rate than Facebook.
LinkedIn
LinkedIn posts with images get 2x higher engagement than posts without images.
High-quality imagery is engaging, period. Even when posting a quote from someone famous, for example, it typically has an image behind it.
Video gets 5x more engagement on LinkedIn.
Aside from YouTube being the video all-star, LinkedIn videos have been on the rise since Facebook, and other social platforms have been incorporating video optimization. Videos are wonderful for creating traffic. LinkedIn's research shows that members are 20x more likely to share a video on LinkedIn than any other type of post.
There are approximately 875 million members on LinkedIn.
That's a hefty amount of business-oriented personas. This number has continued to grow and will continue to do so in the coming years.
77% of content marketers say LinkedIn produces the best organic results.
LinkedIn's audience base is very "driven" in their career goals. It only makes sense that LinkedIn's strong point is dealing with B2B organizations and like-minded personas, then mix that with content marketing, and you have something nice going on for your company.
LinkedIn's largest age group is 25 to 34 years old. (almost 60% of LinkedIn's users)
"It's not a surprise that more than half of LinkedIn users are in the age group starting and growing their careers."
Twitter
Twitter has undergone some significant changes in the past year. However . . .
There is a total of 336 million monthly active users.
Twitter is all about getting your voice heard as a user. With this many active accounts, digital marketing efforts on Twitter should be geared toward interactions and hearing your audience, aside from providing relevant content.
Ad spending on Twitter fell by over 70% as of late 2022.

Most of Twitter's audience (38.5%) belongs to the 25 to 34 age group.
This is a great piece of information when targeting digital marketing efforts toward millennials. The youth enjoy having their voice heard, and Twitter is one of the most engaging social platforms for that purpose.
Marketers report that the best time to post on this text-based social media platform is between 9 AM and noon.
SEO Statistics 2023
As of February 2023, 93.37% of people use Google as a search engine. Bing is 2.81%, and Yahoo is 1.13%.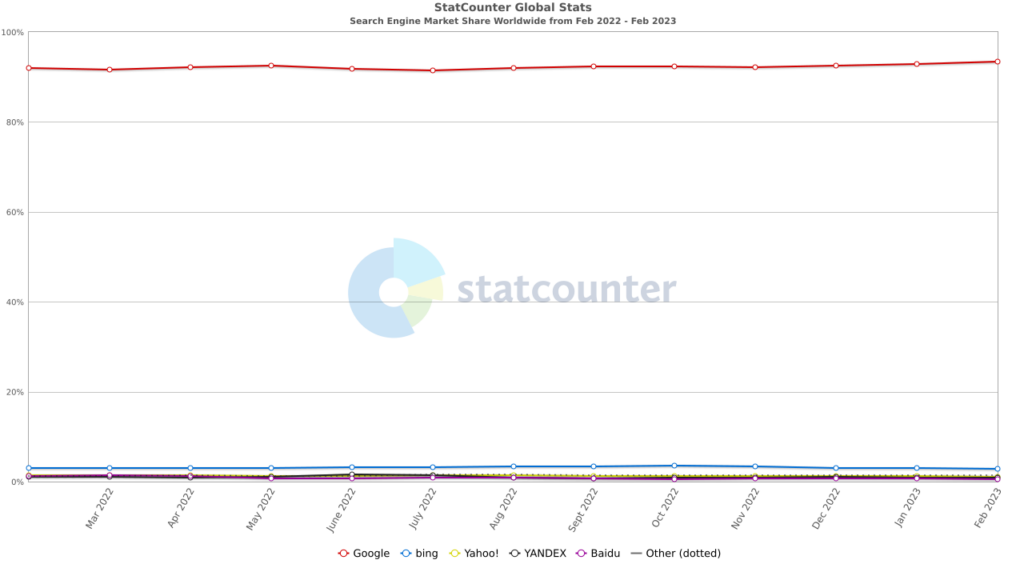 Google has been and still will be on top when it comes to being your dedicated search engine. The numbers have been consistent for quite some time now.
68% of online experiences begin with a search engine.
If it starts with a search, you know how important good SEO is. A high search engine ranking means your site will get noticed before your competition.
SEO leads have a 14.6% close rate, while outbound leads (such as direct mail or print advertising) have a 1.7% close rate.
SEO is a form of getting in front of the right audience through their curiosity, as opposed to outbound leads, in which the audience is generally only sometimes looking for what you offer.
This number continues to move up. Why not add more security? HTTPS uses TLS (SSL) to encrypt normal HTTP requests and responses and to digitally sign those requests and responses. As a result, HTTPS is far more secure than HTTP. [source]
The #1 result in Google's organic search results has an average CTR of 27.6%
The #1 result in Google has a 10x higher CTR compared to the #10 result. It should come as no surprise that ranking #1 is significantly more valuable than any other position.
67% of content marketers say SEO is their most efficient tactic.
However, Google is savvy when matching user intent to relevant content, so ensure you're giving your readers exactly what they want. This will increase your rankings.
Image Credit: Jon Rognerud, 6 steps for an Effective SEO Process
As of January 2023, the global desktop marketing share percentage, in terms of the use of Search Engines, heavily favors Google, with 84.69%.
Google has constantly been on top when it comes to favored search engines. You've probably tried it already by finding this article.
There are several ranking factors for Google . . .
High-quality content
Page experience
Page speed
On-page optimization
Internal and external links
The average word length of content that ranks on the first page of Google results is 1,447 words.
This is a remarkable statistic to have in your back pocket when creating content articles. Google has a specific way of ranking your article, so be wary of your word count.
The top three Google search results get 54.4% of all clicks.
53.3% of all website traffic comes from organic search.
On the local SEO front, 76% of people who search on their smartphones for something nearby visit a business within a day.
Although this number may change over the years, that is still a large number of consumers converting through mobile. That number is seeming to rise within the following years as our pocket technology evolves. Convenience and timing are important to the type of consumers that purchase the day of through their mobile device.
Wrap on Digital Marketing Statistics 2023
Digital marketing has evolved and will only continue developing innovative ways to connect with audiences. As a marketer, you must capitalize on the marketplace and understand who your audience is and what they want. In doing this, you can better position yourself as the business they need or the service they want.
The stats above provide critical knowledge and insight into how best to accomplish this connection with your audience. They are a good jumping-off point to a better understanding of how to build a solid digital marketing strategy. From there, it's your job to turn the numbers into an actionable plan.
Now that you have more information and know what to look for in the coming years, it's time to get out there and make a difference!