Knowledge about your competitor's website traffic and the strategies behind the traffic can be a game changer for optimizing your business growth.
Discovering how they position themselves in the market through keywords and new content is invaluable. Uncovering their best-performing content and weak spots or content gaps can be used to your advantage.
In this article, we'll explore how to look at traffic trends over time, and customer experience between your site and your competitor, unpack competitor traffic generation strategies, and recognize what sites send the most traffic to your rivals.
If you're pressed for time and want to quickly explore your top 3 competitors and their website's content status, Domain Authority, and traffic metrics, check out the Competitive Strength part of our new tool—Growth Potential Report; it's free and has immediate data available including blog content and pages, DA score and monthly website traffic.
On the other hand, if you're ready to dive deeper, keep reading. We hit on the most important traffic metrics you need to know and prioritize . . .
How to Analyze Competitions Traffic with Competitor Content Analysis
Accelerating growth and optimizing your digital performance comes with challenges and opportunities. There are ways to overcome the challenges if you know where to look.
Google Analytics is an asset for monitoring your own traffic. But it would help if you had another helping hand to check out your competitors. Semrush is a tool to estimate their website traffic and data to gain deeper insights.
By understanding and looking at key performance indicators (KPIs) like the number of visitors/unique visitors, traffic trends, and traffic sources, you can outrank your rivals, grab their traffic, and have your website work harder for your business while impacting your sales.
For this illustration, we grabbed Monday.com vs. ClickUp. Both are SaaS companies where users can track and manage projects.

Looking at the image above, you can see that for Feb. 2023, Monday.com had close to 7 million unique visitors, with an increase in growth from the previous month. It says a lot about the size of their audience.
It's also cool to note that the avg. visit duration is almost 22 minutes. If you were working at ClickUp, you'd probably want to investigate what's keeping visitors on their page and dig deeper into any trending traffic . . .

Looking at Monday's traffic, you could ask yourself,
"Are there any upticks in traffic that stand out?"
"Is there any shift in traffic that needs to be addressed?"
"Where is their traffic coming from – desktop? mobile?"
Another quick glimpse and you can compare traffic side-by-side:

Monday looks like the leader in website traffic, although the unique visitors seem closely tied between the two. Although Monday's bounce rate is slightly increasing, ClickUp's is decreasing—meaning visitors could find their content more interesting or useful this month.
The thought behind the numbers is to give you an idea of what your competitor is doing behind the scenes.
In the next section, we go further into where that traffic is coming from and how to leverage that data for your own content strategy.
Leveraging Competitor Traffic Analysis for Your Content Strategy
Using Ahrefs, the two images following are snapshots of the top pages for comparison. With a quick sort for positions 1-3—as that's where you want to be on the first page of Google, you'll discover top keywords, positions, and traffic volume. Armed with this data, you can fill content gaps.


Here's another example of pulling competitor data. This time we grabbed Airbnb and dropped it into Semrush's traffic journey.
The image shows Airbnb on top for direct but indicates their competitor, Expedia, has the market on referral and organic search.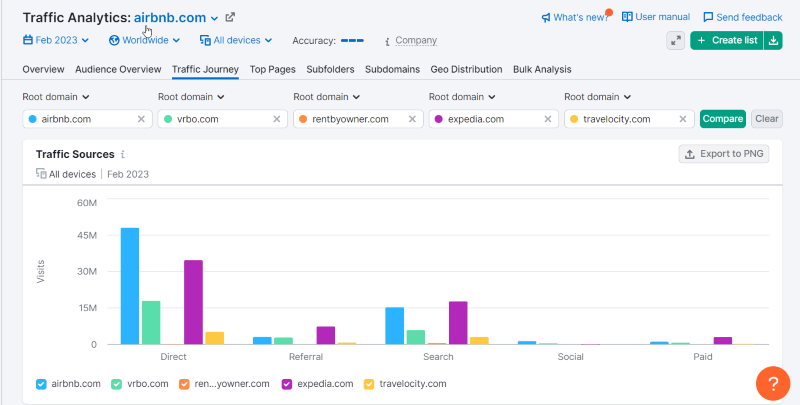 If you were in this niche, knowing that Expedia gets traffic from organic search, furthering your education on the topics and keywords they use will enhance your marketing initiatives.
The goal behind this article is not to sell Semrush or Ahrefs. We use tools that are available to help make more educated decisions. There are numerous ways to look at the data based on business goals and educate yourself with a competitor content analysis.
The important fact to note is that 'spying' on your competitor will be a game changer in optimizing your business growth.
But you have to implement the changes based on the analysis.
Implementing Changes Based on Analysis
Looking at the data can be overwhelming, but if you set up a long-term game plan, you will be successful.
For Content Marketers
Start publishing content that is proven. Don't second guess topics. Use data-driven research to increase your website traffic and outrank your competitors using a competitor content analysis.
Monitor keywords that are generating the best traffic (for you and your competitors)
Utilize the best sources. If you're a start-up, it may require paid Ads in the beginning. But as you get up and running, other methods will prove valuable. Learn. Do. Teach.
For CEOs and Heads of Marketing
Look at content as a long-term strategy and investment. If you start now and look back in 12-18 months, your website traffic, with organic results, will improve exponentially.
If you do nothing, you will be in the same place you are today, but your competitors won't be. You will have led the way for them to outperform you when it comes to traffic and sales.
Analyze where your marketing budget fits for content. Deloitte completed a survey showing the percentage of revenue industries should invest in marketing.
Where does your company fit?
Achieving your desired results is about goal setting, collecting and analyzing pertinent data, and making the proper adjustments based on what the data tells you.
Final thoughts
The insights into your competitor's content creation and what's driving that traffic will make you aware of what needs to be done to keep pace or outperform them.
We appreciate high-quality traffic insights that help you understand your market, outdo your rivals and give your audience what they want.
We created a free Competitive Strength analysis calculator as part of our Growth Potential Report tool so you can explore your top 3 competitors and their website's content status, domain authority, and traffic metrics.
Check it out and start analyzing your results today or if you'd like to discuss ways for your company to take advantage of strategic content feel free to book a growth strategy session.