Whether you are a well-known B2B technology firm or a start-up entering the industry, you need an effective marketing strategy to bring in site visitors and convert them into leads. This means identifying your target market and building a strategy to engage them. In today's shrewd marketing world, it's not enough to just be a marketing generalist. Marketing pros need a variety of skills that include strategy development, content writing, email marketing, social media, and lots more.
An effective marketing strategy has many different parts and a variety of tactics to employ. Ultimately, you want to prioritize those that cost the least but have the most reward. Pick which tactics work for your brand and then test them out to make sure they are the best for you with the most return.
Here are some great ways to build an inbound marketing plan for your B2B technology firm so you can bring in more site visitors, convert them into qualified leads, and then turn them into clients.
1. Develop buyer personas
Unfortunately, not everyone is going to be interested in your product or service. So, it's important to start off by identifying your target audience. Before you begin marketing your product or service, you need to know who you are targeting, what their demands are, and what type of message will attract them. This means that the first step in your marketing strategy should be to create buyer personas (imaginary personalities that mirror your ideal clients). For example, people that are thinking about buying your service or product can be "Health Services Manager Mary," "Private Practice Owner Otis," or "Physician Philip." Each of these buyers will have different needs, objectives, and obstacles. Outlining these buyer personas will help you develop content that will attract them.
You might know exactly who your targeting, but buyer personas should also be communicated and understood by the whole team. Create internal documents to fully breakdown each buyer persona. You can research the market, use relevant data, historical information from existing customers, and predictions based on previous buyer information. Ultimately, this will better help you understand what makes customers what to buy, what stops them from moving forward, and what they need to make a purchasing decision. These buyer personas–when done well–will help you strategically target and segment your customer audience.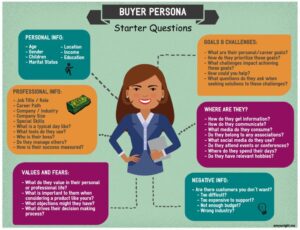 (Source)
2. Create buyer journeys
Once you have developed your buyer personas in your software startup marketing plan, take some time to figure out how each person learns and what would prompt them to make a buying choice. Meet with clients who match your buyer personas and ask them what their obstacles, objectives, duties, and concerns were before they purchased your product or service. According to Hubspot, the buyer's journey has three phases: awareness, consideration, and decision. Understanding the phases will help you develop targeted content that will meet their needs.
Be advised that this journey does not always happen down a straight path. A potential customer might skip a phase, move one back, etc. They could even go all the way through the journey just to find out they were trying to solve the wrong problem in the first place. Then, you're back to square one. When you're putting together your potential journeys (and the accompanying marketing plan), keep this in mind. Account for the different variables and potentially different pathways. This way, you'll be able to communicate with a potential customer wherever they happen to fall along the journey.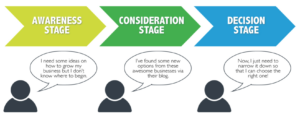 (Source)
When you're putting together your buyer journeys, it's helpful to consider a few questions:
What are the obstacles your prospects are facing? What challenges do they have?
What are all the potential solutions for these challenges? What will the prospect be looking for when they are seeking out these solutions?
What competitors offer these same solutions?
What will stop a prospect from buying or moving forward?
Do you have content already that answers some of the above questions? If not, start there when you are creating it.
3. Establish your marketing goals
Determine exactly what you want to achieve with your marketing strategy and when you want to see a return on investment (ROI). Make sure your objectives are specific, measurable, attainable, relevant, and timely (or SMART). SMART goals will go a long way in helping start-up companies. They keep the work focused and prioritized. This is especially helpful for new companies where it seems like everyone is doing everything! SMART goals make companies be strategic about where they place their time and who is doing what.
(Source)
Consider the following key performance indicators:
Sources of web traffic (email, social media, blogs, SEO, PPC0)
Number of unique site visitors
Number of inbound leads
Visitor-to-lead conversion rate
Lead-to-customer conversion prices
There are many ROI measuring tools that can help you with this. Hubspot gives the most effective analytics across the board, all in one system.
4. Develop a marketing team
Inbound marketing requires staff with a variety of skills like copywriting, blog writing, web design, web analytics, email marketing, SEO, social media, and conversion rate optimization. Marketing team members should be specialized and at the top of their game–you'll need them to help your company stand out in a competitive market. Once the team is in place, make sure all members have a clear idea of the goals and strategies to be used to carry out the marketing plan.
If you don't have these skills internally to accomplish your software startup marketing plan, it's a good idea to contract out to Inbound specialists. This could set a company back around $150k a year if you are working with consultants or $350k a year if you hire in-house. Working with a specialized inbound partner like Responsify will save you more than 50% over the do-it-yourself (DIY) methods, and will guarantee you get the strategy and resources you need to make inbound marketing work for your business.
5. Develop your content strategy
Because your site visitors go through various phases of the buyer's journey, you should create different content for each phase. The phases are:
Awareness: Here, your Buyer Personas are looking for information to fix the problems they are having. Your objective is not to advertise your B2B technology business but to give them information that will help them understand their issues. Content like infographics, blogs, slide-shares, and videos are great for this phase.
Consideration: In the consideration phase, your buyer personas have identified their issues and are looking for services. This is where you can make recommendations. With your great content, you can develop trust from your target market and collect their contact information by giving them premium content like ebooks or informational reports. Nonetheless, keep in mind that you shouldn't share all of your remedies just yet.
Decision: People in the decision phase know their issues and what they need, and are looking for specific options. This buyer persona is reviewing different products and services that will help them. Use content to help inform them of your B2B technology company's solutions. Demo videos, comparison charts, articles, and case studies are perfect for this phase.
(Source)
Once you develop your content strategy, make sure that content is compelling! Make sure that it's clear and understandable. No jargon, no fancy fluff. Your readers aren't looking for pie-in-the-sky pieces. They want to know what you're about and how your product or service can help them. Make it engaging to your audience so that they want to learn more and then become a customer.
6. Develop your audience
Even with the best software startup marketing plan, leads often don't buy because they don't have enough information. One of the best ways to keep your leads informed is by sending a collection of automatic lead nurturing emails. According to research by Email Monday, more than 70% of companies get their highest ROI with email marketing. There are many ways to grow your email list. First, you can set up an opt-in form on your homepage. You can offer free content like ebooks when people give their information. Social media and webinars are also great ways to help build your list.
Using automation to send your lead nurturing emails will help you reach more people in a more targeted way. This means individualized messages based on what each customer needs (or to match their buyer persona and buyer journey). You can send these emails out based on the actions they have taken. Maybe they signed up for a free trial, but didn't convert. Send them an email to check-in.
Make sure your emails have engaging, exciting subject lines that make people want to open. Make the content informative, but short, encouraging readers to click-through to learn more or take further action. Test different send times and days and try out different language to see what works best.
7. Maximize your blog content
Your blog is a large part of the overall marketing plan. Enhancing your blog content is a great way to build trust with your target market, increase your search engine position, and drive more traffic to your site. Create long-form content (more than 750 words, ideally more than 2,000) for a better search position. Use different types of interactive content like podcasts, videos, infographics, surveys, and polls. You should also use visuals to grab the attention of your audience. Make sure that your website is responsive, as people will be looking at it from different devices.
Don't forget to incorporate search engine optimization (SEO) into your content. Include relevant keywords into your content that you know your customers and leads are looking for in search. This will increase the likelihood that they will find your content. Consider using long-tail keywords that don't have much competition to reach an even more targeted audience.
Your blog content is a great way to show your expertise in the field and bring in new leads. Include links within your posts to more of your content, including premium content like ebooks and one-pagers. As you create more and more content, your website will become the go-to spot for info. This will bring in even more leads and will keep your current customers coming back for more.
All that being said, make sure you are writing with the customer in mind. Your blogs should not be all about how great you are. They should focus on what you can do for the buyer. Create a good amount of quality content to drive more traffic, get more clicks, and convert more customers.
8. Enhance Your Social Media Strategy
A study from Business 2 Community found that many people get information about organizations from social media. Having an effective social media strategy will allow you to engage followers with your content and improve the chances of turning them into leads or clients. Make sure you have goals for each social media post. This could be to get more shares or likes. Share great content that deals with issues of your target market. This could be photos, curated content, video clips, and blogs. Don't forget to share, like, and comment on your followers' posts.
Remember that a solid social media strategy doesn't always mean spending lots of money. An effective social media strategy can also be about growing your audience and engaging with your new and current customers. Especially for startups, social media pages are great for introducing your company to new people. Use it to showcase who you are, what your product is, and bring people to your website (what you want!).
You can also use your social media platforms as a source for user-generated content. For instance, hold a contest where customers post photos of themselves using your product. Feature the best of the best on your page and encourage others to share. This is a free, small-lift, and fun campaign to engage your audience and boost visibility. Add hashtags to pop up in more places.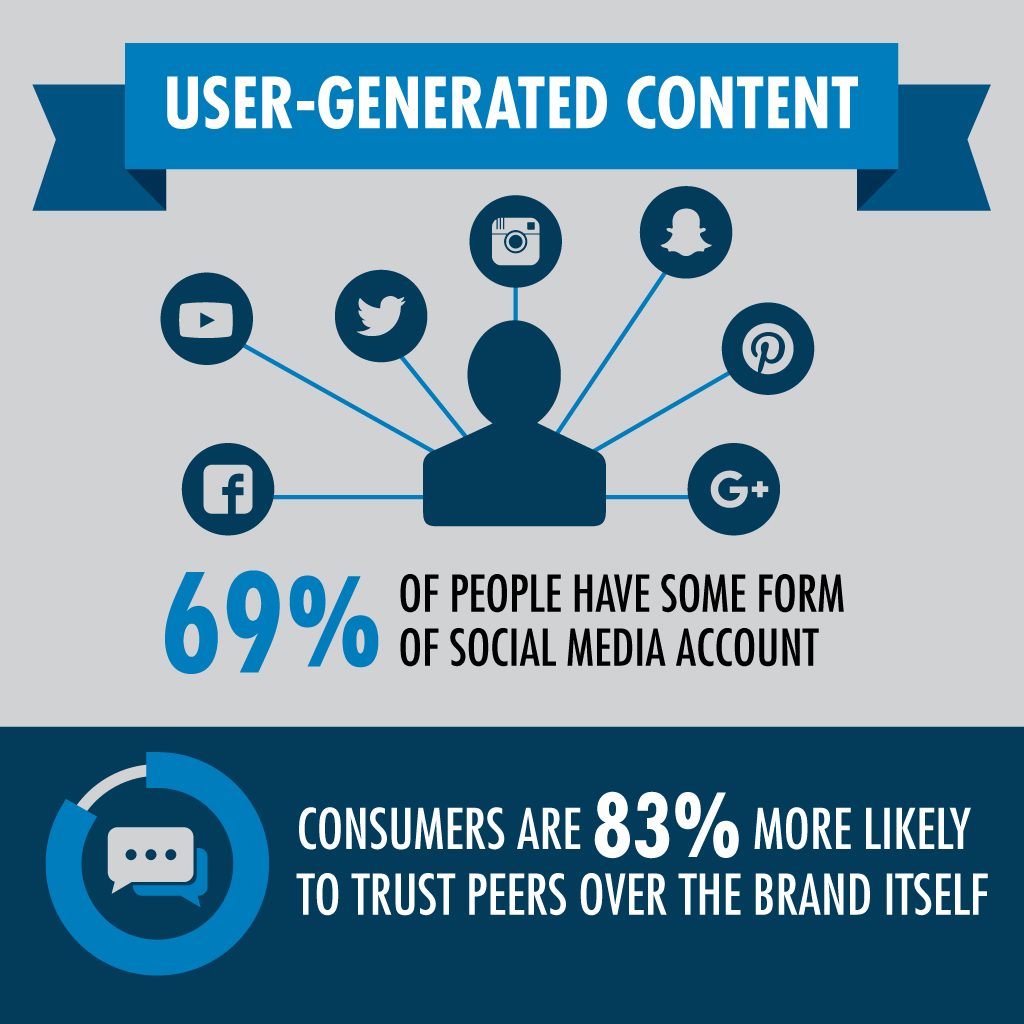 (Source)
The final word
The tips presented above are part of a marketing strategy called inbound marketing. Inbound focuses on the importance of creating content for your site that will convert visitors to leads. Your B2B Technology firm can use Inbound to bring in more site visitors, turn them into leads, and nurture them into dedicated customers.
It can be tricky to do all of this by yourself. Responsify is here to help B2B technology online marketers with strategy, support, and help in applying these steps. By collaborating, we help marketing pros strategically bring in site visitors, convert them to leads, and then happy customers.
We've helped many marketing pros implement inbound marketing plans. Don't hesitate to book your free strategy session to evaluate your current methods and find ways to bring in even more potential clients.