Many of us have our web browsers set to automatically display our favorite search engine, whether it's Google, Bing, or one of many other less-mainstream search engines. This idea highlights that the ability to find something online and quickly is becoming an integral part of our lives.
As a business owner, you are probably beginning to understand the value of increasing your online visibility marketing strategy. We can all agree that if someone is searching for your product or service and your business isn't among the first within the search results, you won't see much traffic to your website.
How can you improve your online presence? 
Undoubtedly, you have heard of and even researched popular companies that promise to increase traffic to your website with search engine optimization (SEO). By focusing on keywords specific to your niche, they create content that will make your website escalate on your target audience's search results.
Unfortunately, the business world is very competitive, and the popularity of the SEO strategy is rising. So, is it enough to just focus on keywords? No; and most online marketers will agree. Although it's an essential component to improve the visibility of your website, let's discuss seven advanced tips that will help you increase online visibility in your niche.
Tip #1: The Best Way to Increase Your Visibility — Create a Blog
The biggest mistake many businesses make is that their websites don't include any blog posts. Blogs are a vital part of your website content marketing strategy in which you publish information to help educate your target audience about the products or services you offer. The idea is to attract potential clients with topics that they will search for online.
For example, if I'm experiencing pain in my big toe, the first instinct will be to search for possible causes online. This search could lead me to your podiatrist website blog post that discusses possible causes of the pain in my big toe. Once I've reached your website, I will most likely make an appointment with your business if I decide to get it checked out.
Already Have a Blog?
You might be patting yourself on the back because your website does have a section for blogs. That's a good thing, and you're starting on the right foot. But if you're looking to increase online visibility, you need to ask yourself:
Have I published any articles lately?

What kind of topics am I covering?

Are you using high-quality content?
Consistent, High-Quality Blogs
Blog posts, considered a type of digital marketing, will connect you with and influence your potential online customers. But the key to a successful blog is to have consistent posts because that is how you will create trusting relationships with your readers. To establish such a relationship, the content you create for your blogs should revolve around topics that your readers will benefit from. 
High-quality blog articles will also:
Cover specific topics in detail.

The objective of a high-quality blog post is to have information that will be practical and beneficial for your reader.

Share useful content.

Your readers will appreciate posts that include real-world examples, case studies, reliable data, and relevant resources they can use in their lives.

Appealing writing style.

Thousands of words jumbled up in big paragraphs will not attract your target audience. Blog posts should be scannable and written in a conversational tone.
Make sure that your blogs also include web links to your company product or service pages. In time, other web pages will link to your content, providing drive traffic and creating a web of links that search engines will see as relevant and valuable to searchers.
Tip #2: Prioritize SEO
Creating a blog for your website is necessary because it allows you to utilize and prioritize an SEO strategy. Search engine optimization is the process of improving your site to increase its visibility for relevant searches, improving search engine rankings. Having higher rankings makes SEO another fundamental part of your digital marketing.
How Does SEO Work?
Before you understand the full importance of SEO, you need to know how search engines work. Search engine sites use computers that go from website to website, collecting information that it indexes. Once they are indexed, an algorithm analyzes the content and ranks your website pages in the order that they show up on search results.
What do these search engine algorithms analyze exactly? One of the critical items they study is keywords, which are the words and phrases a person types into search engines. When writing content for your website, whether it's a product/services page or a blog, your search engine optimization specialist will need to do some research. 
Keyword Research
The easiest way to research the most beneficial keywords is using a keyword search tool. Some of these tools will allow you to enter a broad keyword related to your business and give you a list of related words or phrases. Other tools will allow you to compare your website to key competitors and provide you with a list of words or phrases that they are using.
But the idea isn't to just fill your content with all the keywords possible related to your business. With the research, you have to decide which keywords will increase your online visibility by taking into consideration these factors:
Keyword search volume.

The quantity of searches doesn't always translate to more organic traffic. The keywords you use should be something many are searching for and relevant to your business

.

The intent of people searching.

If you sell a specific product, you have to use keywords that identify those looking to buy your product. Some broad keywords will simply pull up results for those looking for reviews or insights into that product

.

Keyword difficulty.

Keyword search tools will help you find the ideal keywords and tell you the difficulty level of ranking for it

.
SEO is a Priority
The bottom line is that if you're looking to improve your online presence, your website needs to rank high on search results. For this reason, SEO should be a priority.
Tip #3: Coordinate Your Efforts With Social Media
There was a time when surfing the web was just about going to different websites, but today's internet is growing into a gigantic place. Another practical tip for improving online visibility is to increase visibility on social media platforms. Why does social media have such an impact on online success?
The Reach of Social Media
The truth is people are communicating and staying informed worldwide via social media apps. The top social media apps based on the number of active users include:
Facebook

– more than 2.7 billion active users

YouTube

– more than 2.2 billion active users

WhatsApp

– more than 2 billion active users

Facebook Messenger

– more than 1.3 billion active users

Instagram

– more than 1.2 billion active users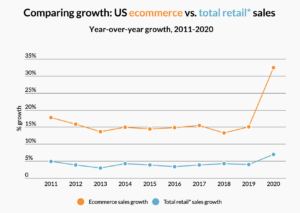 Your first instinct might be to become a user of all the popular platforms to increase your presence. The key to success on social media platforms is the same as with blog posts, you must be consistent, and your content must provide readers with value. So test out multiple platforms and see which layouts will allow you to manage your social channels best.
How to Benefit From Social Media
The first step in reaping the benefits of social media accounts is to create one for your business. The next step is to get your account seen by connecting with known contacts and having them share your account. Another way to communicate with your target audience is to join a group or community of individuals that have similar products or services as your business.
Now it's time to engage with your potential customers. Social media posts include pictures or videos, a short description related to the content your readers are interested in, and a link to your website. The benefits of posting on social media include:
Increasing brand awareness.

With social media, your business is exposed to a greater audience. It will allow you to promote your products and increase sales by getting your business out there.

Providing your website with more traffic.

By setting up different social media accounts, you reach people of different demographics. The reality is that a millennial might search on Instagram before going to Facebook.

Increased customer satisfaction.

Your website might be informative and the place where your clients can purchase your product. Unfortunately, you can't expect to establish a personal relationship with your customers. For some reason, being on social media humanizes your company and allows you to interact with followers personally

.
Tip #4: Post During Peak Hours
Increased visibility on social media platforms isn't just about constantly uploading posts. Those posts need to be seen and read by your target audience to have a more effective overall online presence. So it's vital to learn when the peak hours are that people will be viewing their social media platforms.
Some social media platforms have content that can be found through searches, for example, videos posted on YouTube. On such platforms, posting at the right time might not be as big of an issue. But other platforms have an average shelf life on posts you need to consider:
Twitter:

One of the shortest lifespans for posts, an average of 18 minutes.

Facebook:

Based upon its non-chronological newsfeed, the average lifespan is about 5 hours.

Instagram:

Most engagements occur within the first 6 hours, but the overall average lifespan is about 21 hours.

LinkedIn:

Average lifespan of a post is 24 hours.

WhatsApp:

While deleting messages is an optional feature, using the "Status" feature allows posts to have a lifespan of 24 hours.

Pinterest:

The unique feature that allows high-quality pins to garner repins makes Pinterest posts have a longer lifespan. Popular content has a lifespan of about four months, but sometimes social engagement can last for a year or more.
Possible Peak Hour Time Slots
So when is the ideal time to post your digital marketing content? The answer depends on your niche market. For example, if your target audience is younger teenagers in school, then school hours will not be considered your peak hours to post.
To help you determine your peak hours for social media posts, consider the following four time slots:
Early-morning:

Typically between 5:00 and 7:00 am, this time slot is usually a winner for most target audiences. The reality is that most people wake up with their smartphone or tablet beside their beds. Those "early birds" will find time during their morning routine to catch up on what they've missed while they were asleep.

Lunch-time:

Usually between 12:00 pm and 2:00 pm, some people utilize their lunch break for eating and learning about the latest trending topics on social media. Since their time to scroll is limited, they probably can't make it to those posts that are shared hours earlier.

Afternoon:

Typically, between 3:00 pm and 5:00 pm, some audiences, like students and part of the workforce, will be leaving school or work and use the time to check out their social media accounts. The later you post during this time slot, the broader range of people you will reach

.

Late-night:

Usually from 9:00 pm to 11:00 pm or later, more social media users are creating a habit of checking their accounts anywhere from an hour to two before going to bed. During their "winding down" time, they connect with friends or family and look for interesting content they can use or share online.
Note: The more you interact with your audience, the easier it will be to determine the peak hours during which your business should share content. Maybe you notice that users will post comments or reply to posts during a time different from those mentioned above.
Benefits of Posting During Peak Hours
Posting on your social media accounts when your target audience is active and more likely to share, or comment will help increase not only visibility on social media platforms but your overall online visibility.
Being consistent with your content will allow your business to gain more traction. Combined with posting at the right time, you will be able to remain relevant longer.
Tip # 5: Build an Email List and Use it Right
While you might think that emails are a thing of the past, it's still a vital part of any digital marketing strategy. According to Statista, one of the world's leading providers of market and consumer data, "despite the growth and prominence of mobile messengers and chat apps, email is an integral part of daily online life. In 2020, the number of global email users amounted to 4 billion and is set to grow to 4.6 billion users in 2025."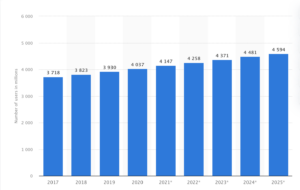 Should I Buy an Email List?
Many companies can sell you a list of thousands of emails, but are they the ideal solution to increase online visibility in your niche? No! In most cases, a good number of those emails have become obsolete and will yield no traffic to your website or social media accounts.
Build Your Own Email List
The best email list is one that you create from subscribers that already have an interest in your product or service. Build a list from previous customers, from followers on social media platforms, and create a landing page on your website.
Do More With Your Emails
As you get to know your contacts, you will be able to send out personalized offers that are sure to draw them toward clicking and straight to your website. That's the key to creating leads by creating long-lasting relationships.
Tip #6: How Paid Ads Can Increase Your Visibility Online
Paying online marketers for assistance with digital marketing isn't just about finding an easy way to increase online visibility. Our next tip includes looking into different paid advertising platforms, also known as pay-per-click (PPC) advertising, because competitors are also using these resources. Some common platforms include:
Search engines:

the most popular platform is Google Adwords.

Social media platforms:

Facebook Ads reach not only Facebook users but also Instagram users.

Other paid content:

there are numerous sponsored blog posts to look into. The advantage is you can advertise on sites that attract your specific niche audience.
Use Paid Ads Wisely
Paying for digital marketing isn't a guarantee that it will be successful and generate impressive revenue. The key is to invest in campaigns across multiple channels to see which one will best fit your business. Remember to monitor how each of your paid ad campaigns performs, so you're not wasting your money. In addition, it's important to check if your links are toxic.
When used wisely, paid ads have proven to produce multiple benefits like:
Return on investment (ROI).

The purpose of paying for ads is to generate additional sales from your ads. When done right, PPC ads have proven to return $2 for every $1 spent.

Increased online visibility.

Studies have shown that

over half of mobile users

are more likely to click on the first three paid advertising search results. More people will reach your website by clicking on a paid ad.
Tip #7: Work With Influencers
What is an influencer? When discussing digital marketing, social media influencers have created a reputation for their knowledge and expertise in a particular field. To become influencers, they have to post regularly on their social media platforms and generate a large number of followers that pay close attention to their views.
Choosing the Right Influencer to Work With
As with any other tips on our list, successfully increasing your online visibility will depend on more than just working with any influencer. It's vital to do your research and align your business with the correct influencer to bolster your brand recognition significantly. 
Before choosing your ideal influencers, keep these tips in mind:
The number of followers.

Influencers on social media platforms with more than 1 million are considered mega-influencers and are usually celebrities. Working with these influencers will cost too much, so shoot for micro-influencers who have between 1,000 and 40,000 followers.

The ratio of followers to "likes."

Having a large number of followers isn't necessarily ideal. Look at how many of the followers are liking the influencer's posts. The closer the number of "likes" are to the number of followers will show you exactly how good their relationship is with the users following them

.

Sponsorship history.

Learn more about the influencers you are considering. By following them, you will see how effective they are at conveying a brand story and how sponsored content in the past.
The more an influencer reaches your target audience, the more visible your business will be online. By choosing the perfect influencer, you will reap the benefits of your influencer's work to build a good following; your future following.
Increasing Your Online Visibility Doesn't Have to be Hard
As the world immerses itself more and more into the digital world, digital marketing is expanding to include:
Creating and utilizing consistent blog posts

Recognizing the value and prioritizing search engine optimization

Joining the world of social media

Maximizing the reach of your social media platforms

Connecting with your target audience through engaging emails

Boosting your income by wisely using paid ads

Reaching more people by connecting with social media influencers
Putting into practice these seven advanced tips to increase online visibility in your niche will require effort as a business owner. But increasing your online visibility doesn't have to be an unexplainable conundrum. 
Need Help Accelerating Your Brand?
You can create a unique and recognizable brand, but do you need help taking your business to the next level? The expert team at Responsify provides customer-centered services to help you gain more traction and make a more significant impact. 
Along with digital and content marketing, Responsify offers:
Responsive website design

Responsive email design

User experience design

Brand identity design

Business and customer alignment
Contact us today, and let's talk about how we can help your business reach its full potential!