In the SEO industry, your Domain Authority Score is considered a top-level indicator of your website's ranking power. Based on a scale of 1-100, the closer to 100, the more likely your site will rank on the Search Engine Results Page (SERPs). You'll rank on SERPs like Google, Bing, and more. So you can see the importance of Domain Authority, especially when compared to your competitors.
One of the leading search engine analysis tools, Semrush, continuously refines its Domain Authority scoring to model how well websites are positioned for search engine ranking power.
You can use DA to see a website's relative ranking strength, giving you a glance and a benchmark of where you stand compared to competitors. And monitoring that number over time lets you know if your growth is headed in the right direction.
We understand that analyzing Domain Authority Scores and metrics like website content, pages, and organic traffic affects search rankings so much that we created an easy-to-use Growth Potential Report tool, including a competitive strength analysis on all three classifications.
In this article, we dive deeper into what Domain Authority is, why it matters, and how to improve search rankings.
Importance of Domain Authority: What's a Good Score Today and How to Improve Yours?
What's a good score? It depends. But a good DA is a HIGH DA.
However, it depends on how long the domain and your business have existed. To give you a quick sense, websites that have been around a very long time, like Google and Apple, will have a high DA (95+).
Conversely, startups with a new website will probably be near 10-20. It's easier to move the needle when it's lower than trying to move from 70 to 80 plus. On average, Domain Authority of 50 and above is good, with 60-70 very good and above 80 excellent.
Domain Authority builds over time. It is based on a scale that measures the likelihood of a website ranking on Google's SERP. Today it is still considered one of the many metrics executives, heads of marketing, and SEO professionals should pay attention to. But when looking and analyzing, the playing field should be equal. Compare your site and DA to those of similar value.
Many tools predict Domain Authority Scores using different factors. Use it as a benchmark for where you are today and where you want to be.
Let's talk about ways to improve your Domain Authority . . .
Importance of Domain Authority and How to Improve DA and Rankings
Google is the most popular search engine, with over 8.5 billion daily searches—over 99,000 searches every second. So those numbers would imply your business stands to benefit from ranking higher in the search results.
It doesn't happen overnight, but when you consider it a long-term strategy and implement as many different factors as possible, you'll reach the DA and rankings your business needs for growth.
A Google ranking factor is one of the many small bits of information that Google decides if your webpage answers a specific query or the searcher's intent. For example, if a person types "best content-focused SEO agency" into their search engine, Google uses different ranking factors to display the best content to fulfill the need of the search intent.
The combination of search intent and relevant content, high-quality content, backlinks, Domain Authority, keyword optimization, and on-page experience are ranking factors you should prioritize to improve page ranks further.
5 Strategies to Improve Domain Authority and Rankings
1. Search intent matches content relevancy
Search intent, or user intent, is a person's leading goal when typing a query into the search engine. Fulfilling the search intent is Google's number 1 goal.
The bottom line is that if these two goals don't match, your page will not rank. Let's look at a real example. You're a business researching 'digital marketing statistics'—so you head over to Google and type: digital marketing statistics.

The results will bring back paid ads, 'people also ask,' and the web pages that meet that search query. Search queries are different. It's important to understand the why behind the search so your content addresses the information needed, the problem or challenge the searcher has, and more.
In this case, the search intent was informational-based, and the websites satisfying that need will be ranked. So, provide answers to the questions your audience is asking.
2. Create high-quality content
There are more than 600 million blogs out of 1.9 billion websites worldwide, and today 'quality of content' is rated the #1 most important success factor.
Creating unique, up-to-date content with your spin on the topic that is helpful for users will get you a spot on the first page of Google. If done correctly and you build it, the rankings will come.
The more valuable the content—the higher the rankings. Creating quality content makes it easier for you to get natural backlinks. (more on backlinks in #5)
As a growth-focused agency, one of the questions we get is, "How long does the article need to be?"
The content length required for better rankings has increased over the years. According to different studies, on average, posts in the first 10 spots on a Google search are 1500+ words. And long-form content gets an average of 77.2% more links than short articles.
So create your best content that is link-worthy.
Side note: Look at your top-performing articles and create the same topic or similar in different content formats. You have a proven topic. Make more of it in other formats—infographic, video, etc.
3. Optimize keywords for optimal traffic
You need the right keywords to attract the right audience, increase your traffic, and get higher rankings. It does your site no good if the keywords are not targeting your audience and you don't understand which stage of the buying cycle they are in.
You must understand the search intent behind them and the keyword difficulty. In the image below, you'll see the keyword is 'b2b software sales" with the intent=informational and keyword difficulty is 23%. You know your chances of ranking are more accessible than other competitive keywords.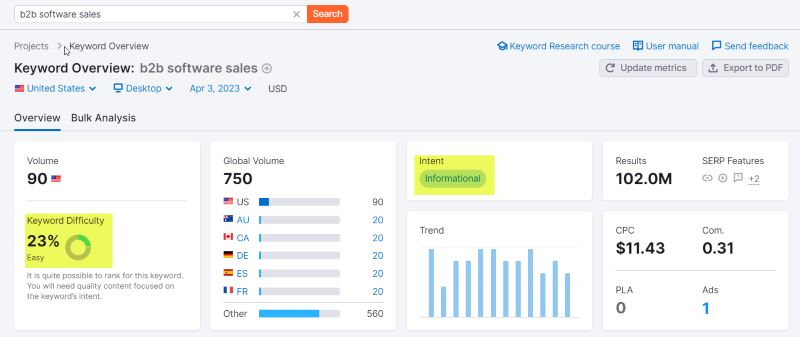 Now go over to Google and see what the results look like. Are your potential customers looking for this type of information?
After the Ads, you see the following articles: "How to Sell B2B SaaS", "21 Best Tools", "15 B2B Strategies", and one of our favorites, "How to Build a Steadily Increasing Pipeline for B2B Software Sales."
Is the keyword intent aligned with your business goal?
Can you dominate the term?
If so, then write the content that matches the search intent. Evaluating what is required to rank for a specific keyword will help you gain insights about what content development efforts will be needed and develop a content production plan.
4. Better on-page experience and optimization
Content optimization will keep your visitors on the page—which will help your Domain Authority and rankings in the big scheme of things.
Always give your users another 'next step', another destination. That could include a Call-to-Action at the end of an article, internal linking to another article on your site, straightforward Navigation, etc.
Giving your users the best possible experience is a great way to achieve long-term success. User-friendliness, the responsiveness of your website, and quick page loading influence your DA. To ensure visitors interact with your website, a resource you can use is Google's Core Web Vitals report.
5. Improve DA and rankings with top-notch backlinks
Links are still important to increase your Domain Authority. Earning natural links through high-quality content is the best way. You want to give other websites a reason to link to you.
There are other ways to build backlinks. For quick win opportunities, you can monitor mentions of your brand and reach out to the websites already talking about you. You can leverage social media by building those relationships early on, and when you have great content to share, let them know.
Internal linking is just as valuable. This type of linking helps drive users to more relevant content and build keyword associations or semantically related terms.
Related content: Link building for SEO The Definitive Guide (2022)
Your work is never done.
Once you think you have it nailed down, your SERP results can change because your competitors targeting your keywords tweaked something and adjusted their content just enough to bump you out of a top spot.
The importance of Domain Authority is real. Monitoring your DA versus your competitors becomes vital for growth.
Monitoring and Tracking Domain Authority
Domain Authority is a metric to keep an eye on, especially when trying to outrank your competition.
It is never a one-and-done—meaning you publish an article or update your website without looking back on how it performed. DA is a metric not to ignore. It gives a snapshot of where you are today. And, more importantly, where your competitor is today.
You can improve marketing strategies and make data-driven decisions by monitoring Domain Authority for both.
A good Domain Authority score can be one of the factors in determining your SEO success.
Final thoughts . . .
It takes time to get high Domain Authority and an abundance of great high-quality content consistently being published to attract new visitors and provide more reasons for other websites to link to yours (increasing your Domain Authority.)
If you understand it's a long-term strategy and investment and continue to improve the content produced, your results will become unstoppable.
We created a free Competitive Strength analysis calculator as part of our Growth Potential Report tool so you can explore your top 3 competitors and their website's content status, Domain Authority, and traffic metrics showing up to 3 years of historical data!
Check your competitive strength out now; it's free and has all the goals for your business.