Healthcare and technology organizations are making a positive difference. The industry is ripe for innovation, with the global healthcare IT market expected to reach $974.5 billion by 2027 growing at a CAGR of 19.8%.
"The growing demand for virtual care solutions such as telehealth and teleconsultation was catered to through innovations and advancements in the healthcare IT industry." (Grand View Research)
Today's increased demand for telehealth, electronic health records (EHRs), electronic prescribing systems, patient satisfaction and engagement solutions, and more, advanced by healthcare software companies, means building a solid digital presence is more important than ever.
To deal more effectively with the changing demand patterns and compete in this growing market requires a strong marketing strategy. A good B2B content (link to the new article) strategy and team will bring in highly-qualified healthtech leads, which results in sales and a better ROI.
If you're looking for a partner to help execute your strategies, this article details what to look for in a healthcare software digital marketing agency that will grow your business. We'll dive into the importance of generating leads with inbound, key components of a successful inbound marketing strategy, and best practices for digital healthcare agencies.
Importance of Inbound Marketing for Healthcare
With digital ad spend on the rise, healthcare marketers are paying more for each lead. A more organic approach is necessary since the average cost for a healthcare lead is $286. And it's estimated that 40% of all digital ad clicks are either fraudulent or accidental.
Healthcare SEO is optimizing an organization's online presence to get more attention and visits from search engine users (think of the potential customers from Google and Bing) without the high cost of Ads.
Imagine the revenue growth by shifting dollars to a marketing channel that captures most of the clicks on Google searches.
We helped a leading chiropractic software company experience a 783% increase in website sessions (for example, page views or CTA clicks), 967 new contacts, and 155 customers through inbound marketing in 24 months.

Content continues to play a critical role in capturing and nurturing health tech leads.
According to joint research by HIMSS and the Content Marketing Institute, valuable content drives action by healthcare software buyers. Their study found that 97% of respondents had taken action (conducted product research, shared information with colleagues, or began a purchase discussion with colleagues) after viewing high-quality healthcare technology-related information.
The study went on to say that healthcare IT buyers prefer email, events, webinars, blogs, and social—Linked In.
Components of a Successful Inbound Marketing Strategy for Healthcare SaaS
Attracting leads in a competitive industry like healthcare software means creating an outstanding inbound marketing strategy. Inbound leads, on average, cost 61% less than outbound leads.
Here's a proven, cost-effective step-by-step growth content game plan to outrank your competitors and make your stakeholders happy:
1. Conduct a marketing and competitor content analysis
This research aims to find areas for improvement and competitive growth in content marketing opportunities. Knowledge about your competitor's website traffic and the strategies behind the traffic can be a game changer for optimizing your business growth.
Compare:
Website content volume (number of blog posts)
Website traffic analysis (monthly organic search traffic, Domain Authority, and backlinks)
Keyword analysis (uncover the best keywords based on keyword difficulty, volume, and intent)
Social media analysis (where do you stand on social media versus your competition)
2. Define your target buyer personas
Buyer personas help everyone in your organization stay on the same page. By creating personas, your marketing, sales, and customer service teams better understand who they are communicating with and how to approach the interactions. Buyer personas lay out how to best communicate with your ideal prospect.
You must have an understanding of how your buyers make purchasing decisions. In the video clip below, Adele Revella, CEO of the Buyer Personas Institute and Author of Buyer Personas, talks about what you really need to know about your buyer . . .
How buyer personas help Marketing
Marketers can create better content with a clear vision of their readers. As they write blog articles, build-out email campaigns, and craft lean nurturing sequences with a clear picture of the challenges and personality of the target persona, the message is more likely to resonate.
How buyer personas help Sales
Sales team members quickly identify a prospect's challenges through personas. Before they even pick up the phone, a salesperson can see how to direct their questions. By asking the right questions, the salesperson can identify the solution to address the prospect's challenge(s) and shorten the buying process.
How buyer personas help Customer Service
The customer service team can respond to service requests more efficiently by clearly understanding the customers' needs. By using a common language to refer to personas, customer service team members can improve communication with other areas of the company as they seek to solve customer problems.
3. Focus on their unique buyer's journey
Tailor your content efforts to fit your audience through their different buying stages—awareness, consideration, and decision. The awareness stage hits on their pain/problem.
You will help the buyer define their challenges by educating them with content through a blog, email, and social media posts.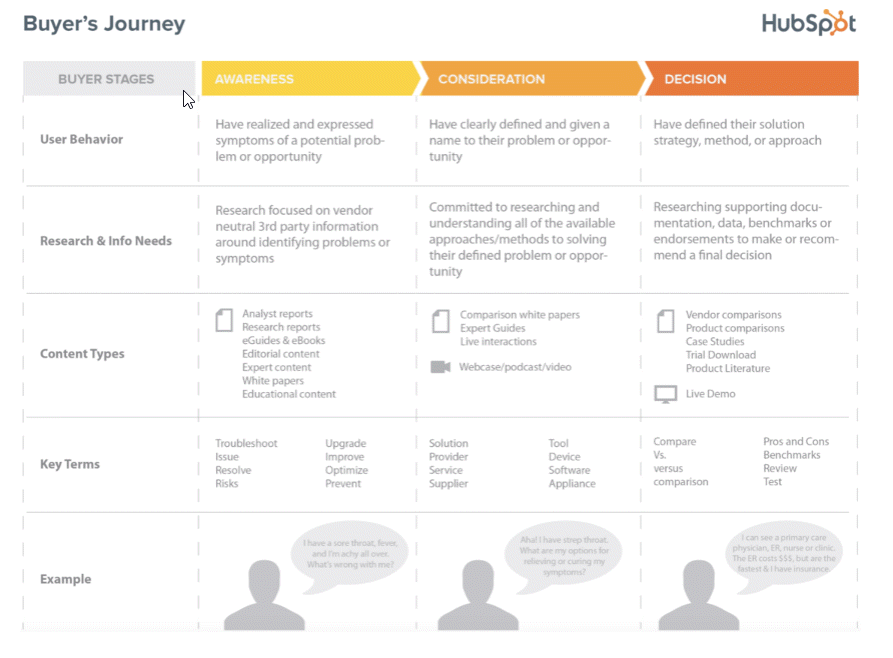 Get deeper into their goals, challenges, and responsibilities. Understand their change drivers and change inhibitors.
A change driver would be "I'm driven to find a solution because of X. I'm resistant to change because of Y."
For example, in health technology. . .
I'm driven to find a solution because "I'm just getting started and looking for a low-cost EHR."
I'm resistant to change because "I'm afraid we will get hacked, and our records will be leaked."
Armed with this information makes it easier to engage and educate your buyer personas online strategically.
4. Develop campaign concepts based on insights
Through your discovery period, consider what content your target audience finds the most valuable, not what you think they would like.
Use the data to create concepts that will generate the best results. Start pulling together topics around a campaign. Each campaign should include the campaign context, goal, company take, and outro.
Hone in on the best keyword for each blog post created under the campaign. Build out email subjects and social media posts to correspond with each article.
5. Content outline, writing, and promotion
Get your creative thoughts moving. It's time to create an outline that thoroughly answers your customers' challenges, questions, goals, etc.
Use tools like Ahrefs or Semrush to expand and identify the topics ranking on the search engines.
B2B content creation can be time-consuming but worth it. Your buyers want to engage with relevant content that isn't too sales-heavy and all about the company. Content should stay focused more on business value and less on product specifics.
Long-form content is one of the most effective ways to generate health tech leads.
You can use your internal resources for inbound marketing or outsource to an agency . . .
How to Choose the Best Healthcare Digital Marketing Agency
Expert knowledge of the industry
Has had proven results in the niche
Is considered an extension of your team and more of a business partner
A skilled team behind the agency
Efficient and knowledgeable writers in place
Appreciates feedback from the subject matter experts.
Helps you build trust and authority. Research shows that trust is more important than ever—in fact, it's "second only to price" for consumers choosing a new brand. (Source)
Stays ahead of the trends
In it for the long haul
This is not their first rodeo
Deliver a return on your investment
Closing thoughts
An Inbound agency's job is to bridge the gap between your HealthTech and its consumers. A certain degree of technical knowledge is necessary, but the ability to answer specific customer questions through content is more relevant.
Each customer base in Health Technology has its own needs. Be wary of agencies that treat each market segment with a one-size-fits-all model.
If you want to get started with an agency or eliminate the headaches of creating all your content yourself, Schedule time with our Growth Strategist to discuss your situation and possible strategies for growth.
And in the interim, take the free 5-minute SaaS Self-Assessment to help you determine your strengths and weaknesses in lead generation.