How do you get awarded top Health Information Website by the Harris Poll EquiTrend survey three years in a row? Ask the marketers of the Mayo Clinic! Health and medical topics are among the most researched topics online. And they definitely made the most out of that fact. Mayo Clinic managed to become a trustworthy source of information in the healthcare sector.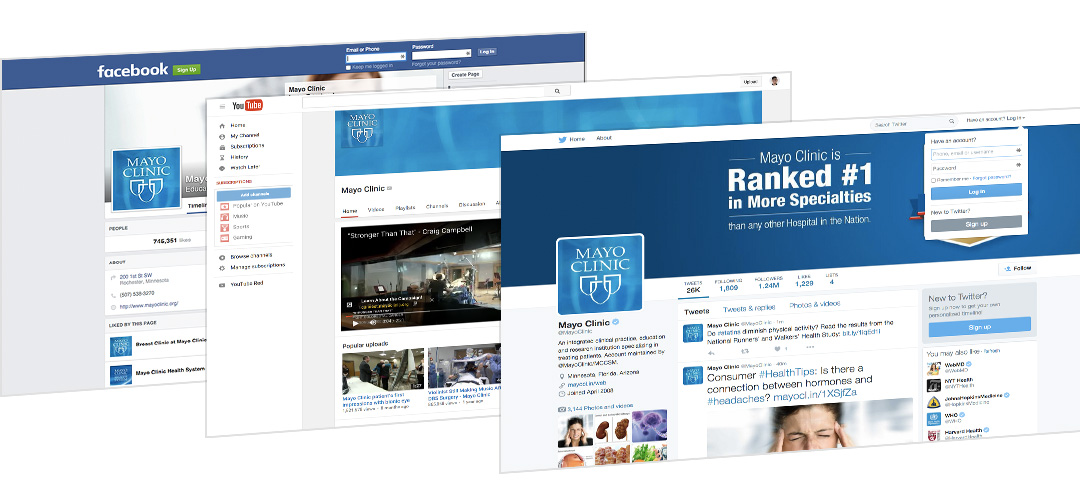 Build a coherent presence on social media channels
Mayo Clinic counts 1.2 million followers on Twitter and more than 700,000 likes on Facebook. They also have an active YouTube Channel, podcasts and blog posts.
In 2010, the Mayo Clinic actually created the Mayo Clinic Center for Social Media. It manages their different social media channels and programs. Inbound Marketing and social media are essential to the strategy of giving tools to patients to "advocate for their own health". Useful content on social media likely generates leads among your audiences. Patients are sharing experiences or supporting each other about specific health conditions. Physicians are exchanging on treatments and procedures with peers. And hospitals are releasing educational content for their audience or getting reviewed on Facebook.


Content is good. Useful content is better
This is one of the strengths of the Mayo Clinic's marketers. They don't just use social media to advertise for their clinic. They concentrate their efforts on providing patients and caregivers with useful insights. And they help their audience connect with each other to best manage their health.

According to DC Interactive Group's research, 41% of people said social media would affect their choice of health care provider. Just releasing shallow content online would be like sowing seeds on a windy day. They will end up growing in your neighbor's field!
Take your customer's needs into account
For Samantha LeVan, a two-time cancer survivor and now senior user experience designer at the Mayo Clinic, it is necessary to engage with patients when you are creating platforms or content for them to stay relevant. For example, when they redesigned the Mayo Clinic's website for medical transplants, LeVan's team learned from patients that they would rather access the information in stages and not in a block. Also the Mayo Clinic sticks to vision at every step of its application's design:





The Mayo Clinic app has patient records (including x-ray images), keeps track of previous appointments, allows you to schedule new appointments, and chat with a doctor about health concerns and questions. With so many functions, it's incredibly time- and labor-saving for the patients that use it.
Be innovative when it comes to engaging customers
Let's say you're a patient searching for information on a treatment or on a surgery procedure. If you google this procedure you're most likely to find one of these three things:
a Youtube video of surgeons performing the surgery you were searching for

an article from the Sharing Mayo Clinic web page that displays testimonies of patients about their health conditions

a podcast from the Mayo Clinic Radio
You also have the possibility to join the community of Mayo's patients at any point during your research on all of Mayo's sister websites and share your story.
We hope that you'll find the Mayo Clinic's example inspiring! Implementing a successful inbound strategy requires you to be present in social media and create engaging content. Now you will be able to connect to these users via email campaigns and generate leads that will help your business grow.