Content is King: Create Great Content That Converts
A solid content marketing strategy is the backbone of any successful business. So whether you're just dipping your toes into the digital marketing world or you've been doing it for some time, it never hurts to make sure your content strategy is top tier. 
In this post, we're going to dive into how you can create an unfailing content marketing strategy to engage with your audience and take your business goals to new heights.
Make Your Content Engaging and Scannable
Regardless of the types of content you produce, you want to ensure that this content is both engaging and scannable. So how do you do that? Here are a few ways:
Use headings and subheadings:

No one enjoys looking at one massive blurb of text on a page. It's overwhelming, it makes your eyes swim, and it's hard to know what the article's key points are. Instead, break up your text into smaller paragraphs and separate them with subheadings. Then, readers can quickly scan your content and focus on the parts that they need the most.
Include photos and infographics:

Photos and infographics are great ways to give readers a break from text and white space. These photos can reiterate a point made earlier in the article or sum up the main points in a way that's easy for your audience to consume.
Format blog posts for readability:

A popular way to do this is through bulleted lists like this one. You can also incorporate numbered lists, switching up your fonts, or including captions for images to draw the reader's attention. 
Create All Types of Content — Or Decide on Content Types
There are all kinds of content that you can include in your editorial calendar throughout the year. While some businesses choose to have their b2b content marketing strategy include all the types of content, others focus on simply perfecting a few content areas.
Whatever you decide, it's essential to use a variety of content that will allow you to connect with a wide range of users. 
Social content:

It seems that lately, social content has been reigning supreme. So much so that some new businesses can create an entire following on one or two platforms without much of an online presence elsewhere. The great thing about social content is that companies can send one post out to various media. If you made an infographic for Facebook or Instagram, you could turn this same information into an informative YouTube video. A fun video for TikTok can be changed into a carousel post for Pinterest. You have the freedom to mix and match content to your heart's content (get it?).
Blog posts: Blog posts are often the central piece of content that businesses choose to build around. You can create many other pieces of content from a blog post, and they're great for building a relationship with your reader. In addition, blog posts are quickly consumed, they don't take long to write, and it's a quick way to provide readers with valuable information at little to no cost. However, if you choose blogs as your primary content source, make sure that you don't wait too long between posts or fail to give readers a solution to their issues at the end of the post. You'll end up losing your readers' interest or failing to show them the value of your blog.
Ebooks:

Although writing an ebook can seem overwhelming at first, these long-form pieces of content can be instrumental towards establishing yourself as the authority on a subject. Since they're often available as PDFs, ebooks make awesome lead generation magnets. 
Other content types you can use include:
Videos

Press Releases 

Static Web Pages 

Podcasts

Case Studies

Longform Content
Know Your Target Audience
Identifying and understanding the needs of your target audience will enhance the way you reach them.
Create Buyer Personas
Buyer personas are vital to figuring out your target audience and how to best appeal to them. But what exactly is a buyer persona? How will it help you narrow down your target audience and know what kind of content they want to consume? Let's find out.
A buyer persona portrays your target customer. This persona helps you understand the motives, needs, and wants of your best potential customers. In addition, these personas assist you in knowing what drives your customers to make a purchase and how you can speak to them. 
Here's how to create a buyer persona:
1. Research Your Audience
It's all too easy to assume that you know who your buyers are, but don't fall victim to this. Collect data on your existing customers and followers and look at factors like:
Age

Location 

Interests 

Challenges

Issues 

Life goals

Stage of life
Identifying this information is crucial when creating Business to Consumer (B2C) content. Why? Looking at your audience in this way allows you to view your buyers as real humans instead of a mass customer base. 
2. Find Out What Social Platforms They Use
You can't reach your customers just by putting out great content. You need to reach them on the platforms they use. Find out where your target audience spends the most time online. You can do this by using a platform such as Google Analytics to see which platforms appear in your referral traffic report. You can also check out relevant hashtags and see what content gets shared the most across social platforms. 
3. Identify Customer Problems
When thinking about your ideal buyer's problems, ask yourself the following questions:
What problems are customers trying to solve?

What are current customers saying about our product?

What are customers saying about other products on the market?

Are customers facing certain obstacles in reaching their goals?
Answering these questions will make your buyer personas more three-dimensional and help you get inside the heads of your target audience.
4. Pinpoint Customer Goals
Now that you know what issues your customers run into, you can pinpoint the goals they want to achieve. Even if your customers' dreams don't relate directly to your product, they can help you tweak your approach or brand voice. In addition, the information you collect can influence the overall direction of your content marketing efforts. 
5. Create Your Buyer Persona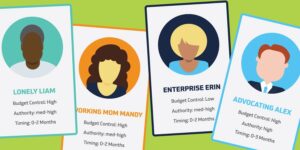 Collect all of your research together and identify the shared characteristics among your audience. Once you have all of this together, you'll have the foundation of your buyer persona.
Your buyer persona could be a group of young women in their mid-twenties who work remotely, live in urban cities, and want to start investing. You'll take all of these characteristics and transform them into someone you can relate to and understand. 
Give your buyer persona, a name, an age, and other defining characteristics. Think of it like a sample dating profile that gives you all the key points you need to know about a potential partner. 
Your buyer persona may look something like this:
Name: Lisa Loel 

Age: 26

She has a dog named Goldie 

She lives in Atlanta

She works remotely for an event company 

She wants to start diversifying her income by investing

She enjoys biking on the weekends

She wants to buy a house in the next two years 
While a list of characteristics doesn't equal a buyer persona, this information will help you understand your target audience and appeal to them correctly. 
Understand What Your Audience is Searching
To create content that benefits your audience, you need to understand what they're searching for. You can do this in three ways: 
Keyword research:

There's tons of information on the web about popular keywords and searches. You can use Google Trends, AdWords, SEMrush, and more to determine which keywords are actively ranking. Remember to look for a mix of short and long-tail keywords to get the most bang for your buck.
Listen to your audience:

Pay attention to what your target audience is already saying and searching. You can do this by reviewing your competition and seeing the techniques they use. Look into the types of content they produce and how they go about connecting with their target audience.
Ask your audience what they want to know:

It's not against the rules to ask your audience what they want to see or hear from you. Many companies utilize their existing audience to find out what content ideas they should be focusing on. If you're at a loss for where to begin in your content creation journey, perhaps an online poll or open Q&A can help you identify what your audience needs from you. 
Put Your Content Ideas into a Content Calendar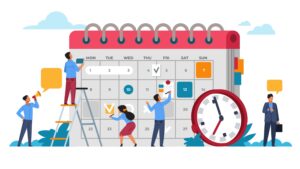 Gathering information is more effective when you focus on organizing that information.
Define the Goals of Your Content
While planning your content for the upcoming year, you need to consider the goals of your content. For example, do you want to generate more leads? Increase website traffic? Or do you want to increase your TikTok followers? 
Whatever the case may be, the goals of your content determine where you post, how you post, and to whom your post is for. Engaging in content creation without a clear purpose will result in wasted resources, time, and effort of everyone involved. 
Create a Content Calendar Template
Your content calendar template can be as simple as an Excel or Google Sheets spreadsheet, or you can use a specific content calendar platform. Although every calendar will be unique, most calendars include:
The channel where you will publish content 

The topic of the content 

Type of content 

Potential date and time of publishing 

Follow up — i.e., was the content posted on time
Choose Your Channel/Type of Content
The types of channels and content you put out are dependent on buyer personas and target audiences. After all, you want to make sure your content falls into the right hands. So avoid spreading yourself too thin or posting purposeless content just to put something out. Instead, identify the most rewarding and essential platforms and focus on those first.
You can post a mix of social media posts, press releases, and blog posts. To get the most out of your efforts, consider reposting blog posts to other platforms like LinkedIn or sharing an infographic from Twitter on Pinterest.  This will also help you drive more traffic to your site while repurposing content.
Build Around The Calendar Year
The calendar year should serve as a framework when creating your content calendar. Go through the year and highlight all the days you plan on building content around —  holidays, special events, workshops, seminars, etc. 
Doing this in advance will help you plan any seasonal content you'll need during the year and understand how much work each piece of content will entail.
Include Personalized Content
Now that you have all the critical dates out of the way, you can see where personalized content fits into your calendar. For example, there may be current news events or topics that grab the attention of those in your field. 
Leave room for articles or social media pieces to comment on the current happenings. If your company plans to launch a new product or expand, create space for press releases and other articles to promote new products. 
Plan on interviewing key people in the business? Video interviews or stories make great talking points across the web. No matter what additional content you choose to include, be sure that you don't overbook yourself in the calendar. Each piece of content deserves its time in the limelight. 
Highlight Evergreen Content
Evergreen content is your content calendar's best friend. This content isn't tied to a specific date or time and can be recycled into the calendar with updates. 
Planning for evergreen content prevents delays in content when you run into a hiccup or other pieces of content that need to be pushed back. Instead, save room in your content calendar for evergreen content that can be used at any time. 
Use SEO Right: Say No to Keyword Stuffing and Over-Optimization
Keyword stuffing is probably one of the worst things you can do for content on your website. Not only does it look and read bizarrely, but Google hates it too. 
But wait, I thought it was good to use keywords on my website! 
Don't get us wrong; we love using keywords to bump up our SEO scores. We wouldn't be Responsify if we didn't. However, keyword stuffing does much more harm to your website than good. So how do you know if your blog posts or content products are suffering from keyword stuffing? 
Here are some types of keyword stuffing to avoid: 
Repeating words or phrases unnaturally

Adding out of content words

Including keywords unrelated to the page topic
A piece of content that's trying to rank for the words "reusable water bottle" through keyword stuffing might look something like this:
"Are you on a hunt for the best reusable water bottle? This spring, our reusable water bottle will have a fresh new design for eco-friendly drinkers. With our easy to clean spout and sweatproof exterior, this reusable water bottle will be your favorite item this season."
Do you see the problem? They used the keyword three times in a piece of copy that is 47 words long. This puts it over the threshold needed to rank on search engines, and your website will be penalized for content like this.
Other than keyword stuffing, your content could be suffering from different types of over-optimization, such as:
Overuse of H1 headers:

Your H1 header on your page is the main heading. Don't confuse good SEO practices with using multiple H1 headers. While you can have many H2, H3, or even H4 titles, you should only ever have one H1. 
Overdoing the internal links:

Internal linking on your website is excellent. Overdoing it is not. Instead of constantly linking to your homepage, contact us, or about us page, focus on deep internal links to other resources of informative content. 
Linking to spam sites:

Avoid linking to spam sites like the plague. If your site constantly links to toxic, spammy sites, your SEO will suffer, and you'll eventually be dealing with low domain authority. 
Distribute Your Content And Capture Leads Using Email Funnels
A lead generation or email funnel is one of the best ways your business can attract new customers. However, since you need customers to run a successful business, this lead generation process must be airtight. 
A lead generation funnel has three stages:
Getting your audience to opt into your lead funnel

Guiding these leads through the sales process

Transforming these leads into paying customers 
Capturing leads through an email funnel typically begins with you offering potential customers something in exchange for their email. This could be a template in the form of a PDF or a free upgrade on a purchase they made. Of course, the opt-in needs to seem valuable enough for them to give you their email, so give some thought to which piece of content fits best here. 
Make the buyer's journey through your sales funnel an easy one. Your blog is where you'll get most of your leads from, so don't hesitate to incorporate relevant posts to build a relationship with your target audience. As a result, they'll come to see you as a trusted friend in the industry, and they'll be more willing to give out their email address when you ask for it. 
Once you get their contact information, they've now entered your sales process. You likely communicate with these people via email to encourage them to purchase and move them through the sales funnel stages. 
If you've done the first two steps correctly, you should have no issue closing the deal and moving your customer to make a purchase. Although they may be primed to buy your product, it's still helpful at this stage to make one last play for why they should make a buying decision. 
To motivate them further, think about the content you have that appeals to the nature of human emotion. For example, you might include a case study or testimonials about your product to emphasize how customers feel after using your product.
Measure Your Success — and Your Failures
We know that regularly creating content and sharing it with your target audience is great, but you need to make sure that it works for you. To do that, you need to be open to measuring not only your success but your failures as well. 
What should successful content accomplish? Your content should:
Increase traffic to your site

Improve conversions 

Build up your reputation in the industry 

Optimize your search engine ranking

Increase audience engagement 
If your content is not doing this, try to create each piece with these aspects in mind.  
Find out what types of content and lead generations are working —  and which ones aren't. You can measure the success of your content marketing strategy by looking at metrics like:
Email subscribers

Quality leads 

Sales 

Open rates & click-through rates

Time spent on webpages 

Average monthly organic traffic

Audience engagement 
There are countless tools on the market to measure the success of your content marketing efforts. However, even if these tools show that your content efforts fail, you don't have to throw in the towel. It may be that all you need is a little help to get the ball rolling once again. 
Content Marketing Strategy Made Easy: Let Responsify Take it Off Your Plate
Even the most successful content marketing strategies can use some improvement. The industry is changing every day, and your 2016 b2b content marketing strategy might not cut it anymore. For many companies, the next step in their efforts to improve the reach of their business is to bring in an outside source that specializes in content creation. 
Responsify offers content marketing services to help you make a more significant impact while increasing sales, revenue, and growth. We can help you build a customer-centered strategy, create targeted content, and make the most of your social media channels. 
Get started with a free assessment to see how Responsify can improve your content marketing strategy for the better.