'Keep your friends close and your enemies closer' is a famous saying for a good reason. Keeping an eye on your competition will help you understand your competitive advantages and disadvantages relative to those in the market. Learning about your business in relation to your competition will broaden your knowledge about your target audience so you can constantly refine your business strategy.
41% of marketers said analyzing their competitors influenced the success of their strategy
But as extremely busy executives, you don't always find the time to analyze your competitors' websites consistently. You need to understand in-depth knowledge of their success or failure, what's working for them, and what differentiates you against them to serve your business well.
A competitive blog analysis can give you a sense of the size of their site and how fast and big they're running. Some competitors will have published tons of content, others less. When you dissect how your competitors generate traffic, their keywords bringing in the highest traffic, their marketing mix, revealing top pages, and more, you'll soon pinpoint growth points for your business. This will create an unstoppable marketing strategy built on data to increase ROI and outrank your competitors daily on the SERPs.
We understand that analyzing your competitive landscape can be a daunting task. So we created an easy-to-use Growth Potential Report tool, including a competitive strength analysis to quickly explore your top 3 competitors and discover their website's content status, domain authority, and website traffic metrics for free.
In this article, we dive deeper into what a competitor blog analysis looks like, tools to help, how to implement one, and tips on interpreting the data and using it to improve your content.
Understanding Competitor Blog Analysis
The benefits of a competitive analysis outweigh any time constraints you see as a challenge. You can objectively judge their performance and use the information and education to enhance your business strategy.
When comparing your competitors, you'll easily differentiate yourself based on their products or services. It will help identify your unique value proposition supporting your marketing efforts. You'll gather insights from historical data and understand how the market views you against them.
Let's dive into some tools (in addition to our GPR) that you can use . . .
SEO Tools for Blog Analytics
Blog analytic tools have two objectives:
Identify opportunities to enhance performance
Give you the backup needed to prove ROI
Some tools track rankings, authority, traffic, social media presence, link popularity, and the list goes on. We gathered a few tools we use daily. They can be used together or as a stand-alone, depending on which metric you are honing in on.
Google Analytics and Google Search Console
No doubt these free tools are in every business owner's arsenal—and if they're not, they should be. Both offer a wealth of data firsthand from Google—the top internet search engine.
GA's calling is to provide data based on those who visit and interact with your website. Google loves to organize information and educational content, making it available, relevant, and useful based on search intent. Google search console provides insights to improve visibility on the SERPS.  So why not use them to your advantage?
HubSpot's software is designed to lend a helping hand in determining what content is working hardest for you and discovering the content that needs improvement.
The Marketing Hub ties ads/PPC, email, landing pages, social, and website (pages, blog, and SEO) together under one roof.  And when you connect your CRM, you'll discover the site visitors that are the right fit for your business. It becomes easier to track content assets and articles to conversions and sales.
BuzzSumo is a tool to measure performance across the SERPS, articles, and social media channels. The content analyzer is a favorite for finding content that performs best and is used for content creation.
And in keeping with this article analyzes successful competitor strategies.
When GA doesn't give you what you want, Semrush is another excellent tool to track traffic and keywords. Its Keyword Magic Tool is a powerful keyword research tool that provides variations of your seed keyword with its difficulty to rank and intent. It also offers recommendations on how to optimize your existing blog content.
Related content: How to Do an SEO Competitive Analysis
"Everything you need to rank higher & get more traffic."
Ahrefs gives you the information you can use to:
Create new content that is likely to attract organic search traffic.
Find keywords your customers are searching for.
Analyze your competitors and more.
Now let's dig deeper with a key question . . .
How do You Begin Analyzing Your Competitor's Blogs/Articles?
Analyzing your competitors' digital presence is exceptional for understanding what marketing methods work in your industry. It's an opportunity to identify topics your competitors don't cover that you can leverage to drive traffic to your site.
For illustrative purposes below, we used Semrush and Ahrefs, but any SEO tool designed to help your business get higher Google rankings will work. Also, note that the tools have different plans and pricing, which opens up advanced filters.
Step 1. Assuming you've identified who your competitors are: Grab the competitor you want information on and drop it into the SEO tool. We used Backlinko as an example. After all, he is known for his insane SEO knowledge.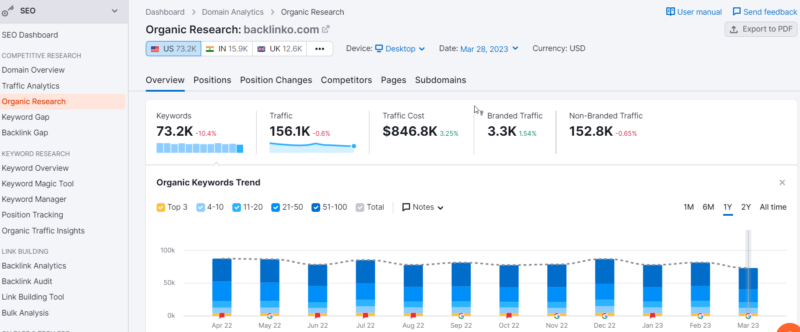 Step 2. Look at the metrics:
Keywords – the total number of keywords the site ranks for.
Traffic – an estimate of the site's traffic from search engines. It's a benchmark of your competitor's SEO; you can compare it to your results.
Traffic cost – If they use paid traffic, look at this number as an estimate of how much the site's organic traffic is worth. (traffic and its value)
Step 3. Identify the keywords for which the site ranks.
You can sort by traffic, volume, and keyword density. If your competitor ranks for keywords, you can, too, eventually. Be mindful of their Domain Authority versus your DA and KW difficulty. There are advanced features you can take advantage of as well.

Step 4. Compare your overall traffic to the competitor. Traffic Analytics gives you all website traffic (not just Google organic traffic). Collecting this data gives you a starting point to compare down the road.

Step 5. Analyze keyword gaps
Keyword gap shows a list of keywords your competitor ranks for. You can toggle between 'Missing' keywords for which You-domain doesn't have rankings but its competitors do and 'Weak' keywords for which You-domain ranks lower than any of its competitors.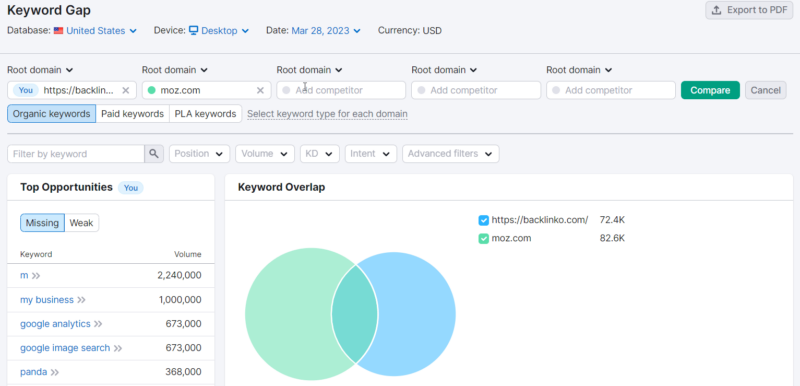 Step 6. Look at the top pages of your competitor.
Here, we used Ahrefs and sorted them by position 1-3.

Looking at the data, you can quickly see link building, backlinks, and seo sem are Brian Dean's bread and butter keywords.
There are so many factors to consider when analyzing your competitor's articles. It's essential to identify their top pages—which pages have the most traffic, the most keywords, etc. You can use the insight to build a more robust content strategy.
Step 7. Check out the backlink profile

If you know who links to your competitor, you can seek them out to link to your similar article. Backlinks improve your rankings because they are viewed as 'votes of confidence' from other websites.
One last step that is critical to understand is domain authority.
Step 8. Know your competitors' domain authority.
DA is a search engine ranking score that estimates how likely a website will rank in search engine result pages (SERPs).
You can find the Domain Authority of any website using the MozBar (free SEO toolbar) or
Check your Domain Authority for free:

Tips for Effective Competitor Blog Analytics
Setting goals and monitoring metrics will help you identify performance in key areas. Here are a few tips to get started:
Align KPIs with your business growth strategy.
Identify the specific marketing research metrics to use. There are a ton. We just highlighted a few to be aware of.
Use SMART goals. Specific, Measurable, Achievable, Relevant, and Timely
Remember that content strategy is an investment but worth it if you understand what it entails. (and the time it takes)
It all starts with keyword research.
Monitor industry news and be the first to discuss and implement it if needed.
Acknowledge what your competitors are doing well.
Perform competitive analysis at least twice a year.
You pulled all the data; use it! Don't write on topics you think are good. Write on the researched data-proven topics.
Final thoughts
Bottom line . . .
The competitive analysis gives insight into why competitors are outranking you and what to do about it. This research helps you find new and emerging keywords, uncover backlinks, and create awe-inspiring content.
Nobody said it was going to be easy . . . "It's supposed to be hard. If it were easy, everyone would do it." 
Analyzing the competitive landscape can be daunting, especially if you have a small team on a tight budget. However, it is a necessity.
That's why we created the Growth Potential Report tool, which includes a Competitive Strength analysis to evaluate your top 3 competitors' website domains. See where your website content and pages stand against your competitors and know websites' strengths on Google—on a scale of 1-100. And lastly, get a snapshot of monthly organic website traffic. All with recommendations to make improvements and help you make smart marketing decisions.
Get the answers you need and stay one step ahead of your competitors. Check your competitive strength for free now.