CEOs have a lot on their plate with a full range of priorities. They are faced with disheartening short-term challenges, starting with the global economy, in which nearly 75% believe they will see declining growth during the year ahead. (if change does not happen)
In today's environment, most C-level executives believe it is critically important to reinvent their businesses for the future. It becomes a balancing act of today's tensions and a race for the future. We help business executives zero in on opportunities for sustainable growth with strategic marketing and alleviate some vulnerabilities to meet their future demands.
We understand that revenue growth is a highly sought-after metric for executives, and successful companies focus on finding new ways to grow. Properly allocating your marketing budget can make the difference between profitability and running cash negative.
In this article, we want you to consider how consumer buying behavior has evolved in the last few years, uncover new ways to think about your budget decisions—the risk of spending too much, the risk of spending too little, and how strategic marketing is your greatest asset. And acknowledge that achieving new growth levels requires a marketing budget that falls between a recommended 9.6% to 11.8% of revenue, according to the Small Business Administration (SBA). Supporting those stats, Deloitte's Annual CMO Survey says marketing spending growth is at its highest rate in over a decade, with as much as 13.6% allocated.
Deloitte's Annual CMO Survey says marketing spending growth is at its highest rate in over a decade, with as much as 13.6% allocated.
Strategic Marketing Budget as a Percentage of Revenue
The amount of revenue businesses allocate to marketing is growing. Databox reached out to 85 small business owners and marketers and found that 52% spend between $5-$15k monthly on marketing.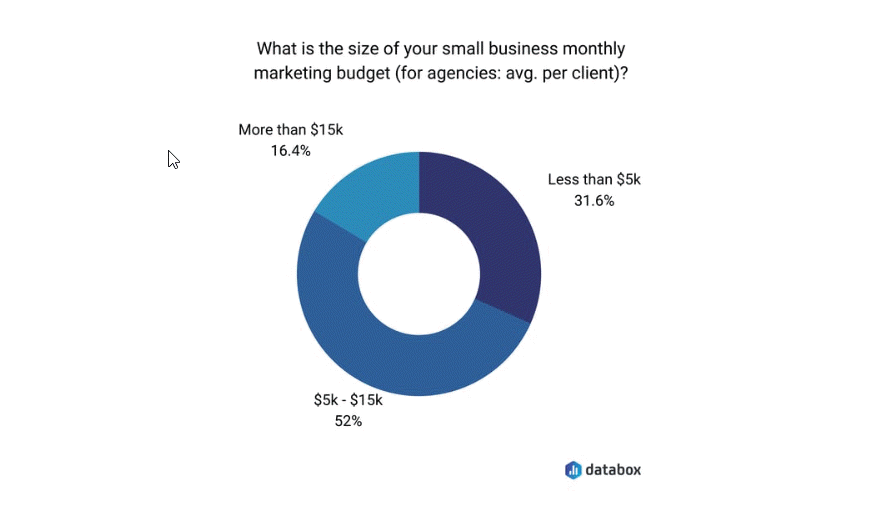 Image source: databox, "How to Set a Marketing Budget for a Small Business: 20 Tips"
It shouldn't come as a surprise as executives are trying to find ways to develop deeper customer relationships. They identify marketing goals, create better strategies, and allocate resources to new campaigns.
Strategic Marketing in the B2B Environment
Strategic marketing will help you differentiate yourself from your competitor by focusing on your strengths, what makes your company unique that appeals to your customer, and provides superior value and better customer service.
With a robust analysis of your competition's strengths and value propositions, you'll have insights into how they present themselves. You'll see patterns of similarity and opportunities for differentiation. Understanding the differences will help you generate more value for your target customer. Implementing the knowledge acquired becomes a game changer for optimizing your business growth.
Determining where you need to allocate your marketing budget best . . . 
Many businesses allocate a considerable percentage of their marketing budget to paid media over organic search. However, paid media has drawbacks and limitations:
The obvious one is, Ads are expensive and overly competitive
Fraudulent or accidental clicks cost you money with zero results and wasted ad spend
Ads carry no equity. They lack long-term value.
They've become an uphill battle. Constantly need to feed the beast.
In comparison, organic search:
No click cost or wasted spend
B2B businesses generate twice as much revenue from organic search than all other channels combined.
Connects with your audience through content
Guides your customers through their buying journey
Accrues value over time which equates to more significant returns (It is the only marketing channel gaining equity over time.)
Creates assets that engage your audience and build trust, and establish authority over time.
Consequences of Underinvesting and Failing to Prioritize Marketing
Being different and standing out from the 'Sea of sameness' (not sure who gets credit for that term, but it was memorable) sets you apart from your competition in your customer's minds.
How content differentiation builds success, and you should not dismiss its value
1. If you're not differentiating your brand and using content to do it, and your potential customers are valuing your rivals' content more, it will lead to higher customer acquisition costs and lower retention rates.
2. Brands are missing out by underinvesting and underestimating the impact of organic search. Terakeet, a Custom Software & IT Service, conducted various in-depth industry studies that confirmed the value of organic with an 87% lower customer acquisition cost through organic search vs. paid.
"87% lower customer acquisition cost through organic search vs. paid."
Their research has found that:
"Organic search is the single most impactful marketing channel—delivering the most return for your investment as a customer acquisition strategy."
3. The cost of waiting to invest correctly in your marketing budget through content and SEO can become your competitors' gain.
Let's consider how buying behavior has changed in the last 2 years.
4. Recent data from TrustRadius CEO Vinay Bhagat shows buyers prefer a self-serve experience. Consumers are seeking out information and self-educating before making a final decision and talking to Sales. Today's buyer wants information readily available.
Where do they look for their information? Google and social media.
B2B buyers are nearly 70% through their buying journey before contacting you. And, "Nine out of Ten B2B buyers say online content has a moderate to major effect on their purchasing decisions."
5. It's only a matter of time before your rivals take your business if you're not engaging your audience through content. Creating strategic content will prevent losing value and build a stronger brand image and customer trust.
Content should meet customers' needs and add value to their experience. Your visitors have no time for subpar content. You need to engage and educate your ideal prospects to build trust in your brand and drive growth (or your competitors will).
According to Content Marketing Institute, 73% of B2B marketers use content in their overall strategy. Yet, only 33% have a strategy, but it's not documented, and 27% have no strategy whatsoever.
Most brands think they've failed content marketing miserably and don't know why. They become frustrated that their content strategy doesn't seem to be working.
But is it that it failed, or was the strategy unclear from the get-go to achieve its goals?
How to Overcome Challenges with Your Content and Start Investing Wisely
Let's face it.
The pandemic increased content usage by 207%. And that makes for a crowded space, and only the tough, experienced, and educated will survive.
The pandemic increased content usage by 207%
71% of B2B marketers surveyed say content marketing has become more critical to their organization in the last year. And resources are needed to support this growing prominence.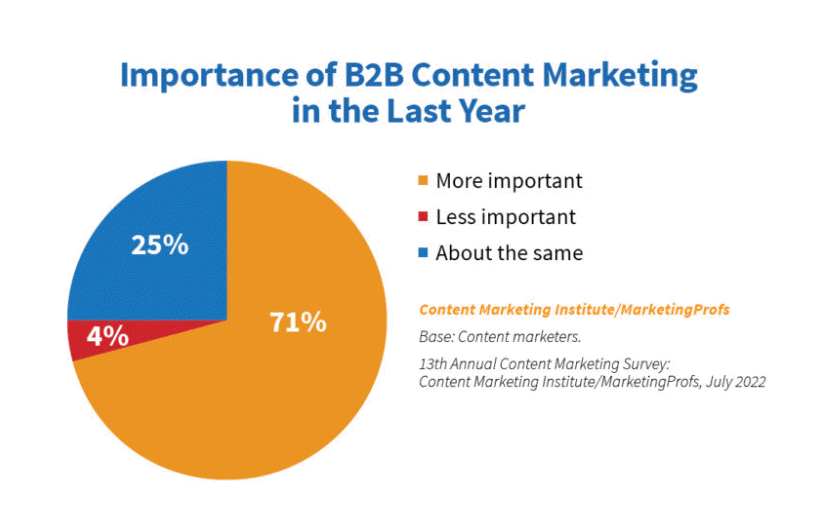 One thing has become apparent; it's time for B2B organizations to support content creation with the investment and staff (whether internal or external) it needs for success.
Current content challenges are real for B2B organizations:
They need to create content that appeals to their audience in the different stages of the buyer's journey.
Align content efforts across sales and marketing to be the most effective.
Consistently produce content and measure if it's working.
Differentiate themselves from their competitors (and use content to show their differences.)
Use subject matter experts for thought-provoking, unique content.
CEOs are beginning to realize that the risk of standing still or not progressing may be greater than the risk associated with change. The recognition that organic search (when done right) targets the entire funnel while paid is more towards the bottom of the funnel queries.
Businesses focusing on organic search strategies will be better positioned for the long haul. When done right, you'll rank for keywords that bring in traffic, leads, and customers and continue generating free organic traffic as long as your rankings exist.
Having said that, leaders must set realistic goals.
Search engine optimization (SEO) takes time to generate traffic and leads. So the value in the early months can be low but exponentially increase over time.
Grow and Convert created this hypothetical graph to show how the investment and value of SEO change over time.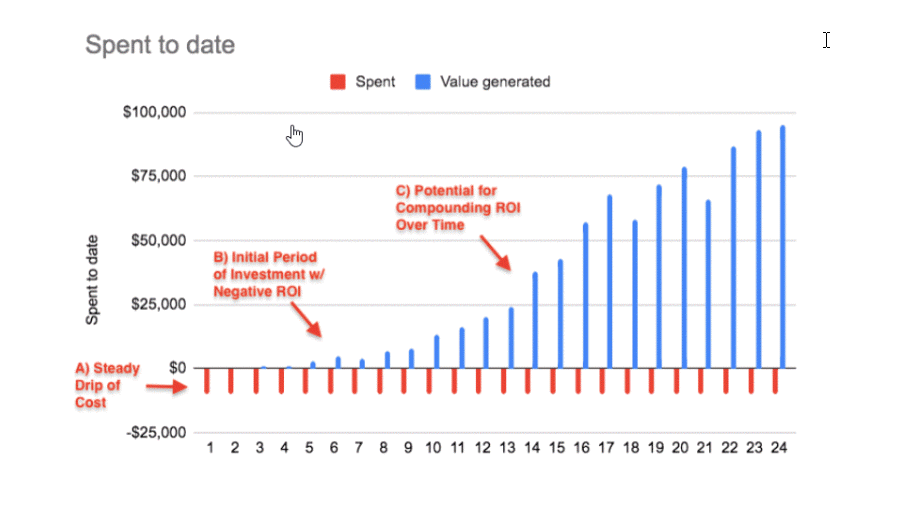 The critical point here is to stick to a marketing channel long enough to drive revenue for the business.
Brands grow when they come to mind in a buying situation. But your potential prospects need to know who you are. And that is why you need to become the most trusted voice in your space.
How do you do that?
Start by answering their questions and challenges, and address their pain points. Answer their problems through content—consistent blog posts and content assets on your site like eBooks, social media, email, and more.
SEO-based content will keep driving traffic and conversions once it ranks.
But many companies struggle with this part.
They don't have . . .
Time – Consistently producing high-quality content that adds to your marketing effectiveness has been a top B2B pain point for years. You need a proven quality-controlled process to keep production on track.
Team – Your business may be running on a 'skeleton' crew, and content keeps getting pushed to the back burner. It would help to have an entire team of dependable and cost-effective specialized talent at your fingertips.
Training – Your marketing department is overwhelmed and can't keep up with content marketing changes, trends, and SEO required to keep up with your competition. It would be best to have a cost-effective talent to fill in the gaps so you can stop losing traction to competitors and missing valuable opportunities.
As executives, it's your call to get the 'T's' needed. Consult a Growth Strategist who can show you the 'why' and 'how.'
Avoid Making the Mistake of Underinvesting in Strategic Marketing
Marketing budgets aren't shrinking. Despite the pandemic, the recession, inflation, new data-privacy regulations, or whatever, C-level executives are investing in their marketing budget.
CEOs understand that new strategies drive efficiency and expansion. They know that reducing investment may lead to long-term financial risks.
You now understand the need to focus on customer acquisition and retention and, at the same time, build and maintain strong brands with strategic marketing. You need Marketing to deliver campaigns that bring value and results—ROI.
The key to your company's online success is making content a priority. Competition is fierce and only getting stronger. It may be cost-effective to work with a partner who is experienced, flexible, and delivers quality content on a timely basis.
Schedule time with our Growth Strategist to discuss your situation and possible strategies for growth. And in the interim, take the free 5-minute SaaS Self-Assessment to help you determine your strengths and weaknesses in lead generation.