Growing an innovative B2B company starts with consistently delivering truly meaningful experiences to your audience. Improving content and website design will help deliver those experiences while improving user and customer experience.
As a growth-focused agency, we understand that building trust and relationships with customers creates mental availability—making you their choice when they're ready to buy. Improving content on your website and site design will enhance the quality of user experience and influence the probability that a buyer will notice, recognize or think of you in their buying situations.
As we dive deeper into this article, we want you to contemplate your website—in all its glory— from blog and customer experience content, SEO, voice, content marketing mix, website navigation, and accessibility to messaging and more. And think about why visitors would choose you and stay on your site over your competitors.
Also, consider why
"70% of business leaders see user experience (UX) and customer experience (CX) as competitive differentiators. 88% of online customers say they wouldn't return to a website after having a bad user experience. And 54% of users want content personalized to their interests."
Let's get right into the data.
Contents
3 Ways to Increase Your Blogging Frequency to Gain Higher Rankings (What's your website's blog frequency?) 
Ideal Blog Post Length to Achieve the Results You're After (What's your website's average blog post length?)
SEO Links Best Practices: Ways to Win Google's Heart (How many internal and external links do your blog posts have on average?)
How Many Blog Posts Before Traffic Improves on the Website? (How many originally written blog posts are on your website?)
Blog SEO: 7 Tips to Optimize Blog Posts for SEO for the Win (How well researched and optimized are your blog posts for SEO?)
Writing in Voice of Customer or Company? (What You Need to Know) (What type of blog posts does your website mostly contain?)
The Shift in Content Marketing Mix (Find Your Blend) (What type of content mix does your website have?)
Tips to Create and Share Educational Content with Your Audience (How often do you share educational content with your target audience?
Why Website Accessibility is Important (and Responsive) Today (What's the status of your website's accessibility?)
Elements of a Quality Modern Web Design (What's the status of your website's current design quality?)
How to Optimize Your Website Messaging to Improve Conversions (What's your website's messaging status?)
How to Improve Website Navigation and Reasons Why It's Essential (What's your website's navigation status and ease of use?)
Final Thoughts: Improving Content and Website Design for Quality User Experience
3 Ways to Increase Your Blogging Frequency to Gain Higher Rankings
You've probably heard many different viewpoints on the amount of blogging needed to get the job done. From quarterly to monthly to 1-2 posts a week to 3+ posts weekly on average.
Generally, the more content you publish, the better. Google's algorithm and ranking system give preference to websites that produce a constant stream of fresh content.
But here's the caveat.
It's not the same for every business. Your audience and its needs differ from other organizations. What is the same for companies that want to use customer experience content— is the approach—the content strategy behind your posts. You need to post strategically and consistently and test what's working.
The frequency of blog posts depends on what's best for your business.
However, most experts agree that blogging is still as relevant as ever and is becoming a standard feature on most business websites. At least 54% of Fortune 500 companies have public-facing blogs.
HubSpot's image summarizes goals to aim for when thinking about blog frequency: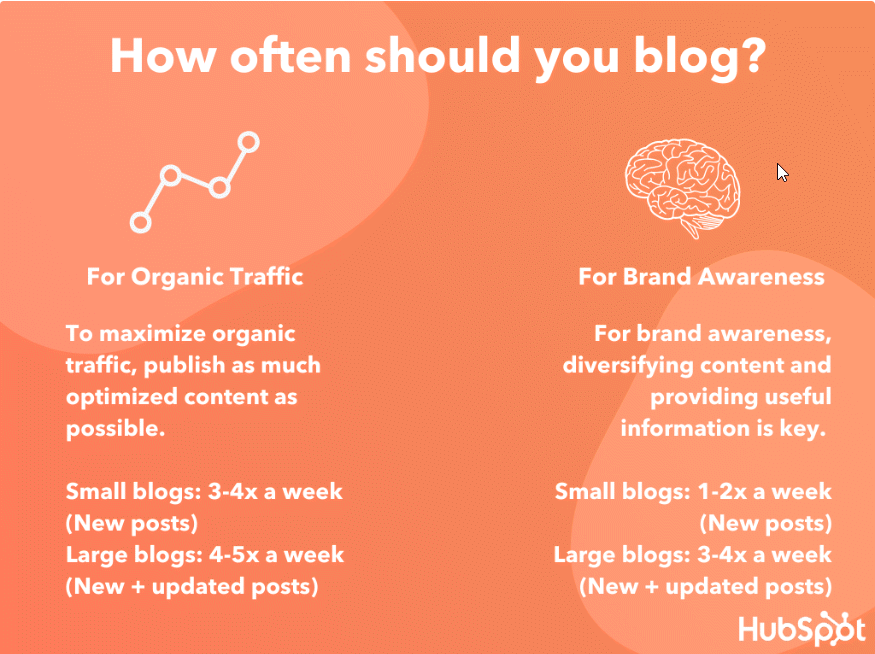 Blogging should become a priority to help grow your business.
How do we get your business to increase your posting frequency to gain more organic traffic, brand awareness, and sales?
We'll look at three tips to do just that.
Mind-map your ideas with a goal in mind. You can create campaigns around solutions for your audience. For example, we knew that 'Understanding how to strengthen competitiveness online' was a critical topic for our audience. Using that proven topic, we built out keywords that matched intent and created blog posts to educate our audience on that subject. You can easily gather a dozen posts around one central theme and develop a series of posts.
Update your existing content. Find those blog posts that are performing well but need an update—dates, sources, a fresh introduction. Perform a content audit to maximize content that has served well and can easily be updated with new data.
Discover content gaps by analyzing what's working for your competitors. The insights into your competitor's content creation and what's driving that traffic will make you aware of what needs to be done to keep pace or outperform them.
Now that we have you blogging, let's discuss blog post length.
Ideal Blog Post Length to Achieve the Results You're After
What's your website's average blog post length?
A decade ago, a 500-word post could easily get ranked on the first page of Google. Today's competition is too fierce, with millions of competing posts for the top 3 spots on Google.
The honest answer to the ideal blog post length will depend on your goals, who your audience is, the subject matter, and search intent.
Semrush put together a chart on suggested blog post length based on specific blog post types and formats: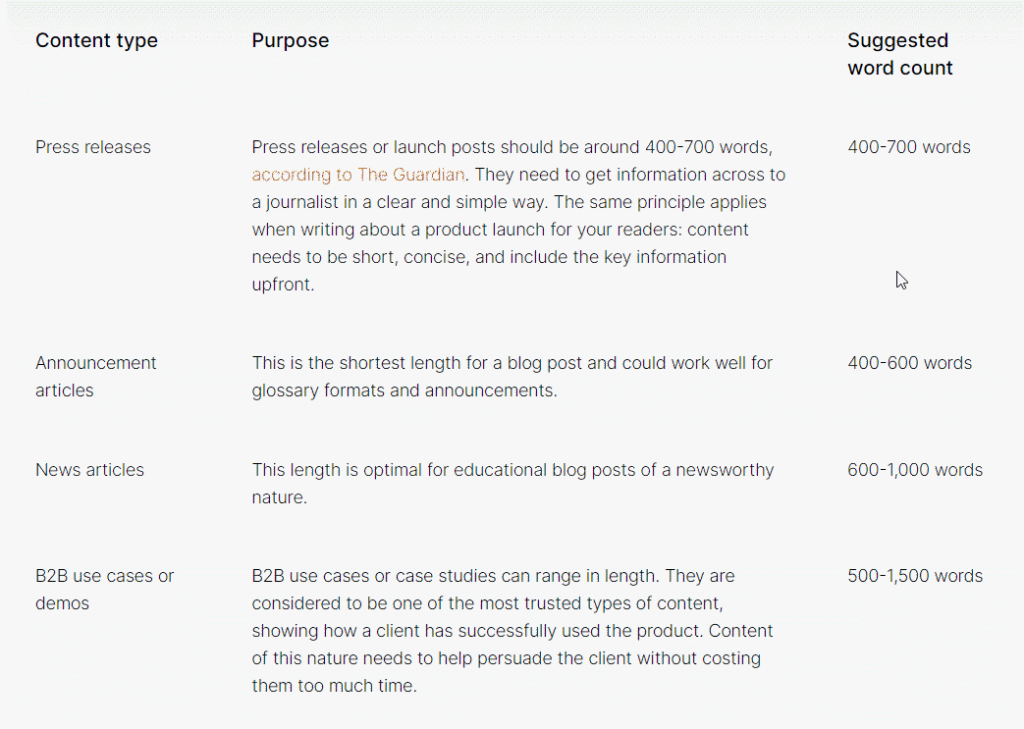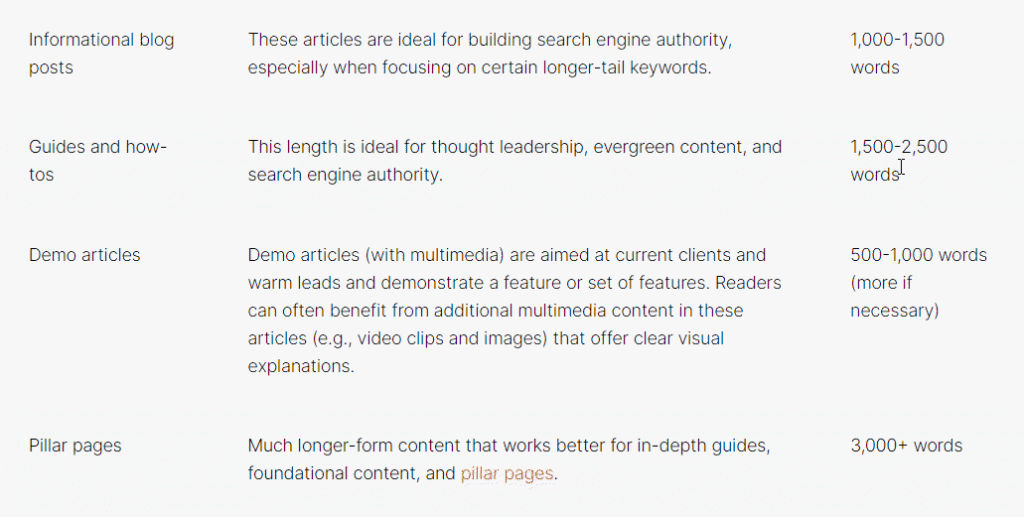 Image source: Semrush, 'How Long Should a Blog Post Be? A Data-Driven Guide for 2023'
If your intention is strictly to get ranked, Google wants substance, originality, evidence, and accurate facts—no fluff—from authority sites on the subject matter. Long-form customer experience content typically has these elements baked in to satisfy Google. But quality is the fundamental factor here, and Google's algorithm is designed to meet user intent.
Any great customer experience content needs to be mapped out before it's created. When you connect your business goals with the content you're publishing and the searcher's intent (search query), the word count will not matter as much.
Since we're talking about content, do you link to other authority sites to bring value to your readers? Do you link to your own content to help drive users to more relevant content and build keyword associations or semantically related terms?
Incorporating a solid link strategy is essential to stand out as an industry thought leader.
SEO Links Best Practices: Ways to Win Google's Heart
Both internal and external links support good SEO and content ranking.
Keeping this in mind, "How many internal and external links do your blog posts have on average?"
Well-written blog posts should go beyond inbound links and connect with credible external sources.
We know what you're thinking—it's counter-intuitive—you don't want your visitors leaving your site. However, it's one of the essential sources of ranking power you can use.
External linking:
Improves your credibility by adding a trustworthy, reputable, and relevant website to the mix
Improves your SEO by helping the search engines understand the usefulness of your page
It can create connections and build relationships. (You know who's linking to you!)
It gives your audience more VALUE. (and that is what content marketing is all about)
Internal linking is used so your visitors and search engines can discover more content on your website. Even more so, internal linking:
Passes authority from one page to another (for search optimization perks). If you have a more meaningful, relevant page for your business and want top rankings, linking a few of your smaller posts to the more in-depth post for results is beneficial.
It will guide your users to high-value, relevant content, which is important and valuable for user experience.
Internal linking can also be used as a clear call to action for conversion optimization. (For example, you can send your potential customers to a demo or contact page)
How Many Blog Posts Before Traffic Improves on the Website?
As an agency, we get this question a lot. 'How many posts does it take for our blog to see SEO and traffic results?' It's a question every B2B content marketer asks and wants answered.
To answer the question in good faith, we need to ask, 'How many originally written blog posts are on your website today?'
Over the years, we've seen clients with anywhere from 0 to 400+ posts.
Fun fact: Huffington Post, one of the biggest and most popular blogs globally, posts a new blog every minute – every 58 seconds, to be precise. We're not saying you need to be like Arianna Huffington, but you do need to up your game. (especially since data shows that around 7.5 million new blog posts are published every day)
You want enough blog posts to start seeing the effects of compounding traffic. Meaning those posts will gain more and more traffic over time. Gaining traction will also depend on your competitive counterparts—if they are active content marketers and going after the exact keywords.
Commonly, blogging for 12-18 months is necessary before you see the full effect of improving and increasing website traffic, attracting the right audience, and converting that same audience.
We understand your concerns; you need quicker results to prove the customer experience content strategy works. You have to ask yourself, where will you be in 12 months if you do nothing? Where will your competitor be in 12 months if they unleash the opportunities through content and you are not?
Our B2B technology client felt the same way but understood change was essential. Building relationships and having conversations with, not at, their target audience through meaningful content—turned content marketing into a core growth channel.
Through their efforts and ours, they experienced a 749% increase in organic search traffic, generating 421 new organic traffic leads in 24 months. It shows patience is a virtue and to trust the process!
Additionally, the Weidert Group recommends that the best strategy is to reach that 55-70 total blog post article range as quickly as possible with high-quality content and a consistent publishing schedule.
A side note on the 7.5 million blog posts, they are probably not SEO optimized, use head keywords (keywords that drive high-search-volume, are highly competitive when it comes to ranking, and are the opposite of long-tail keywords, which are more specific phrases your customers are using.)
Let's look at how you can optimize those 70+ blog posts. And if you really want to see some explosive growth, B2B companies that published 401+ total blog posts generated almost 3X as many leads as B2B companies that published 0 – 200 total posts. Think of the 400+ mark as the critical mass where growth bursts from website traffic.
Blog SEO: 7 Tips to Optimize Blog Posts for SEO for the Win
It starts with research. And ends with an analysis.
How well-researched and optimized are your blog posts for SEO?
Blog SEO is the practice of optimizing a blog's content for search engines—before and after a post is published. Your work is never done. You want to monitor its performance to gain opportunities for the taking. For example, go back after 90-120 days, see if you're getting traction, and observe the ranking status.
What are your competitors doing to get the top spots on Google? Go back and tweak your post. Maybe it's just enough to grab the featured snippet from your competition.
Optimizing your posts for SEO will improve your search engine rankings and increase your organic traffic. Here are some tips to boost your blog's visibility in organic search:
7 Tips to Increase Your Blog's Visibility in Organic Search with Customer Experience Content
1. Plan your content with keyword research. And stop going for the keywords; you have no chance of ranking for. When you narrow down your keywords, go to Google and type them in the search bar.
If the results show high authority websites with high domain authority and you have a low domain value, the likelihood of your post ranking over theirs is little to none. So choose long-tail, less competitive keywords despite having less search volume.
Create high-quality content that resonates with your target audience. When you optimize your content, you create content that appeals to your users and search engines.
2. Understand your intended target audience. This may seem like a no-brainer, but if you don't have your buyer personas nailed down, how will you know how to best communicate with them?
A well-defined buyer persona reveals what conditions trigger them to look for a solution, what outcome they expect, their role in the purchasing decision, and any features they need when comparing alternatives.
A buyer persona tells you what prospective customers think and do as they weigh their options to address a problem your business solves and how you can address their pain points and challenges in your well-written articles.
3. Add performance-boosting images. On average, total views increased by 94 percent when a published article contained a relevant photograph or infographic compared to articles without an image in the same category.
If you Google 'blog post writing', you'll see all types of results. From Sponsored Ads to top blog posts, to 'People also ask' to images.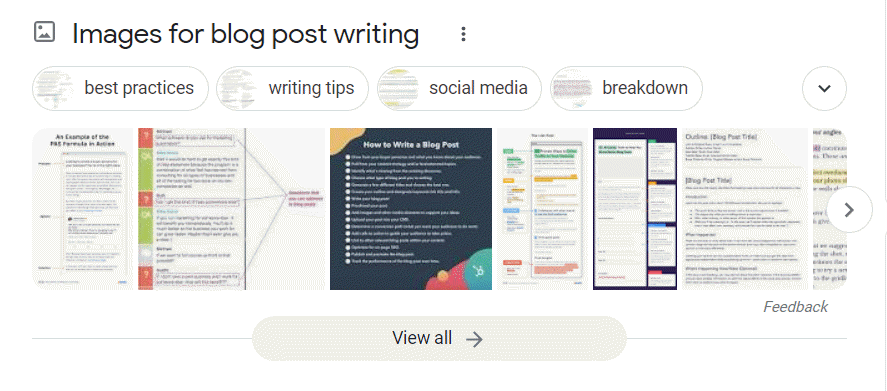 4. Add videos to make them more engaging and interesting. Content that readers love tends to rank higher. You can convert your blog posts into videos by creating vlogs or slideshows. The formats are endless and can also be used on social media to bring awareness and link back to your post on your website.
Both videos and images support your content.
5. Optimize and add a meta description to your blog post. The meta description provides a short description of your article so search engines and 'spiders' can determine what your article is about and present the post when a search query types the keyword your article covers. They are an important part of your SEO strategy as they're one of the first things searchers see when encountering one of your pages.
Meta descriptions affect organic click-through rate (CTR), which is an important metric.
The Hoth helps you better understand SEO and enables you to become an SEO expert fast . . .
The Hoth, "Meta Description Optimization' via YouTube
6. Link to related blog posts and build quality backlinks from reputable sources. We touched on the benefits of internal and external linking. Another link building involves getting other authority websites to link back to your site. You can improve your website's authority and credibility through outreach or guest posting.
7. Focus on core web vitals. Core web vitals can enhance your search results. The vitals consider website loading time, interactivity, and visual stability metrics.
The main component of modern SEO is user experience—and relevancy, and authority.
Writing in Voice of Customer or Company? (What You Need to Know)
What type of blog posts does your website mostly contain?
100% self-promotional to highlight product or solution,
20% educational, 80% self-promotional,
50% educational, 50% self-promotional,
80% educational, 20% self-promotional
The best combination is 80% educational and customer experience content and 20% self-promotional. It is a tried and true social media strategy and holds true for blog posts. It simply suggests that only 20% of content should be promotional, while the other 80% should educate, inform, and entertain. Customer experience content at its best.
Your customers want to know, 'What's in it for me" (WIIFM).
They need to know that your product or service solves their pain or challenges. And when you're just churning out promotional content in your company's voice, it will fall on deaf ears.
A great way is to ask your customers to share their experience with your product and how their business improved. You can insert your customers' voice in many ways on your website.
Here's an example from Acumatica, which featured customer voice with audio and video in their blog posts.
Visitors to the blog post can skip some of the rich text and get answers to some of their questions from a customer experiencing the benefit of using the product.

Source: Acumatica, Acumatica Manufacturing Edition, a Foundation to Grow Our Business, Says Specified Technologies Inc.
There are numerous ways to infuse customer voice content on your website, email, social media, and more.
A few more examples are campaign landing pages, competitive replacement (Why a customer chose one product over another), a buyer's guide, and more.
The Shift in Content Marketing Mix (Find Your Blend)
What type of content mix does your website have?
Is your website informational pages only to show your solutions? Informational pages and blog posts? Informational pages, blog posts, and case studies (getting warmer?)
Or the crème de la crème informational pages, blog posts, case studies, videos, and more?
You need to attract and convert prospects with engaging and highly-targeted digital experiences. Speaking solely on your company products differs from your customers' needs or experiences.
The content marketing mix needs to be the right blend of different content formats—blogs, case studies, videos, webinars, eBooks, podcasts, infographics, and the list goes on. You can combine product-led content with other formats and thought leadership. That's a content strategy.
Your informational product pages usually don't address the emotional, highly relatable problems your customers are experiencing. Your website needs to be and show the solution.
And be the only solution in your reader's eyes. But you need to do it in an educational and non-intrusive way. Introduce your solution subtly. You must get your audience's attention and explain their problem first. Then strategically weave product-led content into the narrative.
Can they solve their problem without your product? Maybe? Maybe not? The latter is what you should aim for.
Give a unique POV.
What is your perspective? This will make you a thought leader and increase your brand value. By adding your own perspective and flavor, your site will:
Create demand
Build brand awareness
Create customer awareness and retention
Build SEO, if you like that kind of thing, but the writing can no longer be surface-level content. Those days are long gone.
We're still big advocates of content, search engine optimization content. But you also have to realize SEO is evolving.
Think back a few years; it was:
1. 10 blue links, no images. (articles)
2. "People also ask" started to appear.
3. Then images (low on the SERP)
4. Images start making their way to the top.
5. Then images, followed by a featured snippet, followed by "People also ask."
6. Now add videos (thumbnails) after that. And currently, video carousels with key moments are emphasized.
7. And articles are at the tail-end of the page.
Let's face it.
SEO is constantly changing and reinventing itself. In 2023, your strategies should change to keep up with your competitors. But it all starts with a great SEO article to repurpose to the other formats.
Additionally, you must deliver the right message in the right package at the right time to succeed. Different formats help you connect to your target audience at different customer journey stages—wrapped in the voice of your audience and delivered in engaging packages.
Tips to Create and Share Educational Content with Your Audience
How often do you share educational content with your target audience?
Not so often by email or social media
Every month or so, on average, by email and/or social posts
Every few weeks on average, both email and social posts
A few times weekly on average, both email and social posts
Content marketing is creating content that delivers true value to your audience, the content they need and want. It provides VALUE and customer experience content by educating them on specific topics. You'll educate while establishing trust and credibility with your intended audience.
Consumers are more likely to buy from a brand after they engage with early-stage, educational content.
According to a study on content's influence led by Conductor, consuming a brand's educational content makes your prospective customers 131% more likely to buy.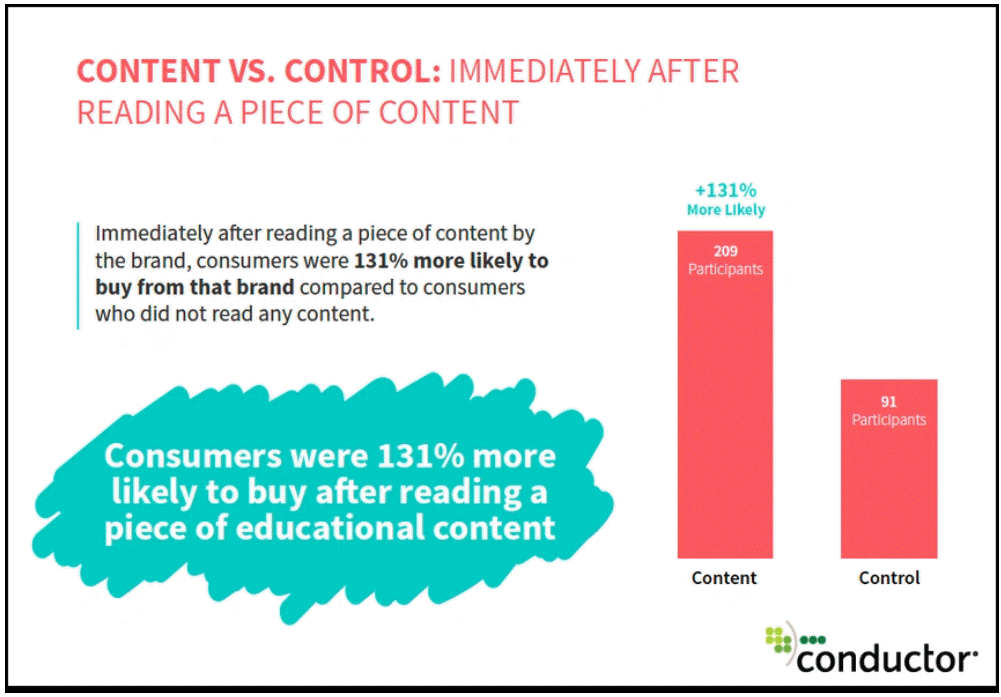 Let's get you started writing more effective and educational content.
Tips to Create Educational Customer Experience Content with Your Audience
1. Write content that proves that you feel their pain (emotional content makes your audience feel like they are being heard and unique.) Emotion is the key to content creation because it makes your content memorable.
2. Show them how to overcome the same challenges (you've been in their shoes)
3. Stand out from your competitors and showcase your unique point of view. This helps form a personal connection with your readers and build a trustworthy relationship.
4. Develop relevant, shareable content.
5. Educate and teach your audience a practical skill. Make it so actionable and applicable to their business that they can implement it and start seeing results immediately. When you inspire them to act on what you've taught them, they will want to share your content.
Tips to Share Educational Customer Experience Content with Your Audience on Social Media and Email
Social Media
Social selling allows you to establish rapport with your audience and drive sales. You can consider it a modern-day relationship builder. It's more about meaningful interactions and presenting yourself and your brand as having the solution.
Sharing relevant, conversation-inspiring content builds and strengthens relationships. When you indirectly present a blog post on social media and offer a quick solution to those looking for it, you can create 45% more sales opportunities.
According to LinkedIn Sales Solutions' internal data: 78% of businesses that use social selling outsell companies that don't use social media. As mentioned in the section above, the real marketing power is shareable content.
However, your content must offer value and emotional engagement or be somewhat disruptive. (go ahead and challenge the norm and see what happens.) On a more practical level, make sure to have a visual if you post from your profile and include a CTA.
Email
Email marketing is one of the oldest yet most effective strategies to date. On average, email drives an ROI of $36 for every dollar spent, higher than any other channel. And if that's not enough:
64% of B2B marketers say their email marketing strategy was effective for meeting business goals. And email marketing revenue is estimated to reach almost 11 billion by the end of 2023. (Statista, 2021)
We can keep listing the benefits and stats of email marketing. If you're looking for email marketing stats to grow your business, this video has them all. From how much time people spend on their email every day to how to increase your open rates, these stats will give you everything you need to know about how to improve your online marketing strategy which improves customer experience content:
HubSpot Marketing, '10 Amazing Email Marketing Statistics and How They Can Help You', via YouTube
Effective email marketing takes time and effort but is worth it.
Why Website Accessibility is Important (and Responsive) Today
What's the status of your website's accessibility?
Website accessibility ensures that all your customers have a seamless experience. The format, site structure, written content, and visuals must be inclusive for everyone. You can read more on the Web Content Accessibility Guidelines (WCAG) to make your content more accessible.
Here are three quick ways to help make your website more accessible and compliant.
1. Write alternative text.
Without alt text for images, the image is inaccessible to a blind person who uses a screen reader and those who turn off images. The same alt text helps search engines that cannot see images to boost SEO performance.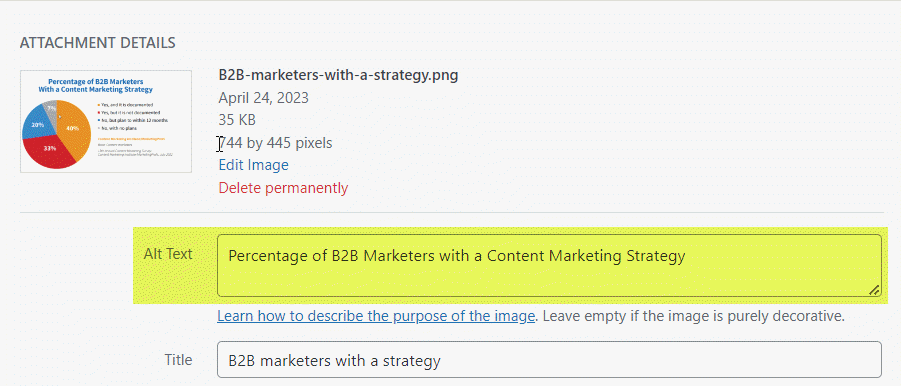 2. Create content that can be viewed on different platforms or presented in different ways.
A great example of this is a more straightforward layout.
Use headings for scanability.
Use bullets or lists for groups of items. Screen reader software can tell a user how many list items there are and which are being read. An extra bonus using bullets or numbered lists ups your chance that your content could be shown in Google's featured snippets.
Use bold or italics to emphasize words or numbers.
3. Make web pages appear and operate in predictable ways.
For example, imagine the confusion if your navigation bar changes on every page. Make it easy for your visitors to aid visitors in accessing information.
Additional resource: Web Accessibility: The Ultimate Guide
Let's move on to responsive web design.
Responsive web design (flexible everything)
Here's a question to contemplate, "Your website looks good . . .
"Mostly on large displays only, mostly on medium and large screens only, looks great mostly on small, medium, and large screens, is highly optimized for a full range of screen sizes?"
Responsive web design should respond to your user's behavior and environment based on screen size, platform, and orientation. Meaning your web pages need to look good on all devices.
Never mind that 38% of users won't engage with a website if its layout is unattractive.
As of April 2023, Similarweb reports that 65.93% of web traffic comes from mobile devices. This trend has led to an increased focus on mobile optimization for businesses, as users expect a seamless experience regardless of their device. Your website must be mobile-responsive.
Your website should offer a tailored experience across each device.
For example, Slack has a 'flexible grid' and 'flexible images' that adapt to all sizes and shapes. You'll notice the customer logos at the bottom adjust from a three-column layout on desktop (image on the far right) to a single-column layout on handheld devices (tablet and mobile.)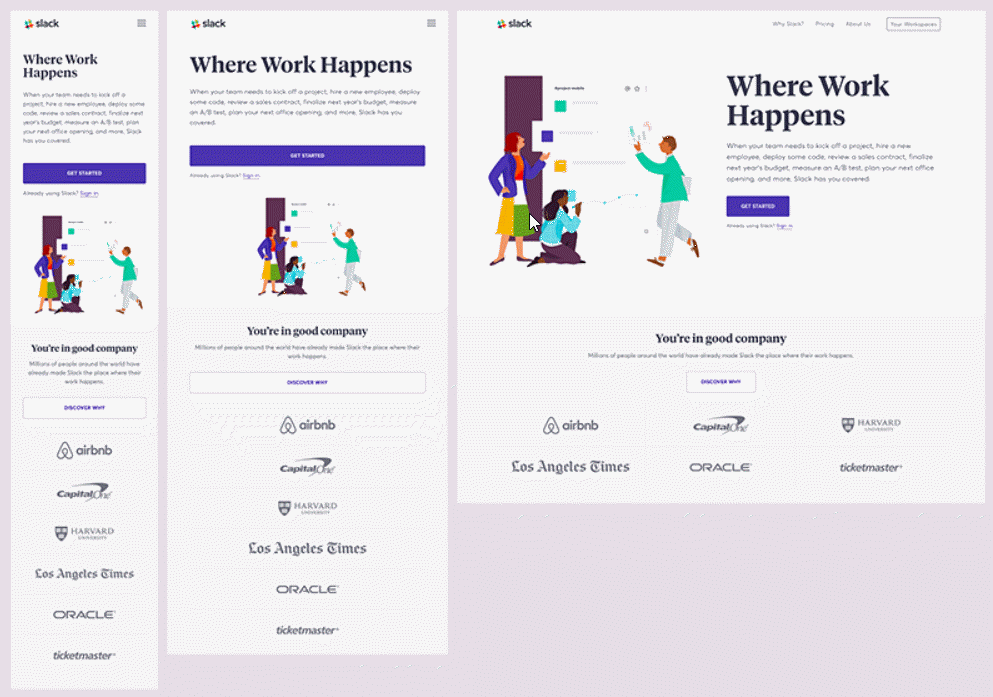 Elements of a Quality Modern Web Design
When you look at your website compared to your competitors, how does it make you feel?
You cringe, and you feel your website seems outdated,
The look and feel of your website seem average (but you don't like just being average, do you?)
Or the look and feel of your website seem above average (a little happier at this place.)
The look and feel of the website seem cutting-edge. (You got it going on.)
Instead of letting your competitor's website make you feel like you're ready to hurl and running two steps behind, a few elements make your website top-notch.
Here's the shortlist (which, for the most part, we talked about throughout this post):
Customer experience content
Navigation/Usability
Visual design/Aesthetics
Accessibility
Interaction
Responsiveness
Going a little deeper.
Consider typography—this helps you build brand identity with a brand and the fonts they use.
Font size. Can we please see your content? 12-point font be gone. Enter 16+.
Color/contrast. If you want to make your designs look sharp, use contrast. Play with colors, fonts, and text sizes to see what works. But when it comes to color, understand basic color theory.
When designing a website, the color palette affects your visitors. Color is not just a matter of taste; you need to recognize the psychology of color. In fact, 62% to 90% of purchasing decisions are based on colors.
How to Optimize Your Website Messaging to Improve Conversions
Communicating your message is more challenging than it sounds.
Your website messaging, including texts, images, and CTAs, lies at the core of how you communicate the benefits of your business. But have you ever landed on a website and still needed to figure out what the company does?
The right messaging can differentiate between a bounced visitor and a sales-qualified lead. You have all about 15 seconds to tell your prospects what your business is about and what makes you different.
Remember, people don't know your business the way you do. You need to be crystal clear, without the jargon, and in simple words, your target audience uses.
Here's an example of messaging powered by StoryBrand. It fills all the buckets for clarity and is concise. You know precisely what you're getting.
An Online Course to Help You Create a Clear Message that Works
"Clarify your message. Connect with customers. Grow your company."
How to Improve Website Navigation and Reasons Why It's Essential
Website navigation is essential to web design because it contributes to the user experience and may be one of the most important elements of your site. It allows your visitors to flow from one page to another without frustration.
Your navigation should present a structured look and positively influence the user. When your site is easy to get around, it will encourage users to stay longer (lower your bounce rates and increase average time on your site) and research what they came for—more information on your business and solutions.
Beyond the instant benefits for your user, a good website navigation menu will improve search engine optimization. It allows search engines to crawl and index more efficiently. With improved SEO, potential customers will find your site through search queries, leading to more targeted traffic, leads, and customers.
What's your website's navigation status and ease of use? Hard for visitors to navigate and use the website, or is it super easy to navigate? Or somewhere in between?
You know it's essential.
According to a study by Top Design Firms, 38% of consumers look at a page's navigational links and layout when looking at a site for the first time.
Here are design tips to improve your website navigation.
5 Design Tips to Improve Website Navigation
1. Use descriptive navigation labels.
Two reasons for the descriptive labels:
a. Good for SEO. Using a keyword in your labels will indicate relevance to search engines. Instead of labeling one of your tabs as "Service," you can describe what that service is, for example, "Web Design & Development." It becomes slightly more complicated with multiple products or services, but that's what enhanced dropdown menus will help with or mega dropdown menus.
b. Better for conversions. With properly keyword-labeled tabs, visitors will know they're in the right place. Navigational links give your potential customers reasons to stay on your website.
2. Add a call to action to your header
Visitors ready to reach out will look for a way to contact you in the header. It's a common location. 55% of marketing websites have a contact button in the top right, making it a web design standard.
Visitors expect it on the top of your page.
3. Add clarity to your home page
Most websites miss simple opportunities to add clarity. Orbit Media shows UX features and web designs you should not live without. . .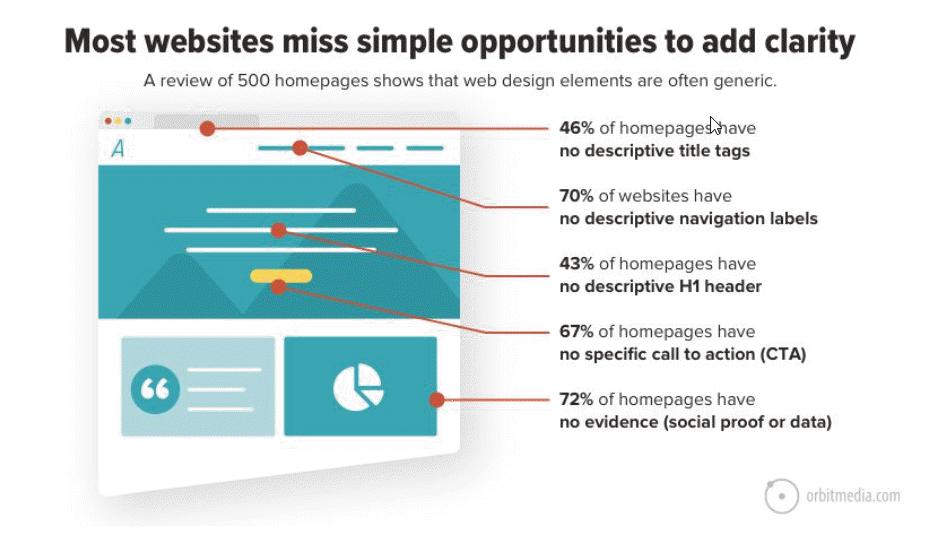 4. Clearly state and display your value proposition
A value proposition should be front and center when your visitor arrives. It's the initial text, image, or video meant to spark interest leading them to take action (continue scrolling, go to another page, contact you, etc.)
Your value prop should be above the fold and define what you do and your solution in a one-two sentence. Here's ours. We help B2B companies grow their audience by creating valuable experiences.

5. Make your website navigation 100 percent responsive on mobile
If you are mobile-friendly, you are taking advantage of significant opportunities. As mentioned earlier, mobile device users contribute 65.93% of all website traffic. To give you some context, in the first quarter of 2015, that figure was approximately one-third (31%).
Is your website prepared to meet your users' expectations?
Successful B2B companies know how to identify all expectations of their users and achieve a significant level of customer satisfaction.
Improving content and website design for quality user experience
We've discussed blogging frequency and post length, SEO link best practices, customer voice, content marketing mix and quality web design, and more.
The combination leads to improved user experience and increased conversions on your website. It compels your potential customers to take action.
Your customer experience content will answer their questions, offering examples and statistics (no fluff here), and your CTAs will ask for their business. But it's when they're ready. Consistently delivering meaningful experiences to your audience will outplay your competitor every time.
Schedule time for a Growth Strategy Session to chat about your unique situation and possible strategies for growth if you want to improve user experience with content or need a better web design.
And in the interim, take the free 5-minute SaaS Self-Assessment to help you determine your strengths and weaknesses in lead generation. You may just be surprised at the results.
Partnering with Responsify eliminates the time-consuming content creation and research needed to create consistent content your audience wants to read. Elevate the customer experience with better content across the customer journey. When the content has structure and all the necessary information a user needs, it helps create a good user experience.