Strategic Solutions
Our approach transitioned ScholarChip from a product-focused outbound sales path to a customer-focused, value-driven inbound content strategy.
We laid out a framework for their organizational growth to include Research & Strategy, Content Production, Premium Offer Production, Email Production & Automation, Social Posting & Automation, Website Redesign, and a Custom Offer Web Application.
Research and Strategy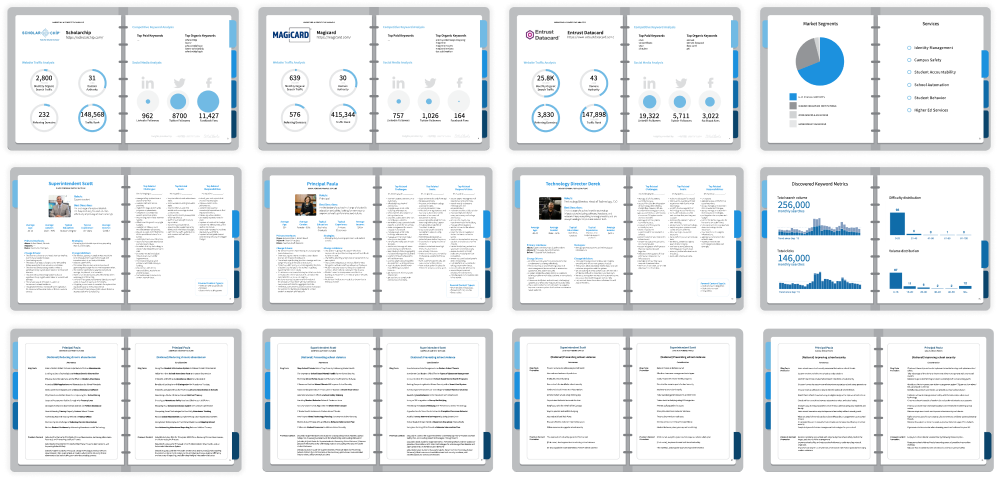 We created a tailored content strategy with an editorial calendar to build out campaign concepts with keyword discovery that ranked ScholarChip on the search engine results page (SERPs). This helped grow their business by engaging and educating their ideal audience. Keyword research was based on the challenges and goals of their defined buyer persona profiles.
For the first 12-18 months, we conducted competitor research, created buyer personas, identified 200+ top keywords, and organized ScholarChip's lists to feed the new high-quality blog content to the right audience through email automation and social media.
We consistently analyzed 5 of their top competitors, generating 400+ content ideas, and created multiple targeted buyer personas to focus on the unique buyer's journey to understand who they communicated with and how to approach the interactions from their customers' research to their purchasing decision. 
Creating a consistent narrative across their buyer's journey was key.
Content Production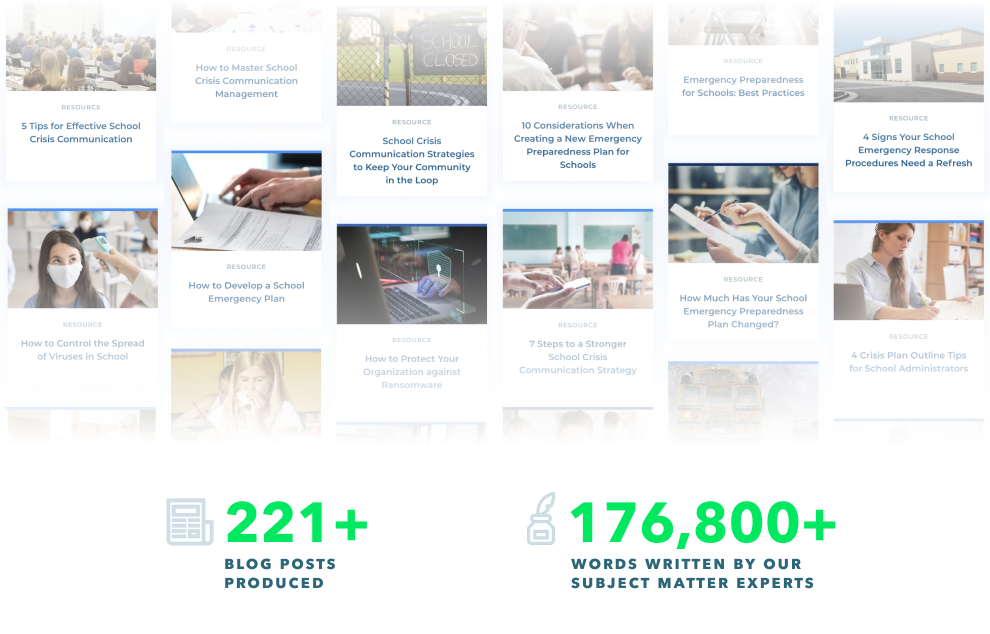 We analyzed their inhibitors, top-related challenges, and goals to move forward into content production. Knowing their challenges, we developed content that addressed the overarching pain points with hand-selected topics. Blog posts were the main component of ScholarChip's growth content marketing campaign. 
With research and strategy developed, we continuously produced content with our team's writing, editing, strategic oversight, project management, and search engine optimization to bring the strategy to life.
Together we produced 221+ insightful, educational blog posts to engage customers, answer the most important questions to their buyers, and deliver content that would convert. And it converted because we helped them deeply discover their target audience and main decision-makers through initial and continuous research.
Premium Offer Production
In addition to the blog posts, we created premium offers designed to provide significant value and attract their target audience in exchange for their contact information. 
By offering a gated premium resource, ScholarChip established communication with potential customers and nurtured the leads through email marketing—guiding them through the sales funnel. 
The premium offers included more in-depth and comprehensive information than regular blog posts or articles.
Email Production & Automation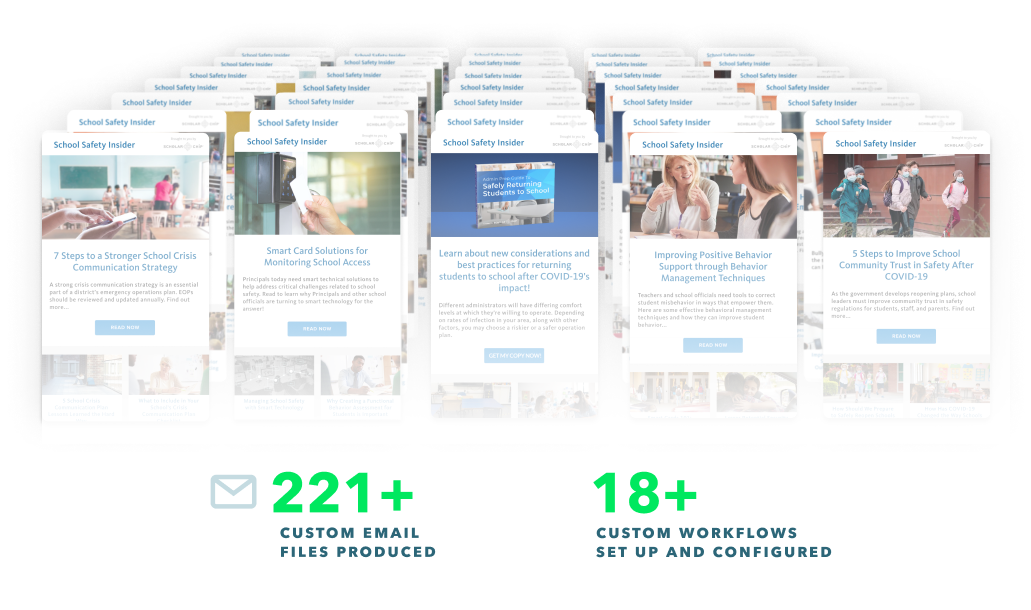 Our content strategy included designing visually appealing and engaging email templates aligned with their brand's style and messaging.
By leveraging email production and automation techniques, ScholarChip saved time and effort while delivering targeted and engaging messages to its audience.  
Responsify created and set up custom email workflows based on the recipients' specific actions. The workflows allowed ScholarChip to deliver these personalized and timely messages to increase customer engagement and improve conversions.
Social Posting & Automation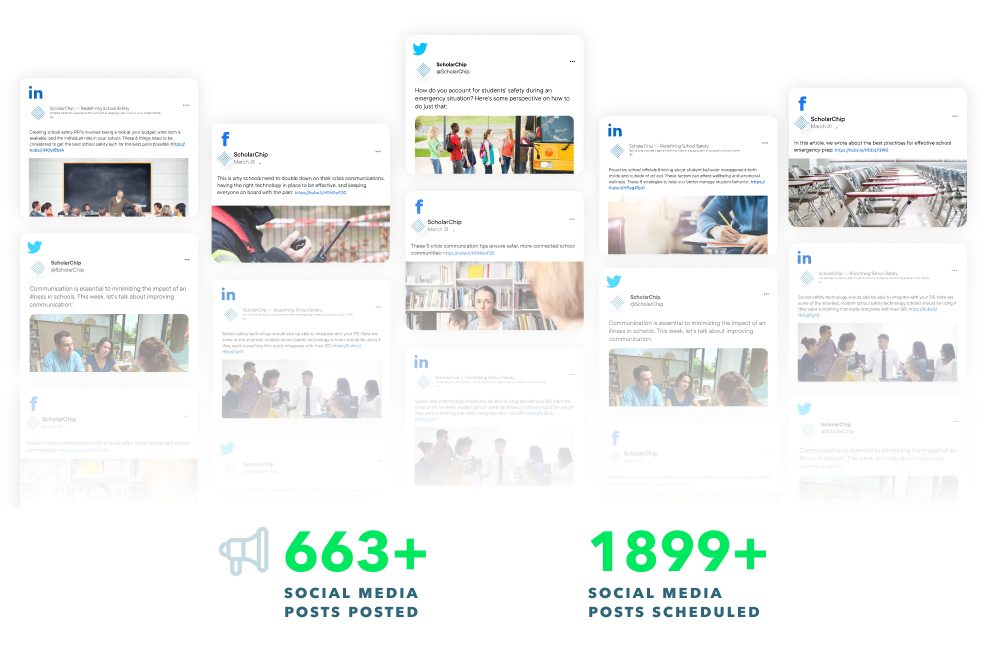 Social media and marketing automation was part of our strategy. 
We helped maintain their social media presence by producing over 650 social media posts with engaging content and images. 
Using social media automation, we could keep them active, consistent, and efficient to increase their brand presence and engagement.
Website Redesign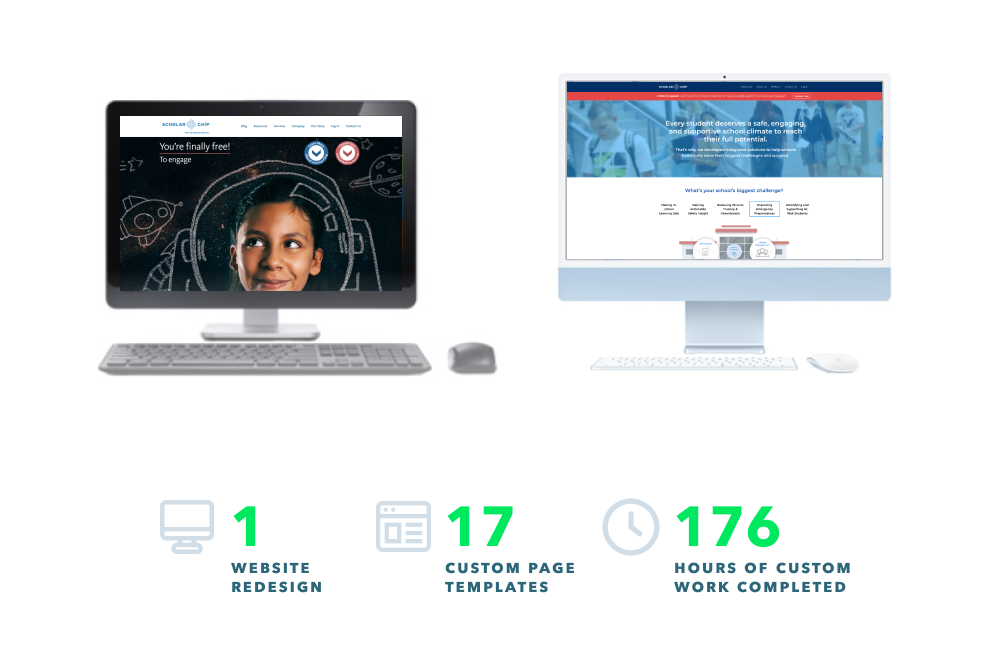 Through strategic planning and a design vision focused on their company goals, we produced a website redesign that aligned with their marketing and clarified their messaging.   
For example, the homepage was transformed with a clear goal and purpose and a new polished look and feel. We developed a new visual design that aligned with ScholarChip's brand identity.
Custom Offer Web Application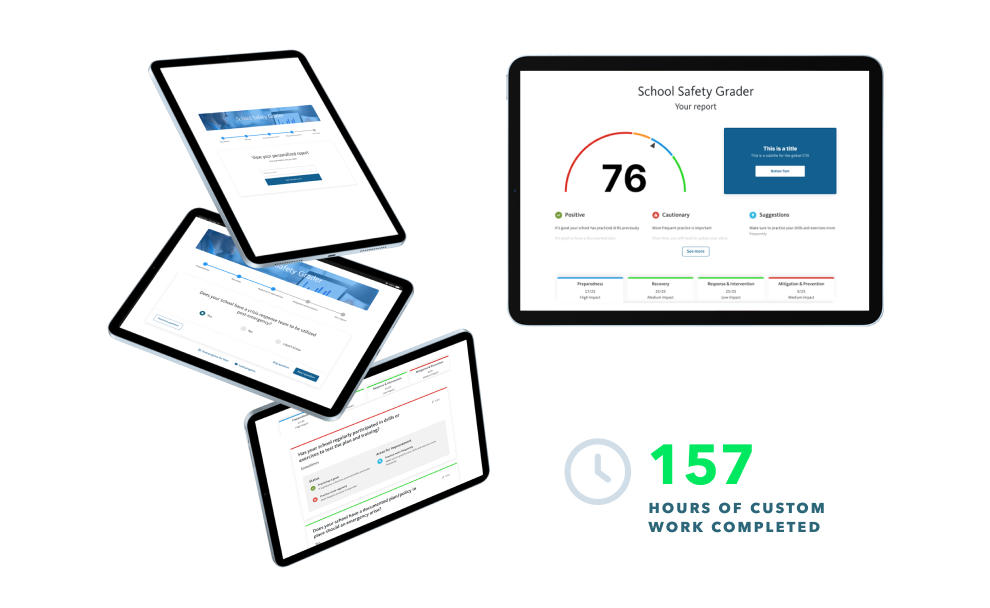 We created a custom web application for ScholarChip. 
As an innovative technology company that helps schools create an 'ecosystem of safety and awareness through attendance, behavior, communication & reporting solutions, the School Safety Grader was of great value to their intended target audience.
The School Grader gave target executives and busy department heads (Tech Directors, Superintendents, Principals) suggestions for improving their school safety.
Measured Results
Blog Performance
In 24 months, ScholarChip had an ironclad approach to transitioning to Inbound and saw phenomenal results due to its content efforts.
We analyzed their blog, email, website performance, organic traffic, organic lead generation, and its impact on their sales and ROI.
ScholarChip skillfully accomplished the following on its blog. The number of pages viewed monthly increased dramatically, with close to 86,000 pageviews. The average time on a page also increased to 3+ minutes as we continued to dial in on relevant blog topics for their audience.
Email Performance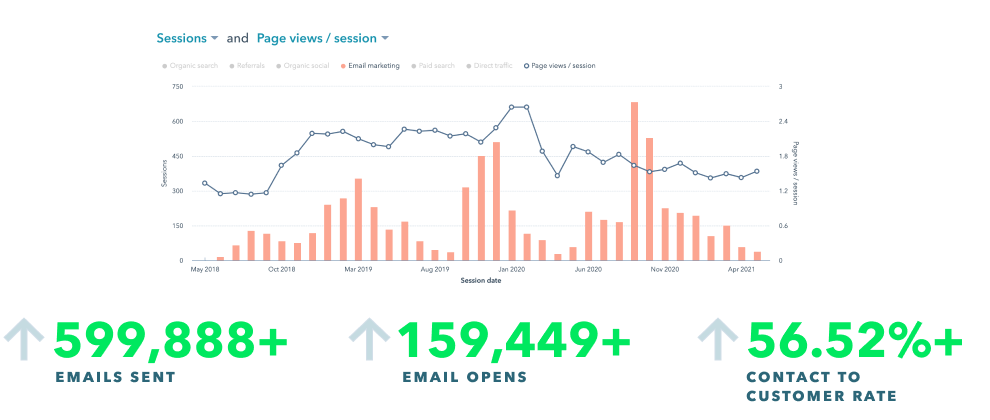 One of the oldest, yet most effective strategies—email marketing was impressive. The percentage of new contacts over the time period that grew into customers increased by 56.52%.
Website Performance
Consistently keeping track of website performance provides vital insight into its health and reach. ScholarChip experienced a healthy 67.64% increase in new sessions.
Premium Offer Performance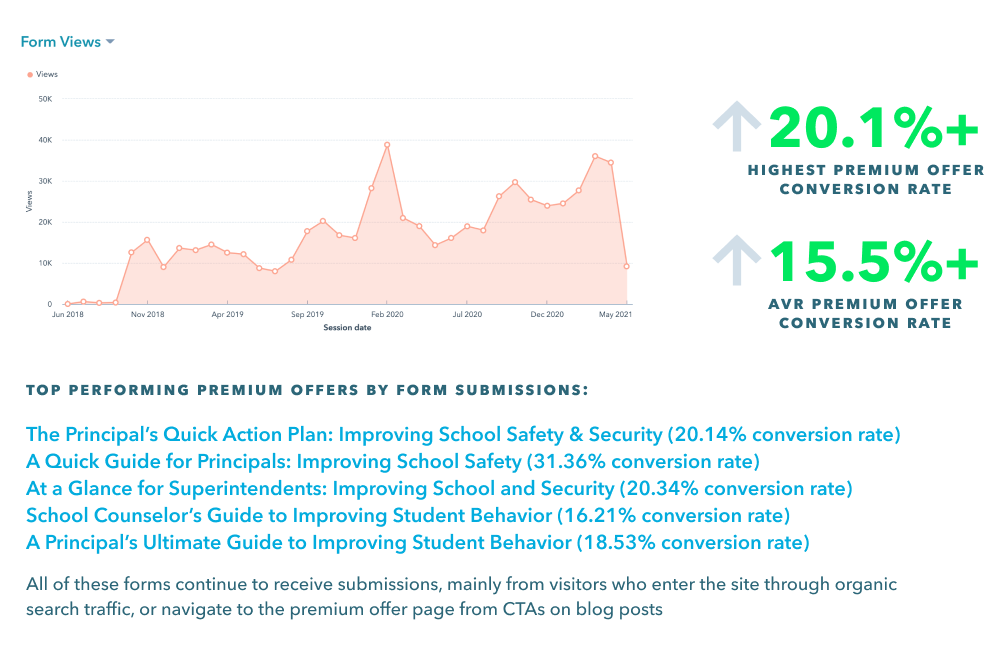 ScholarChip developed high-value lead generation assets with their premium offers. They used targeted landing pages and compelling calls-to-action (CTAs) to capture and nurture leads through the sales funnel.
Their top premium offer resulted in a 20% conversion rate.
Organic Traffic Performance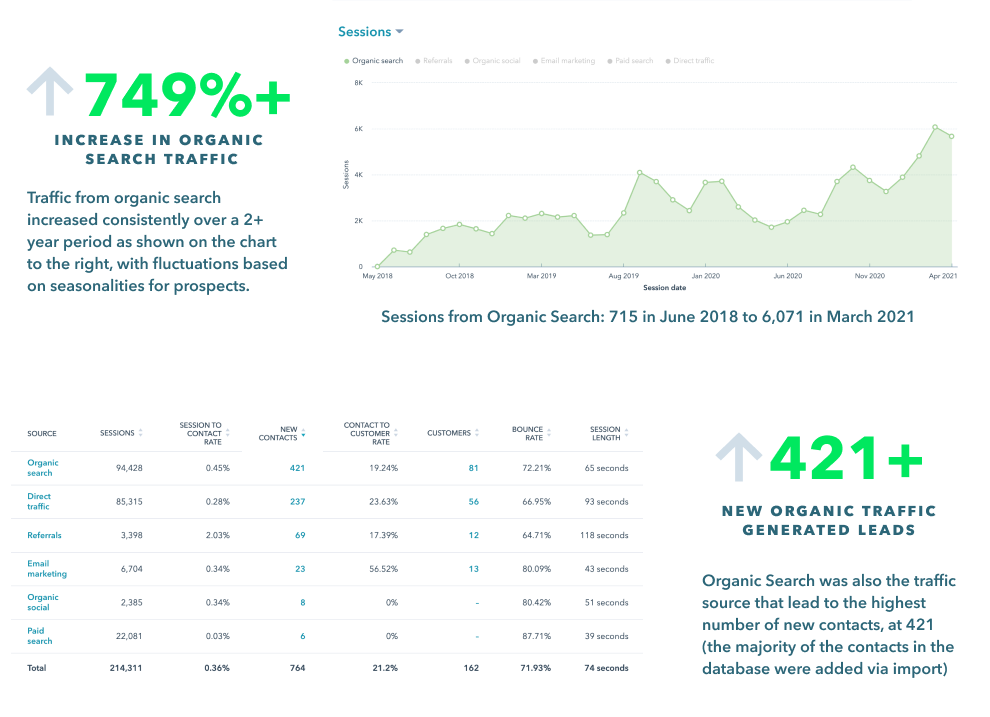 June 2018, ScholarChip's organic search traffic was approximately 715 for the month.
After Responsify helped strategically create content and resources, by March 2021, the search volume had escalated to 6,071 sessions per month. A 749% increase in organic search traffic that generated 421 new organic traffic leads.
Organic Lead Generation Performance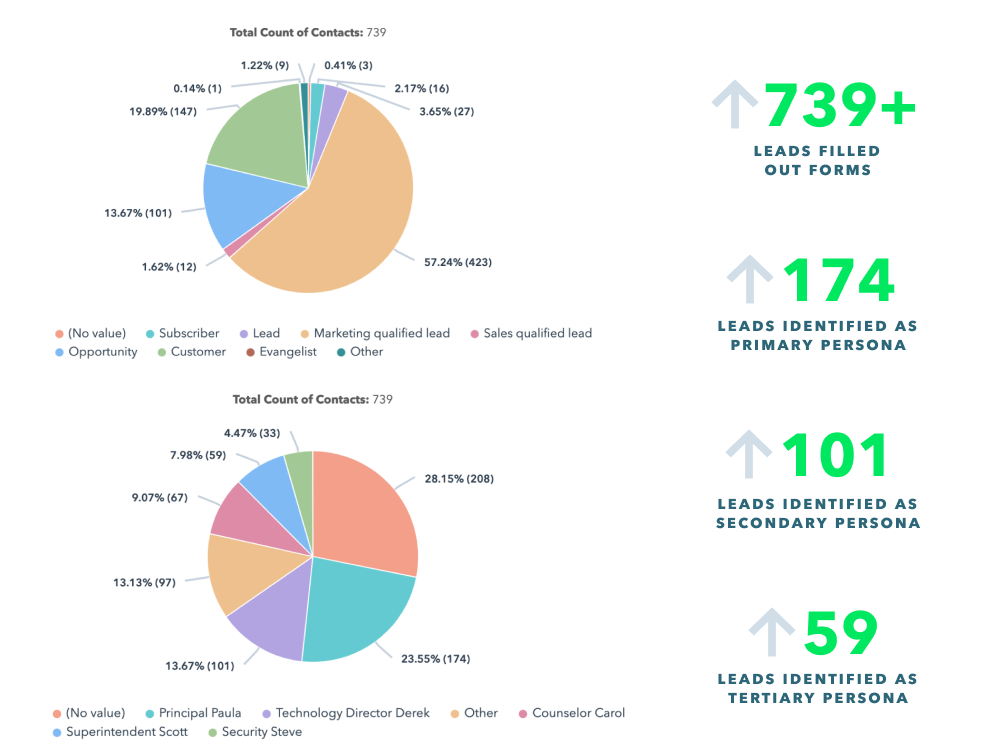 Organic lead generation is a long-term business goal. ScholarChip invested the time and created content for their buyer personas to attract qualified leads.
They discovered what their B2B customers needed to know and experience before they could make a business decision purchase and delivered the best content to them. As a result, 739+ leads filled out forms and identified themselves as a specific persona.
Impact on Sales & ROI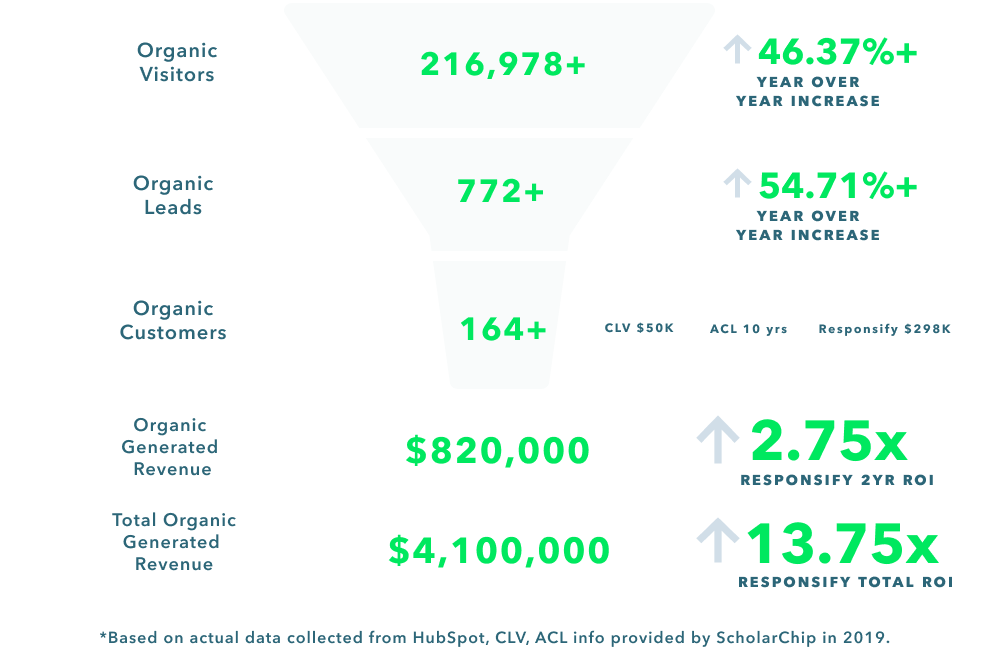 The approach to blog posts with premium offers, email production and automation, social media posting and automation, and website redesign positively impacted sales and ROI.
The impact on their Sales & ROI was an indescribable investment experience. Over the course of approximately 24 months, ScholarChip experienced :
46.37%+ year-over-year increase in organic visitors
54.71%+ year-over-year increase in organic leads
164 organic customers
Which resulted in over $820,000 in organic generated revenue in the first year and over $4,100,000 over the lifetime.
Provided a 13.75x ROI.
ScholarChip turned content marketing into a core growth channel through Inbound and becoming customer-centric focused.
Responsify optimized their content campaigns to target the highest value leads by discovering their ideal buyer personas, their challenges, goals, and responsibilities, and secondly, conducting in-depth competitor and keyword research for better search visibility and using the insights for strategic content development and production.
The high-quality content became invaluable by communicating and bridging the education gap while building trust and talking to the decision-makers through content.
Through a systematic Inbound process, Responsify helped ScholarChip increase B2B leads by 54.71%, sales by 40%, & provided a 13.75x ROI.