If you're reading this, you're likely the leader of your company or its marketing and have seen how creating content can help you engage with your audience and increase your sales over time. Doing this with your internal team has seemingly had its advantages.
The longer you create content, the more you find the challenges to continuously create enough to keep building momentum against competitors producing more and more B2B content. These barriers, such as needing more time, internal expertise, internal resources, and tools and processes to keep everything making steady uninterrupted progress, lead to failure to effectively create the right quality and quantity of content needed to be successful and gain measurable traction.
You already know that content marketing is vital to business growth—especially since brands that 'blog'/write thoughtful articles have 434% more indexed pages than those that don't. The more pages you have on your site, the better your chances of getting found in search engines.
Why does this matter?
Indexed pages bring more website visitors, inbound links, and leads that convert to sales—provided your content targets the decision-makers within the companies. When you continually publish top-notch content, people see you and your business as the go-to leader in the industry.
According to Content Marketing Institute,
"60% of B2B marketers struggle with creating engaging content, yet it's crucially important to get your writing strategy down as 71% of B2B buyers consume blog content as they travel through their buying journey."
If you're struggling with content, you're not alone. With content creation at the heart of content marketing, we want to help you determine if outsourcing or maintaining your content in-house is a better fit for your business.
We'll start with more statistics on the importance of B2B content, the possible consequences of relying solely on internal resources for content creation, the benefits of outsourcing, and how to choose the right content creation partner so you have the right mix of marketing skill sets (both in-house and outsourced) to capture and convert in-market opportunities and create customers over the long term.
Importance of B2B Content Marketing
B2B buyers want to engage with relevant content that isn't too sales-heavy and all about the company. Content should stay focused more on business value and less on product specifics.
B2B demand generation professionals see blogs as most effective at the top of the funnel—awareness stage.
Image source: Marketing Charts, Which Content When? B2B Demand Gen Marketers Rate Effectiveness by Funnel Stage
As lead generation, customer engagement, and brand building becomes more demanding and time-consuming, consider that B2B buyers read thirteen pieces of content on average before making a purchase decision.
Benefits of having a well-crafted B2B content strategy
Content builds trust and educates a clearly defined audience. It lets B2B companies show they care about the same pain points, obstacles, and goals their customers face.
Content marketing is a successful marketing tactic for B2B companies if a strategy exists. Without a strategy, too many businesses are creating content for the sake of creating content. The content becomes ad-hoc or reactive to organizational needs rather than a planned and strategic approach.
A combined study by top players in the industry—Content Marketing Institute, MarketingProfs, and ON24—looked back on the 12 months of 2022 and found that only 40% of marketers have a documented strategy.
And roughly 46% of all marketers surveyed have only one person trying to create all types of content.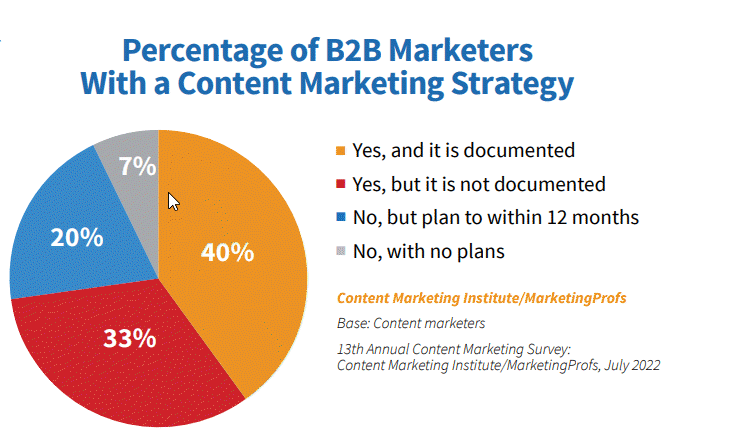 Image Source: CMI|MarketingProfs|ON24, B2B Content Marketing: Benchmarks, Budgets, and Trends
And it doesn't come as a surprise that those with a documented content strategy are experiencing the most success.
Those stats alone could make any business and marketer stand up and take notice. The general theme around the survey concluded that it's time for organizations to finally give content the investment it deserves, with a staff it requires to reap the rewards.
If there's one thing we can tell from content marketing's timeline, it's that good content stands the test of time. The main ingredient for effective content marketing is to add real value to your customers' lives.
Why Creating All B2B Content Internally Can Lead to Failure
Let's think about that one person in the office that needs to generate all the content to reap the rewards. With limited resources, day-to-day tasks can quickly become overwhelming and stressful. No surprise, most marketers, almost 70%, are feeling a level of burnout.
Content marketers wear many hats and can become stretched too thin.
Time constraints limit the amount of content created. Those created pieces sometimes get bottlenecked, waiting for final edits or approvals from busy thought leaders and topic experts. It becomes a tug-of-war between priorities and finished projects.
However, if the last 24 months have taught us anything (Yes. We are still seeing the disruption and challenges from the pandemic), it's essential for companies to get online and create good content. If you now see the value of how useful, engaging content will move your business forward, it's time to enable your business as a whole to be good at content.
Meaning content needs to be aligned within all your departments. This will help fuel better customer experiences when done correctly.
And we hear you . . .
'Time is still the number one obstacle for your company.'  Followed by content quality, consistency, scaling content, and strategy.
But rather than do nothing and leave your competitors to grab your audience and create better experiences for them—outsourcing your content creation is an effective way to reap the benefits without all the heavy lifting.
Benefits of Outsourcing B2B Content Creation
Never mind the access to a wider pool of talent with fresh ideas and varied viewpoints; you get:
More time to work on other vital business strategies
Meet your goals faster, publishing content more frequently and efficiently
Scaling content is doable with a team of qualified content writers and producers at your disposal
Planned content mapped to buyer search intent rather than ad-hoc content
Flexibility to increase production needs as desired
Reduce operating costs; outsourcing is less expensive than full-time staff. You'll save on onboarding costs, healthcare coverage, compensation, and more.
Your website needs a sound content strategy with a near-constant supply of relevant, high-quality, search-engine-optimized content to compete in today's environment. Even with an in-house team, they may not produce the necessary results to outrank your competitor.
It wouldn't be fair only to list the benefits of outsourcing B2B content creation. There is always a challenge on the other side.
The need for originality (But if you have a strategy in place and top-level feedback from thought leaders—this will not be a drawback)
There's a cost (But there's a more considerable expense if all the work is just handled internally)
The outsourced team will never have the brand knowledge like internal teams. (Maybe, it depends on who you hire and if there is a vetting process for the writers. Many writers become subject matter experts over time—simply because they are the ones deeply involved in the research and writing that builds their knowledge and expertise.)
The question remains . . .
Should you keep content creation in-house or outsource content creation? (or both)
The real question is . . .
Are you avoiding the failures of creating all your content internally?
One thing we can agree on is that more resources/more budget, and additional staff is needed moving forward.
You have the choice of increasing the size of your team to create enough content to keep up with demand or outsourcing. Keeping all your content in-house is better if you have the resources to make the up-front investment, buy-in from the stakeholders, an existing knowledgeable team, and a great strategic plan.
Outsourcing is better if you do not have the resources to invest in a new content team member hired strictly as a content manager/editor/producer, have zero content marketing expertise, and need more talent to execute the plans.
Choosing the Right B2B Content Creation Partner for Your Needs
Content creation or a growth-focused agency focuses solely on content creation services. But it goes deeper than the typical marketing agency that offers a broader range of end-to-end services (think website design and development, more paid advertising, and marketing training.)
First, let's think about the content options you do have:
✅Option #1: Hire freelancers and do-it-yourself
✅Option #2: Hire new employees and do-it-yourself
✅Option #3: Work with a highly specialized partner
Which of these options do you think works best for you? We summarized the 3 options . . .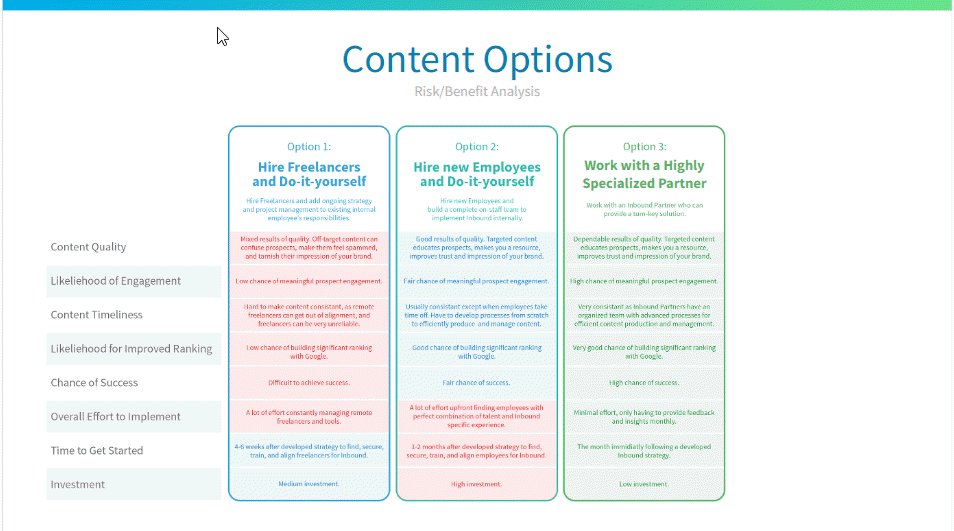 Option #1 Hire freelancers and do-it-yourself
You can hire freelancers and add ongoing strategy and project management to existing internal employees' responsibilities.
However, there are a few things you want to avoid:
You could get mixed results in content quality. Off-target content can confuse prospects, make them feel spammed, and tarnish their impression of your brand.
There could be a low chance of meaningful prospect engagement.
Hard to make content consistent, as remote freelancers can get out of alignment, and some freelancers can be unreliable.
Low chance of building a significant ranking with Google
Difficult to achieve success
A lot of effort constantly managing remote freelancers and tools.
Option #2: Hire new employees and do-it-yourself
You can hire new employees and build a complete on-staff team to implement Inbound internally.
However, there are a few things you want to avoid:
Putting extreme effort into finding employees with the perfect combination of talent and Inbound-specific experience
The time it takes to secure, train, and align employees
High investment
Option #3: Work with a highly specialized partner
Work with an Inbound Partner who can provide a turn-key solution.
Marketers have a lot of responsibilities across multiple channels. This makes it increasingly more work for them to implement growth content effectively. Content outsourcing can become a great resource and partnership. Implementing growth content requires diverse talent and resources; finding the right B2B content creation partner will keep everything running in sync and on time.
Your new resource or content partner should have a skilled team in all aspects of production . . .
From:
Setting clear goals and expectations
Review competitor blog analysis and data, including domain authority scores, website content, pages, and organic traffic.
Assign writers
Review the article outline—to ensure it's the right tone and speaking to the correct personas
Loop in the subject matter expert for feedback (this is where it kicks it up a notch)
Editorial review
Migration of the finished post to the CMS of choice
Email and social media automation
Has an excellent content production system and process. (Responsify maximizes production cadence while centralizing editorial efforts with quality and accountability)
Responsify helped a technology company increase web traffic by 321%, add 375 new qualified contacts, and gain 19 new customers in a short 18 months.
Here's a snapshot:

Case Study
Client: Enterprise-grade Healthcare Software Company
Challenge: The technology company needed to be experiencing faster growth and had no internal team in place to create content. With rising competition, the healthcare company turned to Responsify to grow its traffic in a challenging market. A previous agency delivered lackluster results, leaving the business skeptical about content marketing.
Challenge: Not having ideal website visitors well defined
Challenge: Missing valuable industry-specific search opportunities
Challenge: Inadequate website content and poor search visibility
As a result, Responsify was tasked with proving that their marketing efforts would carry strong results.
Approach: The tech business turned to Responsify as its partner because of its extensive knowledge of inbound marketing, content production processes, and track record of delivering results.
Result: Responsify optimized their content campaigns to target the highest value leads by discovering what their ideal buyer personas go through, their challenges, goals, and responsibilities, and secondly, conducting in-depth keyword research for better search visibility and using the insights for strategic content development and production.
Result highlights from organic search:
Web traffic increased by 321.35%
Added 375 new qualified contacts
Generated 19 new customers
Final thoughts
Creating enough high-quality, on-target, and relevant evergreen content with an agency's help can prove to be invaluable. Content strategies should focus on your ideal customers, their challenges, and how content can help accomplish business goals.
The key to your company's online success is making content a priority. Competition is fierce and only getting stronger. It may be cost-effective to work with a partner who is experienced, flexible, and delivers quality content on a timely basis.
If you are finding yourself in a similar situation and want to avoid the headaches of creating all your content yourself, Schedule time with our Growth Strategist to discuss your situation and possible strategies for growth.
And in the interim, take the free 5-minute SaaS Self-Assessment to help you determine your strengths and weaknesses in lead generation.